You'll never throw away sourdough starter again once you've tried these ultra thin and crispy olive oil crackers, seasoned with herbs de Provence and finished with flake sea salt.
These homemade sourdough crackers are the perfect snack all on their own, or, for an extra treat, spread with soft cheese and top with a dollop of homemade jam. They are surprisingly quick, easily prepared while you're waiting for your bread to rise, though you can also refrigerate the cracker dough for up to 24 hours.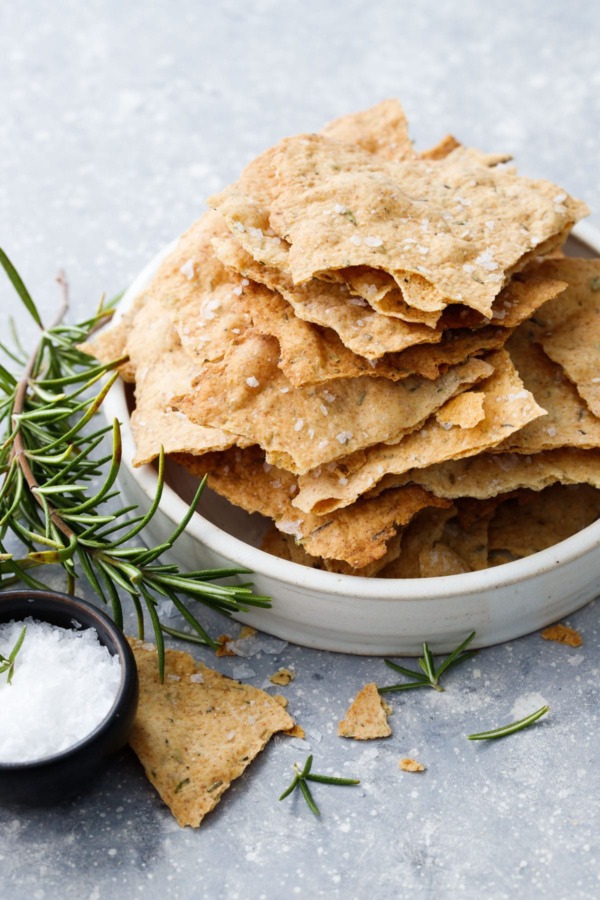 I've been making homemade sourdough bread, at least a loaf every other week, for almost a year now. My starter (aka Jane Dough) is a bit of a diva (she prefers King Arthur organic flour and tends to wilt in the heat/humidity of summer) but she's brought me loads loaves of joy. There are few things as wonderful as homemade sourdough bread.
The one thing that has always bugged me about keeping a sourdough starter, however, is the sheer amount of waste. Every time you feed the darn thing you have to throw away 2/3 of it, and when you're buying $10/bag organic flour, well, that's a travesty.
So I set out to find a way to utilize some of that discarded starter.
There are lots of recipes out there, from waffles to pizza crust and beyond, that use sourdough discard. But it was sourdough crackers that grabbed my attention.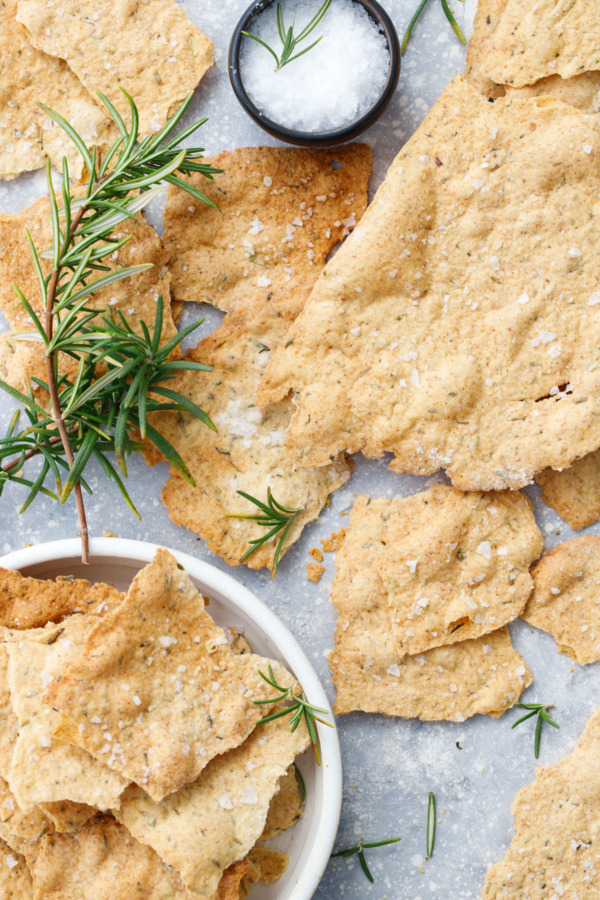 Sourdough crackers require only a few ingredients, the bulk being made up of discarded sourdough starter (the stuff you'd normally toss every time you feed it). That starter is mixed with a bit more flour (I used a combo of all-purpose, whole wheat, and a touch of rye), olive oil, salt and dried herbs. That's it. It really couldn't be more simple.
In terms of flavor, they taste a lot like a homemade wheat thin, if wheat thins were made with olive oil and seasoned with Herbs de Provence (fancy wheat thins).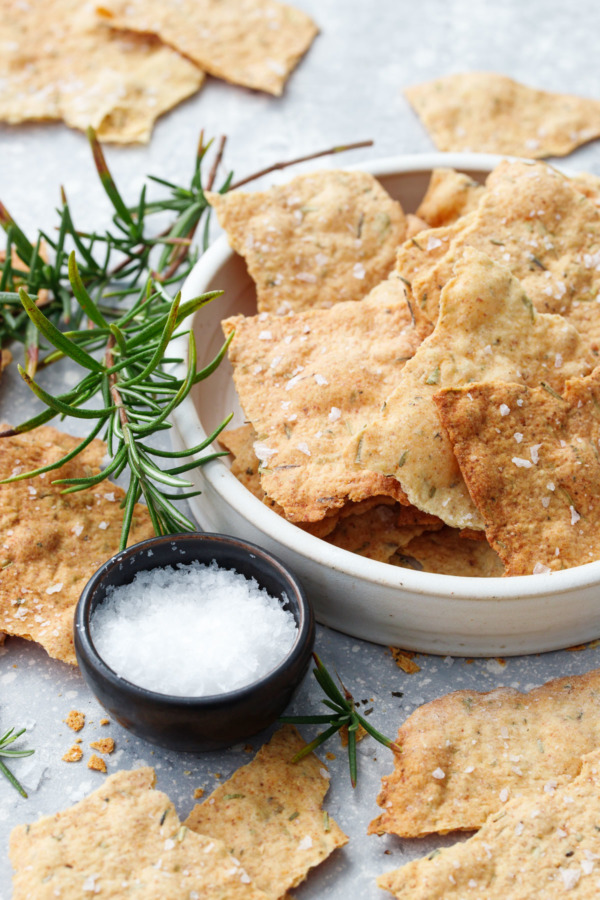 Now, I fully learned my lesson when I painstakingly cut out hundreds of tiny cheese crackers using a cookie cutter. They're cute, but the time it takes to cut them all out really isn't practical for a snack you eat by the handful.
With these crackers, I rolled them out into paper-thin sheets using my pasta roller attachment. Brilliant, right?! Indeed, you don't need to exert yourself one bit to roll these out, and the attachment gets the dough much thinner and more even than doing it by hand (that said, you can certainly roll it out by hand too—I recommend doing so between sheets of parchment or waxed paper so you can get it super thin).
Spritz the whole sheet lightly with water (or brush on a very thin layer) and sprinkle the flake sea salt (the water will help it stick to the surface better than oil). I have a very fine mist spray bottle I always keep on hand, clean and empty, mostly for food styling but also for uses such as this.
Then you bake! You could cut them into squares or whatever if you wanted first, but I found baking them in whole sheets to be the most efficient.
After baking, break up the golden brown, crispy sheets into beautifully rustic pieces. I think this method produces much more beautiful crackers than cutting them ahead of time.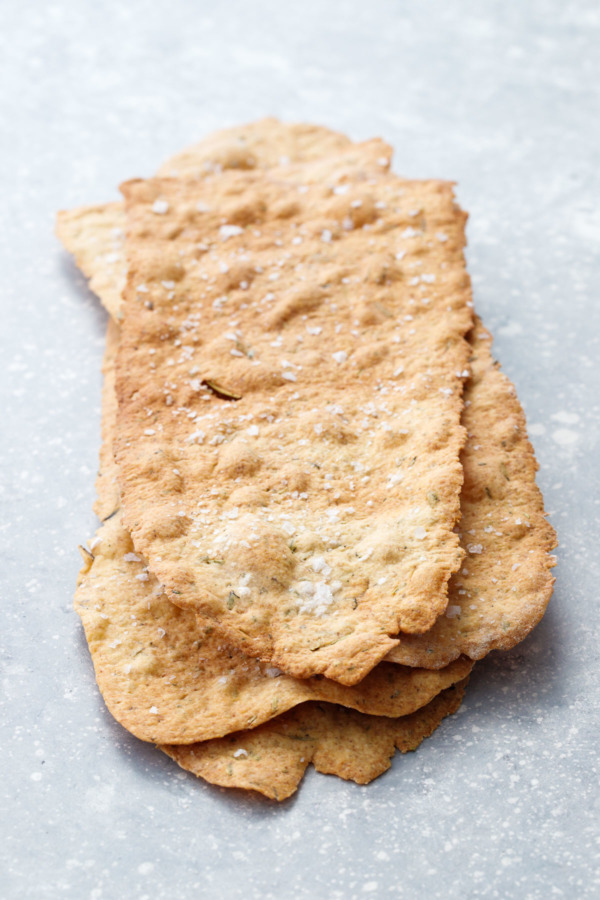 When I bake a single loaf of sourdough I end up with about 200 grams of sourdough starter overall (including the starter discarded at the very beginning before I feed it, as well as after the final feeding before the bulk ferment begins). Instead of throwing the discard away at each step in the process, plop it in a container and set it aside, then mix it all together and bake up a batch of these crackers.
If you bake two loaves at once you'll probably have more starter leftover, in which case you can easily scale this recipe as needed to use up all your discard.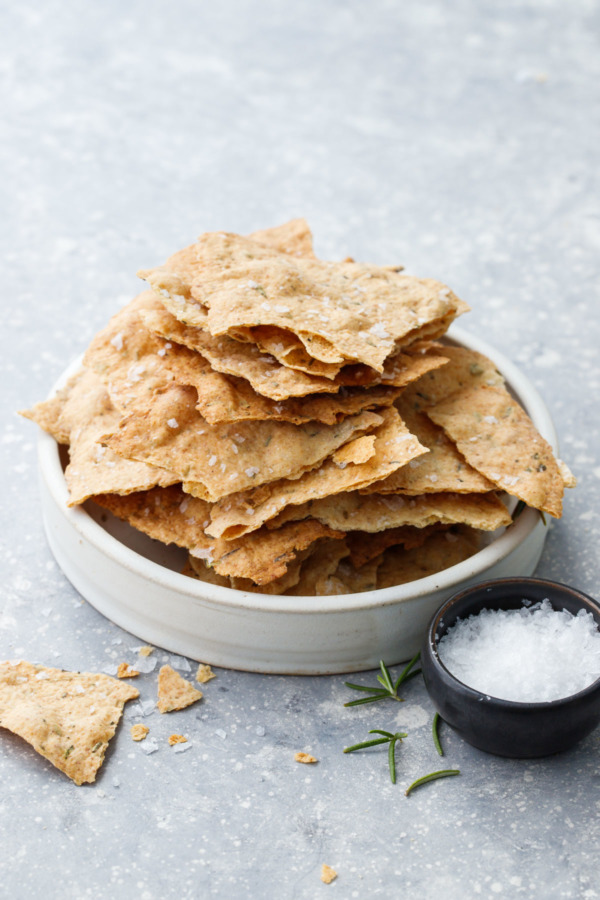 This recipe works with sourdough discard from any step in the process, as long as it is at 100% hydration (fed with equal parts water and flour). Doesn't matter if your starter uses all whole wheat or a mix of flours, whether it's been dormant, sitting in the fridge for weeks, or freshly fed and vigorous.
If you don't have a sourdough starter and you're looking to begin your sourdough journey (beware, it will consume you!) here are some resources to get you (and your starter) started: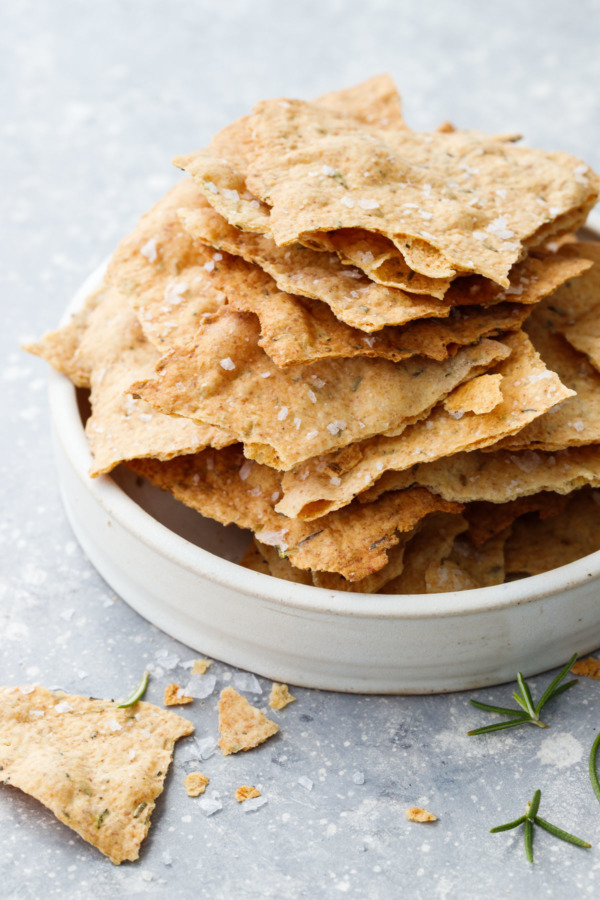 I love the mix of dried herbs and lavender flowers in Herbs de Provence. That said, you could just add some dried rosemary and/or thyme, or mix it up with just about any herb or spice blend you'd like.
I finished my crackers with a sprinkle of flake sea salt, but you could also top it with sesame or poppy or any other kind of seed (um, hello everything bagel seasoning? Heck yes). I have to say, I love these kinds of recipes where the main flavoring element is so incredibly versatile, you could really take it in just about any direction your tastebuds desire.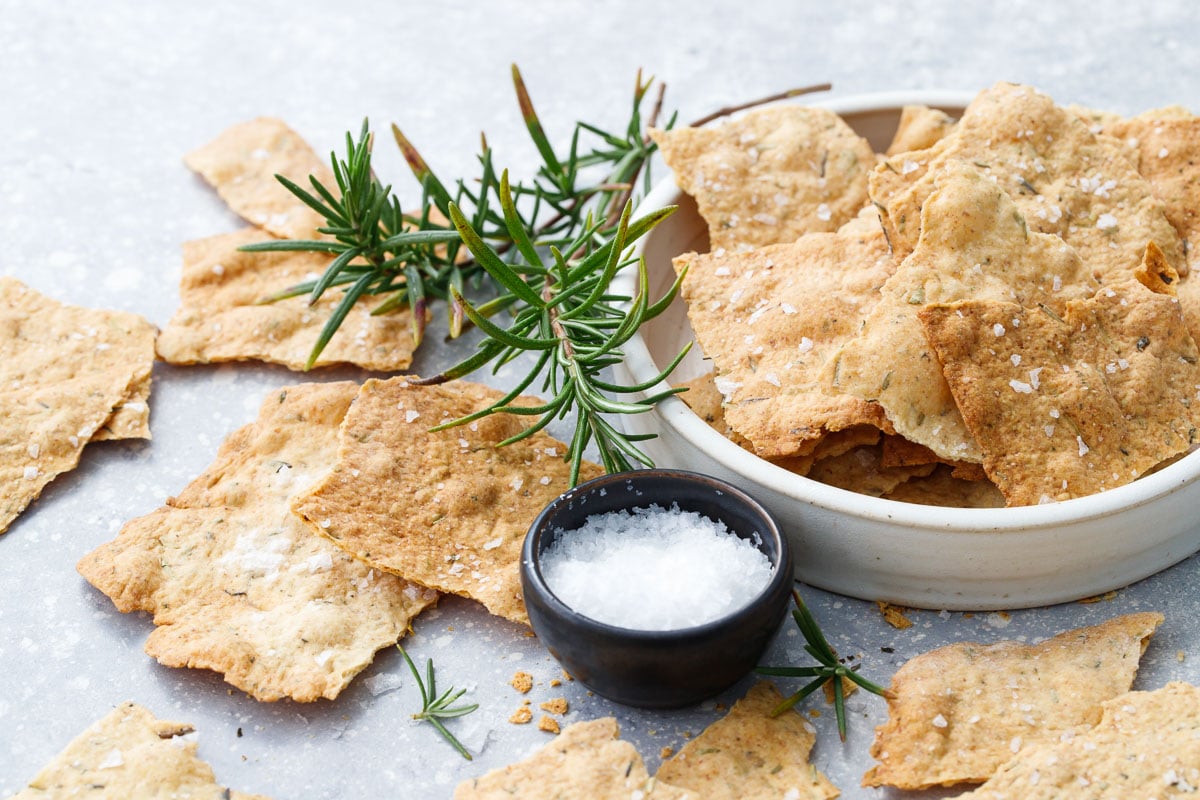 Sourdough Crackers with Olive Oil & Herbs
Homemade crackers made using leftover sourdough discard. This recipe calls for 200 grams of mature starter, which is about what I end up with baking a single loaf. If you have more or less starter, you can easily scale this recipe as needed.
Ingredients
1

cup

/

200

g

mature sourdough starter (100% hydration)

½

cup

/

60

g

all-purpose flour

½

cup

/

60

g

whole wheat flour

2

tablespoons

/

12

g

rye flour*

3

tablespoons

/

32

g

extra virgin olive oil

1

tablespoon

dried herbs de Provence

½

teaspoon

fine sea salt

maldon flake salt

,

for topping
Instructions
In a bowl, combine sourdough starter with flours, olive oil, herbs and salt. Mix to combine, kneading until the dough comes together in a smooth ball.

Wrap tightly in plastic wrap and refrigerate for at least 30 minutes or up to 24 hours.

Position oven racks in the upper 1/3 and lower 1/3 of oven; preheat to 350 degrees F. Line two baking sheets with parchment or silicone baking mats.

Cut dough in half; put one half back in the fridge while you roll out the other. Cut dough again into 4 smaller pieces.

Roll out each piece into an oblong rectangle. You can do this with a rolling pin on a lightly floured surface, or using a pasta roller for super thin crackers. I like to roll my dough out to the #6 thickness setting (out of 8). If you are rolling by hand, just roll it as thin as you possibly can.

Lay out two oblongs of dough side by side (not overlapping) on each baking sheet.

Spritz or brush lightly with water; sprinkle with flake salt.

Bake for 12 to 15 minutes or until lightly golden brown and crispy, rotating the pans top to bottom and back to front part way through baking.

Let cool, then transfer crackers to a cooling rack. Repeat with remaining dough.

Crackers will keep in an airtight container at room temperature for up to one week.
Notes
While I used a mix of AP, whole wheat, and rye flours, you can use any blend you like so long as the total flour weight stays the same. For example, if you leave out the rye flour just add an additional 12g of whole wheat instead.
All images and text ©
for Love & Olive Oil.
Did you make this recipe?
Let us know what you think! Leave a Review below or share a photo and tag me on Instagram with the hashtag #loveandoliveoil.