Matcha mint ice cream pie, anyone? Featuring homemade fresh mint ice cream with a hint of matcha for color and flavor, frozen in a sweet and salty cookie crust with a hidden layer of fudge sauce.
The fresh mint flavor of this ice cream pie is what makes it truly unique, and so much better than the jarring, mouthwashy mint flavor that comes from mint extract. Once you've tried fresh mint ice cream you'll never be able to eat anything else!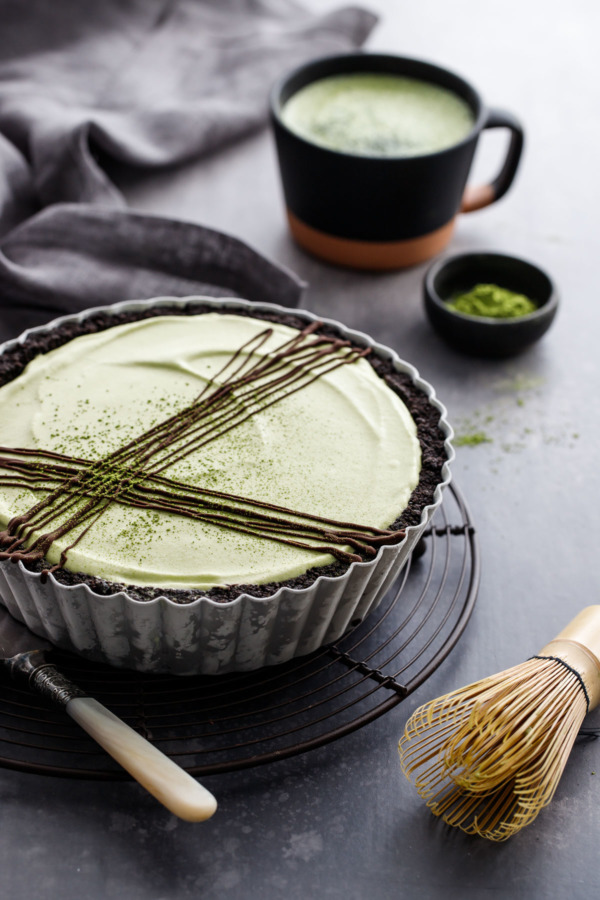 Matcha & mint. Mint & matcha. They just sound good together.
But they taste even better together.
The idea to add matcha started with a desire for a green mint without food coloring. What better natural green color is there? But in the end, the matcha does so much more than that, adding another layer of flavor to the bright, fresh mint.
The easiest way to make ice cream more impressive? Put it in a pie crust.
I mean, a heaping scoop of fresh mint ice cream would would be lovely and all, but when you get a crisp triangular slice of ice cream in a sweet and salty chocolate cookie crust…
For the same reason that ice cream sandwiches are the bomb (hello sweet + salty) applies to this pie too.
Also? That hidden layer of fudge sauce in the bottom puts this one over the top.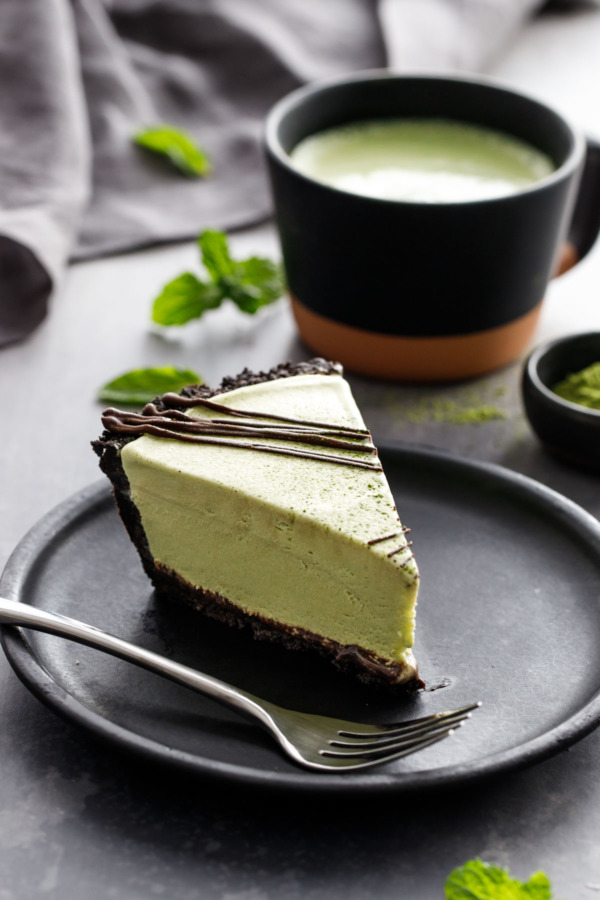 The evolution of a recipe:
I really love this old ice cream mud pie recipe.
I should do a mint version of that pie!
If I'm going to make mint ice cream it really needs to use fresh mint.
But I want green mint ice cream. How do I do that without food coloring?
I know, matcha!
To chocolate chip or not to chocolate chip?
OR, what about adding a layer of homemade fudge sauce instead?
This pie is too shallow and hard to cut. I better order a different pie pan, one with a removable bottom.
The top is too plain. It needs decoration. Chocolate mint leaves? Or, better yet (and easier too!) a drizzle of melted chocolate and a dusting of matcha powder.
Eureka!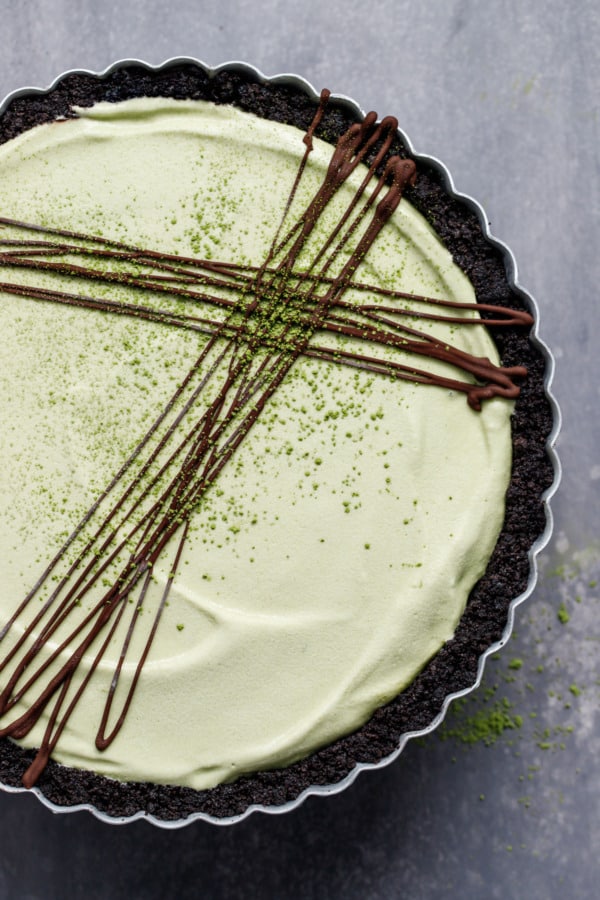 I actually made two versions of this pie. Not intentionally, but the first one wasn't cooperating as I was shooting it (90+ degree days and ice cream pies don't exactly make things easy). I spent too much time shooting the whole pie so that when I finally sliced into it, it was a big, goopy mess. Not exactly appetizing.
But, I turned a failure into an opportunity to test out two different variations, one with an egg-based ice cream and another using an eggless ice cream method inspired by Jeni's Splendid Ice Creams with corn syrup, cornstarch, and cream cheese (I used mascarpone) to enhance the texture.
Honestly, either works, I'm not sure we could pick a favorite based on taste alone. The egg-based frozen custard is a little richer (in flavor and in calories, lol), while the eggless version is a bit lighter and brighter in flavor. But they both require the same amount of time/effort overall. The egg version is a little more advanced since you're dealing with tempering eggs, and you have 4 leftover egg whites to deal with (look in my freezer and you'll see why this is a problem). For that reason I've chosen the eggless version to share here.
I used this 8-inch deep tart pan with removable bottom, the idea being that being able to remove the crust from the pan would make it easier to get a clean slice.
Which was true…
However, I had a little bit of trouble getting the pie out of the pie pan, the frozen butter in the crust having glued the removable bottom to the outer ring. But a quick dunk in some warm water and it came right out.
That said, the recipe also works perfectly well in a standard 9-inch pie tin too. Either way you'll probably end up with a bit of leftover ice cream unless you really mound it on there. If that's the case, stick it in a freezer container and you can enjoy it another time. :)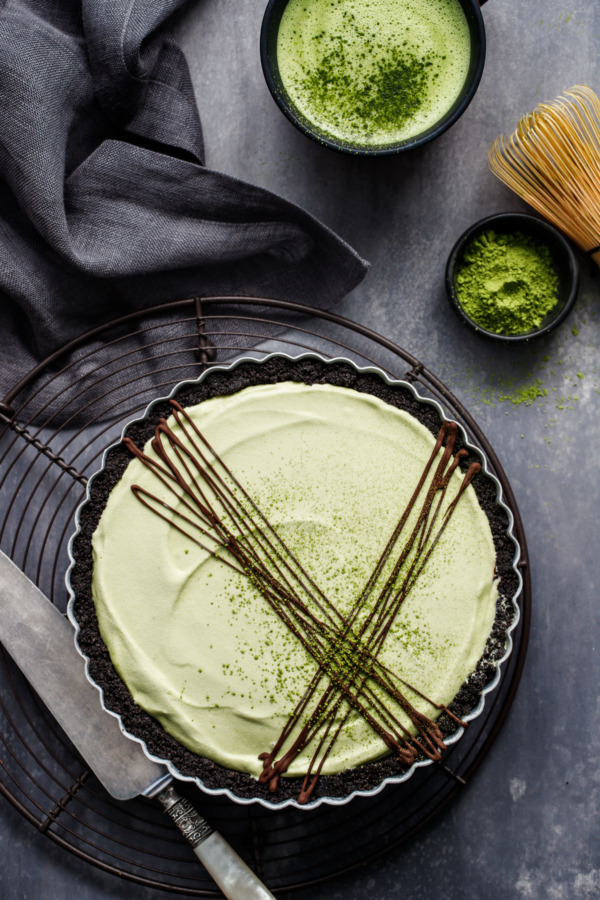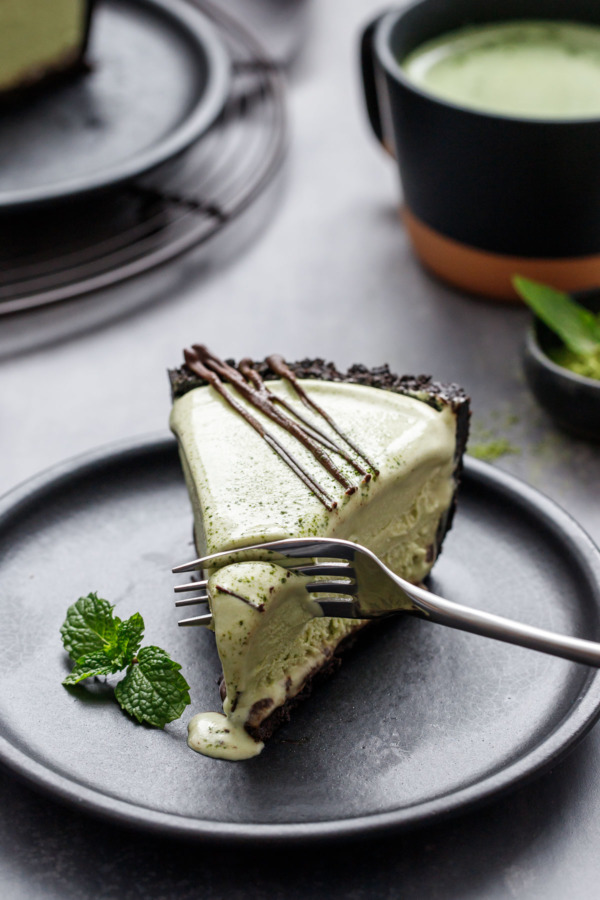 These chocolate wafer cookies are my absolute favorite cookie to use for pie crusts, but it's getting harder and harder to find them these days. I can usually find them at Kroger on the end-cap of the ice cream aisle (with the ice cream cones and fudge sauce, usually).
If you can't find them or don't want to order them online, plain oreos (scrape out the filling) are your next best choice.
One of these days I'll figure out a recipe for homemade chocolate wafer cookie crumbs (not even cookies, I just need the crumbs). Will definitely share that recipe here once I do!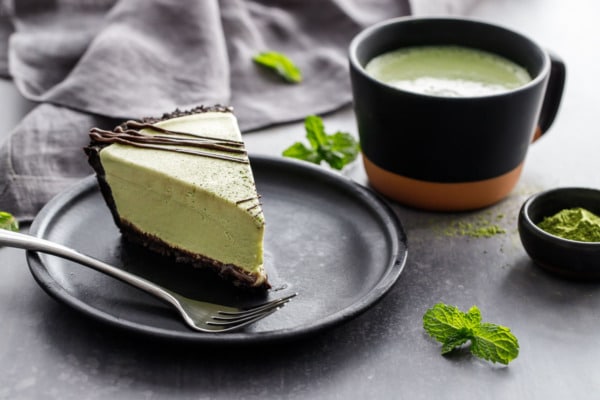 Matcha Mint Ice Cream Pie
Fresh mint ice cream naturally colored with matcha green tea, served in a sweet and salty chocolate cookie crust with a layer of fudge sauce in the bottom.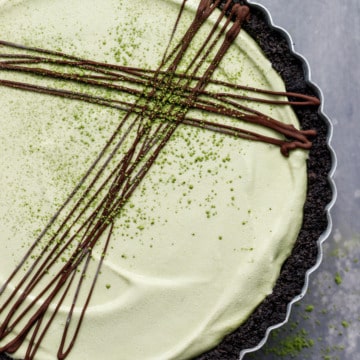 Ingredients:
For Crust:
7 ounces chocolate wafer cookies, finely ground (1 1/2 cups crumbs)
5 tablespoons unsalted butter, melted
2 teaspoons light corn syrup
pinch salt
1/3 cup chocolate fudge sauce (homemade or store bought)
For Ice Cream:
2 3/4 cups whole milk
5 teaspoons corn starch
2 ounces mascarpone cheese, at room temperature
1/4 teaspoon fine sea salt
1 tablespoon matcha, sifted
1 1/2 cups heavy cream
2/3 cup granulated sugar
1/4 cup light corn syrup
1 ounce fresh mint leaves, torn
Directions:
For crust, pulse wafer cookies in a food processor until finely ground. Transfer to a bowl. Add melted buttter, corn syrup and salt and mix until evenly moistened. Press into the bottom and up the sides of a deep 8″ tart pan with removable bottom (a 9″ pie pan or even springform pan will work as well). Freeze until set. Spread a layer fudge sauce in bottom of pie crust and return to freezer for at least 1 hour or until ready to fill with ice cream.
To prepare ice cream, whisk 2 tablespoons milk with cornstarch in a small bowl and set aside.
In a large heat-proof bowl, whisk mascarpone, matcha and salt until smooth.
Combine remaining milk, cream, sugar and corn syrup in a medium saucepan. Bring to a simmer over medium-high heat. Let boil for 4 minutes, stirring occasionally. Whisk in cornstarch mixture. Return to a boil for 1 minute or until slightly thickened.
Slowly pour in a few spoonfuls of hot milk mixture into bowl with matcha mascarpone, whisking until thoroughly combined. Add remaining milk mixture and whisk until smooth.
Add fresh mint to hot ice cream base. Cover and let steep for 20 minutes, then strain through a fine mesh sieve into a gallon plastic freezer bag. Place in a bowl of ice water until cooled, then refrigerate bag until thoroughly chilled, at least 2 hours or overnight.
Churn chilled ice cream base in an ice cream machine according to manufacturer's instructions. When ice cream is the consistency of soft serve, spoon into frozen crust, spreading top into an even layer. Depending on the size of your pie pan you may have some ice cream leftover, which you can spoon into a freezer storage container to enjoy later.
Return pie to freezer and freeze overnight until completely solid. Optionally, you can drizzle the top with a little melted chocolate or fudge sauce and a dusting of matcha. If using a pie tin with a removable bottom, remove sides of tin before slicing with a hot knife (run under warm water for 30 seconds).
Did you make this recipe?
Let us know what you think!
Leave a Comment below or share a photo and tag me on Instagram with the hashtag #loveandoliveoil.