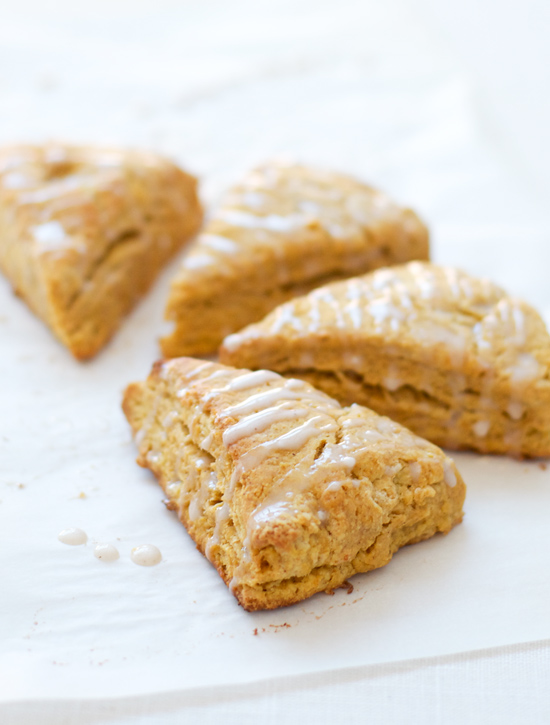 I don't think I'm the only one that went a little crazy with the canned pumpkin this year. All this talk about the great pumpkin shortage was something I didn't take lightly. I picked up a can or two (or three, if Taylor was with me) every time we spotted it in the store, and as a result we've got a cabinet full of canned pumpkin.
Not that having too much canned pumpkin is a bad thing.
Especially when you have delicious recipes like this one just waiting to be enjoyed.
I've never been much of a scone person. Doughnuts, yes. Scones, no. Not even worth the effort to eat, let alone make. But these scones were nothing like the dry, drab concoctions I had always associated with scone-ness. They are packed with pumpkin goodness, in a soft flaky package that is more like a firm buttermilk biscuit than a rock hard scone. The cinnamon sugar glaze doesn't hurt, either.
So what if it's January. Pumpkin is quickly becoming a year-round flavor.
Pumpkin Scones with Cinnamon Sugar Glaze
Ingredients:
1 cup all purpose flour
1 cup cake flour
1 1/2 teaspoons baking powder
1/2 teaspoon salt
1/2 teaspoon ground cinnamon
1/2 teaspoon ground nutmeg
1/4 teaspoon ground allspice
1/4 teaspoon ground ginger
6 tablespoons unsalted butter
1/3 cup pumpkin puree
1/3 cup heavy cream
6 tablespoons brown sugar
1 teaspoon vanilla
Glaze:
1 cup powdered sugar
2 tablespoons milk
1/2 teaspoon cinnamon (or to taste)
Directions:
Preheat oven to 425 degrees F. Line baking sheet with parchment paper.
Cut the butter into small pieces, put it in a small bowl and refrigerate until ready to use. In a medium bowl, whisk together both flours, baking powder, salt, and all spices. Place bowl in freezer.
In a separate bowl, combine pumpkin, heavy cream, brown sugar, and vanilla and mix well to combine. Freeze or refrigerate.
Combine butter pieces with flour mixture. Using a pastry blender, cut the butter into the flour until it resembles coarse crumbs. Add cold pumpkin mixture and stir until dough is just moistened. The dough will be very crumbly, this is the way it should be. Turn the mixture out onto the counter and push the pile together with your hands. It should stick together fairly well. Knead it just a couple of times until it starts to come together. Don't knead it too much or the dough will get too sticky.
Shape the dough into a circle 3/4 to 1 inch thick. Cut into 8 wedges. Arrange on baking sheet. Bake for about 15 minutes, or until barely light brown on the bottom. The tops will darken as they cool.
For glaze, mix together powdered sugar, milk, and cinnamon. Add additional sugar or milk as needed to achieve the desired consistency. Brush or drizzle onto warm scones.
Did you make this recipe?
Let us know what you think!
Leave a Comment below or share a photo and tag me on Instagram with the hashtag #loveandoliveoil.