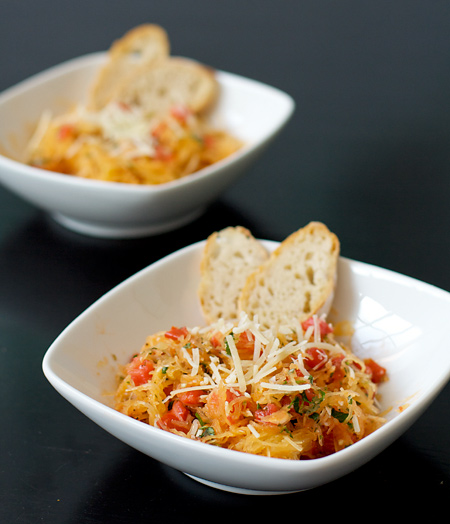 Fall is in the air.
The days are getting shorter…
The nights are crisp (by Nashville standards, anyway)…
The first winter squash appeared in our CSA…
Yep, it's fall all right. And I can't say that I'm sad about it, either. We've had an incredibly hot summer here, and I'm looking forward to the relief of the cool fall nights. I know I'll probably be grumbling about the lack of daylight in a month or so, and then complaining about how cold it is the month after that… but right now, I'm resigned to the fact that fall is here and I'm ok with that.
That first winter squash was a spaghetti squash, quite possibly the cutest little spaghetti squash I've ever seen. Spaghetti squash is one of those things… it may sound like a silly name, but once you actually take one apart it makes complete sense, because it looks exactly like spaghetti. Spaghetti squash may just be the most logically named vegetable out there. Not to mention that when tossed with fresh tomatoes, basil, and oregano, it makes a darn good replacement for spaghetti. It's like faux-pasta. The Parmesan doesn't hurt, either.
Spaghetti Squash with Tomatoes, Basil, and Parmesan
Makes 2 servings or 4 side servings. Recipe from Epicurious.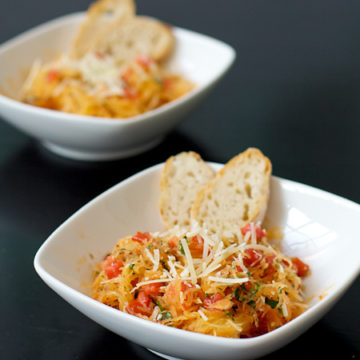 Ingredients:
1 small (1.5 lb) spaghetti squash, halved lengthwise, and the seeds discarded
2 tablespoons olive oil
1/4 cup shredded fresh basil leaves plus additional for garnish
1 teaspoon chopped fresh oregano
3 tablespoons freshly grated Parmesan
1 cup thinly sliced cherry tomatoes
Directions:
Preheat oven to 350 degrees F.
In a glass baking dish, arrange the squash cut side down in about 1/2 inch of water. Cover with aluminum foil. Bake for 20-30 minutes (depending on the size of the squash) or until it is tender and easily pierced with a fork. Remove from oven and allow to cool slightly.
In a large bowl whisk together the oil, 1/4 cup of the basil, the oregano, and 2 tablespoons of the Parmesan, stir in the tomatoes, and season the mixture with salt and pepper.
When the squash is cool enough to handle, scrape it with a fork to form strands, add the strands to the tomato mixture, and toss the mixture until it is combined. Divide the mixture between 2 bowls, sprinkle the remaining 1 tablespoon Parmesan over it, and garnish it with the additional basil.
Did you make this recipe?
Let us know what you think!
Leave a Comment below or share a photo and tag me on Instagram with the hashtag #loveandoliveoil.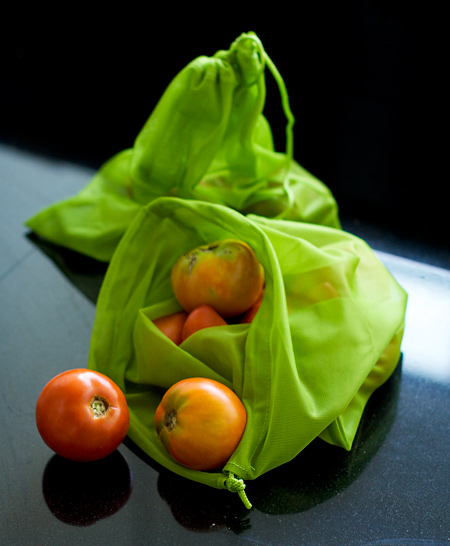 And now… on to the giveaway (because we all LOVE giveaways!) and I have to say I'm in love with this product. Let me introduce you to Reuseit.com's Recycled PET Mesh Produce Bags. I've been a fan of Reuseit's products for some time now, including their Mesh Workhorse Shopping Bags (we've been using a set of these for years in place of plastic grocery bags, and aside from the occasional, "these look like pantyhose," comments from store clerks, they are tough and durable and truly fabulous). We're also big fans of their Produce Saver Green bags. The green bags work wonderfully, keeping even delicate greens like cilantro or spinach fresh for far longer than a typical bag. However, they are bit of a pain to wash, and probably aren't the most sanitary things in the world after being used a dozen times. The new bags are machine washable. I'm sold.
So when Natalie at Reuseit offered to send me some of their new mesh produce bags and a produce saver pack, I couldn't say no. The bags are made from recycled PET plastic, and work very well in combination with the Produce Saver packs to keep produce fresher longer. They are perfect for CSA members, since it's not like that produce comes bagged like grocery store produce. These bags are also so lightweight you could bring them with you to the grocery store and use them in place of the plastic ones. And I'm all for replacing single-use plastic with reusable, recycled plastic.
Here's the best part: Reuseit.com is giving away one set of (4) reusable mesh produce bags, plus a set of two Produce Saver packs to one lucky L&OO reader.
Not only that, but they are also offering you an exclusive coupon for 10% off any order, good through next Wednesday. Simply enter code OLIVEOIL upon checkout. I know I'm going to be taking advantage of this offer… as 4 bags is definitely not enough, not to mention this little gadget looks pretty awesome too.
TO ENTER: simply leave a comment on this post. I'll be randomly selecting the winner the morning of Wednesday, September 22nd. One entry per person. Prize will be shipped to the winner directly from Reuseit.
You can also get yourself a BONUS entry by twittering about this giveaway, sharing it on facebook, or mentioning it on your own blog. Simply leave an additional comment with a link to the tweet and/or blog post. One bonus entry per person (multiple tweets won't get you multiple bonus entries).
Be sure you enter a valid email address, because if your name is drawn and I can't get a hold of you within 72 hours, I will choose an alternate winner. You may also want to add me to your address book (lindsay AT loveandoliveoil DOT com), as I'd hate for your congratulatory email to end up in the spam folder.
Good luck!