You can probably go through our recent recipes and easily spot which meals Taylor picked out. He likes manly meals – no lentils or barley or any of that stuff. Hearty, satisfying meals, often resembling pizza in some form or another (ie: cheese + tomato + protein = Taylor in heaven). Don't let the eggplant fool you here, this dish is as hearty as if it were meat. The rich homemade tomato sauce, lightly browned eggplant, oozing mozzarella, and just a hint of fresh basil – this is Taylor's kind of meal. And I have to admit I enjoyed it as well (or maybe that's just the fact that I eat cheese so rarely, that when I do it is so delicious that I don't care what it's on, only that it's melty gooey delicious cheese.)
I do have to note that it's well worth it to make your own tomato sauce here. You're not going to get the same flavor and freshness from a jar. The extra 45 minutes is worth it.
Eggplant Parmigiana Heroes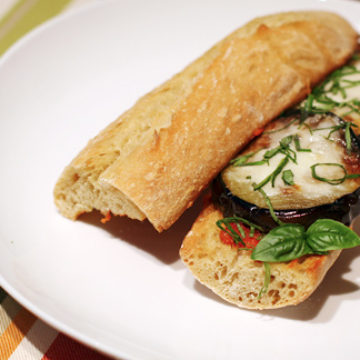 Ingredients:
For tomato sauce:
1 1/2 pounds tomatoes, chopped
2 tablespoons extra-virgin olive oil
1 medium onion, chopped
5 garlic cloves, chopped
1/4 teaspoon hot red pepper flakes
1/3 cup grated Parmigiano-Reggiano
4 (6-inch) hero or hoagie rolls, split
1/4 cup extra-virgin olive oil, divided
2 (1-pound) eggplants
1/2 pound grated provolone or fresh mozzarella
1 cup basil leaves, chopped
Directions:
To make tomato sauce, purée tomatoes in a blender until very smooth. Heat oil in a 3-to 4-quart heavy saucepan over medium-high heat until it shimmers. Sauté onion and garlic with red pepper flakes until golden, about 4 minutes. Add tomato purée, 1/2 teaspoon salt, and 1/4 teaspoon pepper and simmer, uncovered, stirring occasionally, until thickened, 30 to 35 minutes. Remove from heat and stir in cheese.
Heat 2 teaspoons oil in heavy skillet or grill pan. Cut eggplants crosswise into 1/2-inch-thick slices. Lightly season both sides with salt.
Cook eggplant until very tender and lightly browned, about 4-6 minutes per side. Transfer eggplant to a cookie tray, and sprinkle with grated cheese. Broil until cheese begins to melt. Transfer eggplant with spatula to a large tray.
Brush cut side of rolls with 1 tablespoon oil. Toast rolls (cut side only) in broiler, about 1 minute.
Transfer toasted rolls to 4 plates and spoon about 3 tablespoons tomato sauce onto each bottom piece. Top with eggplant, making 2 layers. Add remaining sauce, then top with basil and remaining cheese and close sandwiches.
Did you make this recipe?
Let us know what you think!
Leave a Comment below or share a photo and tag me on Instagram with the hashtag #loveandoliveoil.