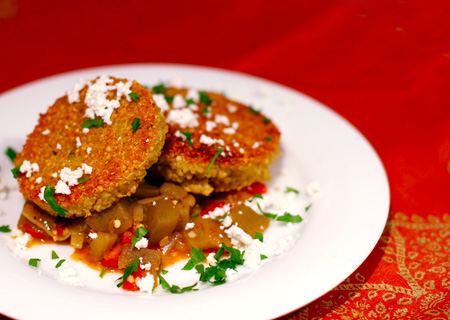 Oh goat cheese, how I love thee.
Since I stopped eating dairy almost a year ago, I have managed to adapt pretty well. I don't miss much, not the ice cream (the soy stuff is surprisingly good), nor the milk chocolate (give me dark any day), or even creamy pasta sauces (hey, it's much healthier without them). I do eat Parmesan on occasion, or, actually, quite often on pasta, but it's aged and I don't eat enough to do any harm.
But the one thing that I really miss, that I constantly crave, that sets my mouth a'droolin'… well, that thing is goat cheese.
And sometimes, when I find a recipe like this, that just screams for the addition of goat cheese, I'm willing to suffer the consequences. You see, the recipe originally called for smoked mozzarella. Yes, I loved mozzarella… but not enough to deal with the painful after-effects. But substitute goat cheese instead… yup. I'll eat me some of that. And I'll like it, no matter how I feel afterword.
Surprisingly, it wasn't that bad. I've heard that goat's milk is easier to digest than cow's milk, and it just might be true. In that case, you might be seeing more of it in our everyday recipes.
When I first found this recipe, Taylor gave me one of those looks… the look that says, "oh please don't make me eat that cardboard hippie crap… unless I can add italian sausage." And quinoa does have that stereotype. However, when we sat down and took the first bite of these crispy cakes, even I was surprised. There was flavor there that I never expected. And it was good. Worth the trouble of struggling to flip a fragile paddy of quinoa good.
Especially with the addition of the goat cheese. :)
Quinoa Cakes with Eggplant-Tomato Ragu and Goat Cheese

Makes 2 servings. Recipe from Epicurious.

Ingredients
For quinoa cakes
1 1/2 cups water
1 cup quinoa
1 large egg, lightly beaten
4 to 5 tablespoons olive oil, divided

For topping
1 1/2 lb eggplant, cut into 1/2-inch cubes
1 small onion, finely chopped
2 teaspoons finely chopped garlic
1/2 teaspoon dried oregano
3 tablespoons olive oil
1 cup grape or cherry tomatoes, halved
1/2 cup drained bottled roasted red peppers, rinsed and chopped
3/4 cup water or vegetable broth
1 tablespoon chopped flat-leaf parsley
2 oz. goat cheese, crumbled

Directions
Make quinoa cakes:
Bring water and 1/2 teaspoon salt to a boil in a heavy medium saucepan.

Meanwhile, wash quinoa in 3 changes of water in a bowl, then drain well in a fine-mesh sieve.

Stir quinoa into boiling water and return to a boil, then simmer, covered, until quinoa is dry and water is absorbed, 20 to 30 minutes. Remove from heat and let stand, covered, 5 minutes. Transfer to a large bowl and cool, stirring occasionally, 10 minutes, then stir in egg.

Line a baking sheet with plastic wrap and lightly brush with oil. Lightly oil a 1-cup dry-ingredient measure. Pack enough quinoa into measure with a rubber spatula to fill it two-thirds full. (If spatula becomes sticky, dip in water.) Unmold onto baking sheet and gently pat quinoa into a 4-inch-wide patty with spatula. Make 3 more quinoa cakes, brushing measure with oil each time. Chill cakes, uncovered, at least 15 minutes.

Toss eggplant with 1 teaspoon salt in a colander and drain 30 minutes. Squeeze handfuls of eggplant to extract liquid, then pat dry.

Cook eggplant, onion, garlic, oregano, and 1/4 teaspoon each of salt and pepper in oil in a 12-inch heavy skillet over medium heat, covered, stirring occasionally, until softened, about 5 minutes. Stir in tomatoes, roasted peppers, and water or broth and simmer, covered, stirring occasionally, until eggplant is very tender and mixture is thick (if dry, thin with a little water), about 10 minutes.

Heat 2 tablespoons oil in a 12-inch nonstick skillet over medium heat until it shimmers. Carefully add quinoa cakes and cook, turning once carefully and adding remaining 2 to 3 tablespoons oil, until crisp and golden, about 3-5 minutes per side (pat cakes to reshape with cleaned rubber spatula while cooking if necessary). Transfer to plates.

To serve, spoon ragù over quinoa cakes, then sprinkle with chopped parsley and crumbled goat cheese.

TIP: Really pack in the quinoa when forming the cakes. The firmer they are to begin with, the easier they are to cook. I'd also recommend making smaller cakes than described, maybe 1/3 cup full rather than 2/3. The smaller cakes, I found, were much easier to flip once in the pan. And hey, even if they crumble a bit, let them keep cooking. Even a badly mutilated cake will still be crispy and delicious!