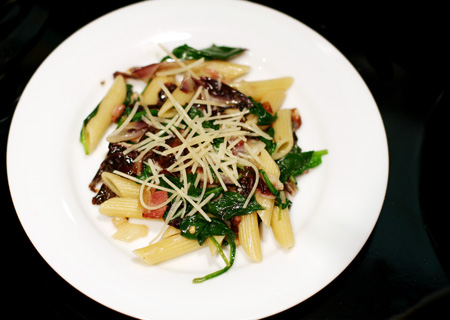 I've personally never had Radicchio. But I found this recipe, and it looked good, so I thought we'd give it a try. We could've bought a steak, for the price of the one head (not two like the recipe calls for). Expensive stuff, that radicchio.
It did have an interesting flavor. Almost bitter, or, definitely bitter if you got too much of it in one bite. But with the baby spinach and bacon, it mellowed out. It was definitely a change from some of the things we typically cook.
The bacon is definitely crucial. We somehow managed to lose the bacon between the refrigerated section and the checkout stand. Taylor swears he had it. We searched high and low in the fridge, freezer, and cupboards (maybe? accidentally? would it still even be good 2 days later?) and even in the car. No luck. No bacon. And when we checked our receipt, sure enough, no bacon.
If there's one thing I hate it's running to the store at 6pm. We like to shop in the middle of the day when no one's around. But 6pm at the store is a whole other story. Not sure what it is but I feel like we're slacking in the plan-ahead department, and have had to make more of these 6pm runs than ever.
But in this case, this recipe wouldn't have been that good without the bacon. So the store run was absolutely necessary.
Penne with Radicchio, Spinach, and Bacon

Ingredients
1 whole head of garlic (with about 12 to 14 cloves)
6 teaspoons olive oil, divided
1 pound penne
8 ounces bacon (about 8 slices), cut crosswise into 1/3-inch-wide strips
1 large onion, chopped (about 2 cups)
1 cup low-salt chicken broth
6 cups (packed) coarsely torn Treviso, Chioggia, or Tardivo radicchio leaves (from about 2 medium heads)
3 cups (packed) baby spinach leaves, torn in half (about 10 ounces)
1 cup (packed) fresh basil leaves, torn in half (about 10 ounces)
1 cup freshly grated Parmesan cheese plus additional for serving
1/4 teaspoon dried crushed red pepper

Directions
Preheat oven to 375°F. Cut off top 1/2 inch of garlic head, exposing cloves. Place garlic head, cut side up, on sheet of foil and drizzle with 1/2 teaspoon olive oil. Wrap garlic in foil. Roast until garlic is soft, about 40 minutes. Let stand until cool enough to handle. Squeeze garlic into small bowl.

Cook pasta in large pot of boiling salted water until just tender but still firm to bite, stirring occasionally. Meanwhile, cook bacon strips and chopped onion in heavy large skillet over medium-high heat until golden brown, stirring occasionally, about 12 minutes. Add chicken broth, remaining 5 1/2 teaspoons olive oil, and roasted garlic. Bring mixture to simmer, stirring occasionally. Add radicchio, spinach, and basil and stir to combine. Simmer just until radicchio and spinach wilt, about 1 minute.

Drain pasta and return to same pot. Add radicchio-spinach mixture to pasta. Add 1 cup grated Parmesan cheese and crushed red pepper; toss to coat. Season pasta to taste with salt and pepper and serve, passing additional Parmesan cheese alongside.