We found a good hummus! Hooray! I couldn't tell you what was wrong with the last one, but this hummus recipe is wonderful. Paired with the bread and veggies, it really can't be beat. A refreshing, flavorful, and super-healthy lunch (or dinner).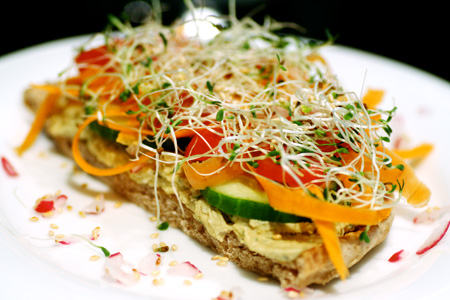 Hummus and Vegetable Sandwiches
Makes 4 servings. Recipe from Epicurious, with adjustments.
Ingredients
For hummus:
2 garlic cloves, minced and mashed to a paste with 1/2 teaspoon salt
a 16- to 19-ounce can chick-peas, rinsed and drained
1/3 cup well-stirred tahini (sesame seed paste)
2 tablespoons fresh lemon juice
2 tablespoons olive oil
1 teaspoon ground cumin
3 tablespoons water
3 tablespoons minced fresh parsley leaves

Pita or flatbread, warmed
1/2 cup sliced seedless cucumber
1 large carrot, cut into ribbonlike strands with a vegetable peeler (about 1 cup)
1 small sweet onion, sliced thin
1/2 cup finely shredded radish (about 6)
1/2 cup alfalfa sprouts plus additional for garnish
1 1/2 tablespoons sesame seeds, toasted

Directions
To make the hummus:
In a food processor blend together garlic paste, chick-peas, tahini, lemon juice, oil, and cumin, scraping down side, until smooth. Add water, parsley, and salt and pepper to taste and pulse until just combined. Hummus may be made 2 days ahead and chilled. Makes about 2 cups.

Spread hummus evenly on pita and top with cucumber, carrot, onion, radish, 1/2 cup sprouts, and 1 tablespoon sesame seeds. Top with another pita and slice in half. (You could also put the fillings inside the pita).