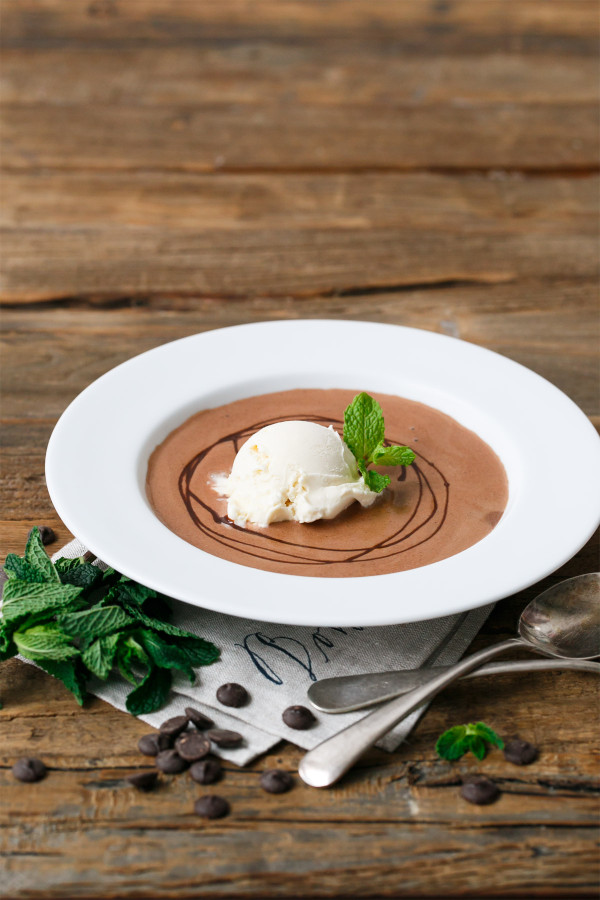 Today (February 19th) is National Chocolate Mint day, and to celebrate I've got a dessert soup recipe to whet your tastebuds and warm your soul.
Dessert soup, you say? Indeed.
Imagine it like an entire bowl full of hot chocolate à la mode, served affogato-style over vanilla ice cream. Talk about a unique dessert. Not to mention you can make an artful presentation out of it, pouring the warm soup right in front of your dinner guests like they were VIPs on a cruise ship.
We spiked our chocolate soup with a generous glug of creme de menthe liqueur, which gives it a touch of adult-sophistication and a hint of bright mint flavor: a perfect way to celebrate this severely under-appreciated holiday.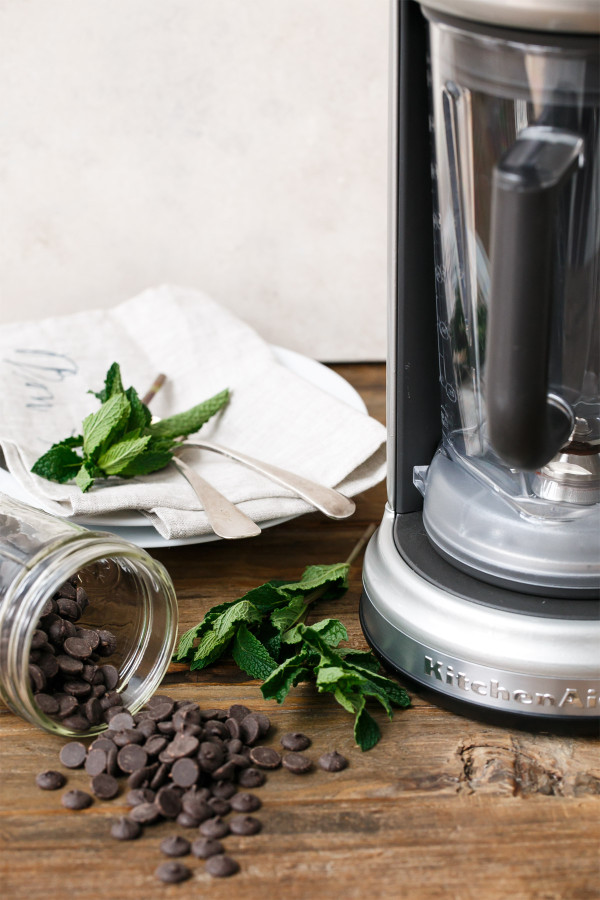 Melting chocolate can be fussy and frustrating (unless you happen to be a chocolate whisperer, which case more power to you), but in my case, I found a high-speed blender makes quick and easy work of it, melting and mixing the chocolate and cream in seconds, resulting in a smooth and frothy consistency.
To harness the full power of your blender, simply add your chocolate (cut into small pieces, either chips or callets or a chopped up bar of chocolate) to the blender pitcher along with sugar and cocoa powder. You definitely want to use the best quality chocolate and cocoa powder you can get here, as that makes up 3/4 of the flavor of the final soup.
Heat the milk and cream in a small saucepan over medium-low heat until it just starts to form tiny bubbles around the edges, but take it off the heat before it boils and forms a rubbery skin. Pour the hot cream over the chocolate in the blender pitcher. Let it sit for 30 seconds to give the chocolate time to melt.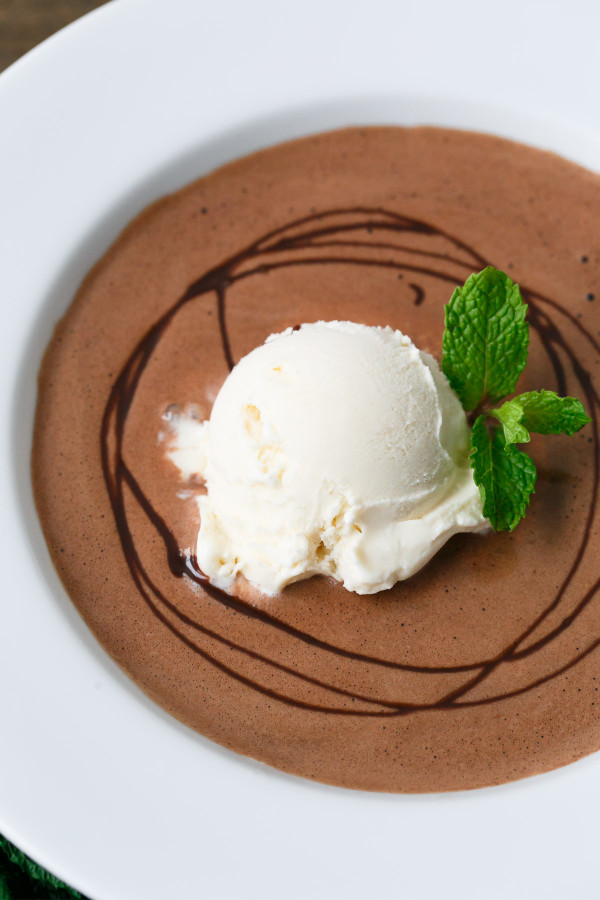 Turn your blender on at the lowest available speed, then slowly increase the speed to high, and watch while the chocolate melts, mixes, and blends before your eyes.
Add the creme de menthe liqueur at the very end so the flavor and essence doesn't evaporate. We found 1/4 cup to be the perfect amount of minty flavor without becoming overpowering or harsh, but feel free to add more or less creme de menthe to suit your personal tastes.
While the soup is still warm, pour it into serving bowls along with a scoop of vanilla ice cream. The contrast of hot and cold is one of our favorite parts of this soup, almost like an Italian affogato (hot espresso served over vanilla gelato), the ice cream melting under the heat of the soup and making it even richer and creamier.
You can also drizzle some warm chocolate sauce on top of the soup for a stunning presentation that becomes its own modern art masterpiece… for a few seconds at least before you dive in head first with your spoon.
For a family-friendly version of this soup, try steeping a handful of fresh mint leaves in the warm cream for about 30 minutes, then strain and reheat the cream and proceed as instructed. The fresh mint flavor is definitely different, more earthy and natural, but just as delightful. You could also add a teaspoon or so of mint extract, though I find it a much harsher mint flavor (think mouthwash) and so tend to prefer other methods of infusing mint flavor in my desserts.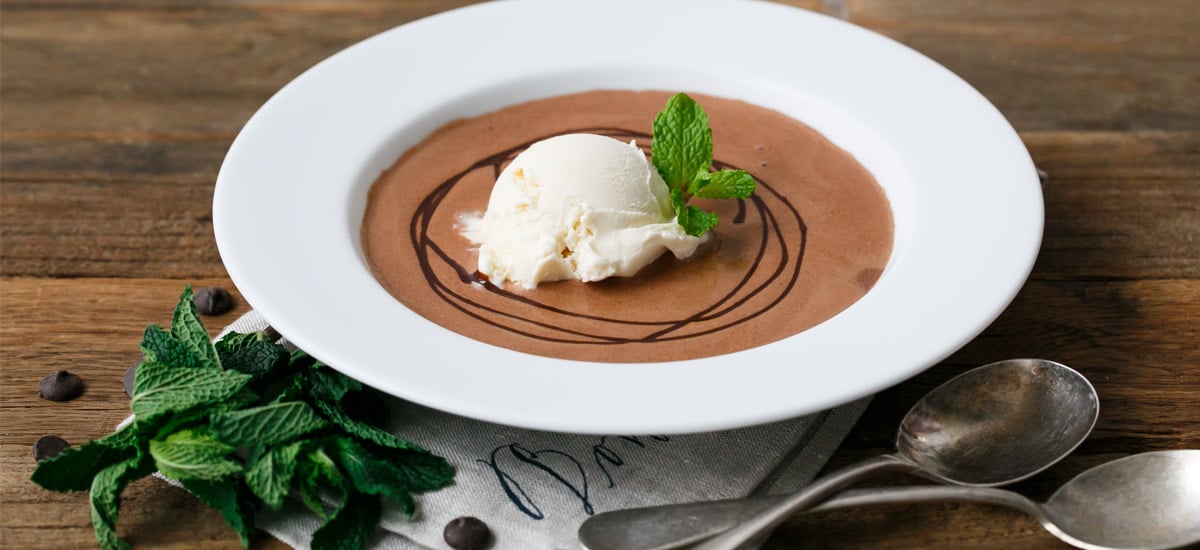 Mint Chocolate Dessert Soup
Warm chocolate soup, rich and frothy and spiked with a splash of creme de menthe liqueur, served affogato-style over vanilla ice cream.
Ingredients:
1 cup whole milk
1 cup heavy cream
4 ounces good quality dark chocolate (60%), about 2/3 cup of chips, callets or finely chopped chocolate
1 tablespoon unsweetened cocoa powder
1 tablespoon granulated sugar
1/4 cup clear creme de menthe liqueur
vanilla ice cream, warm fudge sauce, and mint leaves, to serve
Directions:
Combine milk and cream in a small saucepan and set over medium-low heat.
Place chocolate in the pitcher of your blender along with cocoa powder and sugar.
Once cream mixture just begins to bubble (do not let it come to a full boil), pour into pitcher over chocolate. Secure lid and let sit for 30 seconds, then process on high speed until smooth. Add creme de menthe blend on low for a few seconds just to incorporate.
To serve, place scoops of vanilla ice cream into shallow serving bowls. Pour about 1/2 cup of warm soup into bowl over ice cream. Drizzle with fudge sauce and garnish with mint leaves if desired. Serve immediately. Soup can also be refrigerated in the blender pitcher or in an airtight container, then rewarmed slightly before serving.
Did you make this recipe?
Let us know what you think!
Leave a Comment below or share a photo and tag me on Instagram with the hashtag #loveandoliveoil.
This recipe was created in partnership with KitchenAid®. All opinions are my own.