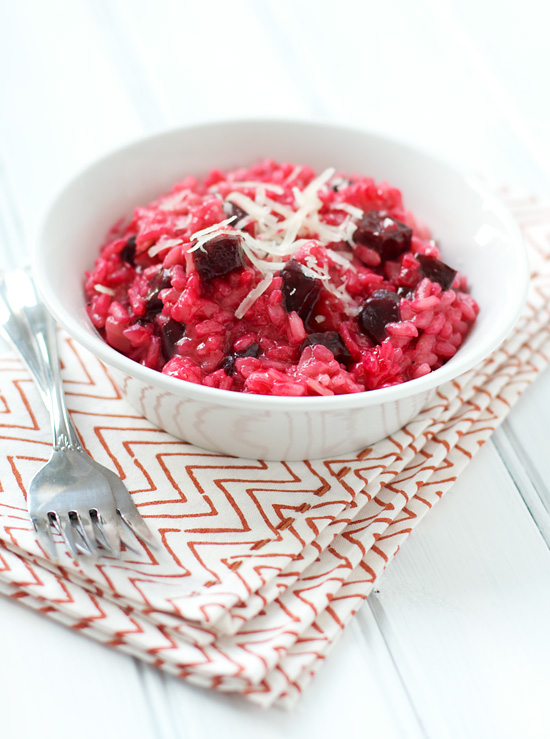 Yep, you can officially call us beet crazy.
But, I mean, how can you not love this? Look at it. It's hot pink risotto. Hot pink people.
Something about the color of beets just makes me happy. Very few other foods do that. Especially healthy ones. I can't wait until the beets start rolling in from our CSA this summer. I know Taylor for one is scheming his beet pickling operation, hoping to make the seasonal treat last through the winter. We did a few quick refrigerator pickles last summer, but are looking forward to trying our hand at some more long-lasting variations.
This post also marks our first natural light dinner since last fall. The first meal photographed at dinner time, not leftovers the next day, with no speedlight, in real, honest to goodness, natural light. I know daylight savings time makes most people grumble, and I admit I was one of those when I woke up Monday morning, but the reward at the end of the day was well worth it. Cooking before it gets dark out, what a concept!
Roasted Beet Risotto
Ingredients:
3 medium beets (1 1/2 lb with greens), trimmed, leaving 1 inch of stems attached
3 1/2 cups reduced-sodium chicken broth
3 cups water
1 small onion, finely chopped
2 tablespoons olive oil
2 cups arborio rice
1/2 cup dry white wine
1 teaspoon salt
1/2 teaspoon black pepper
1/2 cup finely grated Parmigiano-Reggiano
Directions:
Put oven rack in middle position and preheat oven to 425°F.
Tightly wrap beets in a double layer of foil and roast on a baking sheet until very tender, 1 1/4 to 1 1/2 hours. Cool to warm in foil package, about 20 minutes.
When beets are cool enough to handle, peel them, discarding stems and root ends, then cut into 1/2-inch cubes.
While beets are cooling, bring broth and water to a bare simmer in a 2- to 3-quart saucepan. Keep at a bare simmer, covered.
Cook onion in oil in a wide 4- to 6-quart heavy pot over moderate heat, stirring occasionally, until softened, about 3 minutes. Add rice and cook, stirring constantly, 1 minute.
Add wine and simmer briskly, stirring constantly, until absorbed, about 1 minute. Stir in 1/2 cup broth and simmer briskly, stirring constantly, until broth is absorbed. Continue simmering and adding broth, about 1/2 cup at a time, stirring constantly and letting each addition be absorbed before adding the next, until rice is just tender and creamy-looking, 18 to 22 minutes. (Reserve leftover broth.)
Stir in beets, salt, and pepper (mixture will turn bright pink) and cook, stirring, until heated through. Thin as necessary with some of leftover broth, then stir in cheese and remove from heat.
Did you make this recipe?
Let us know what you think!
Leave a Comment below or share a photo and tag me on Instagram with the hashtag #loveandoliveoil.