With the huge success of the eggplant experiment (was it? did we really learn anything except that eggplant all tastes kind of the same? either way, it was still fun), we decided to test our tastebuds on another summer favorite: squash. Zucchini we all know. Yellow squash maybe too. But have you ever had a pattypan? Neither had we.
Lucky for all of us, squash are a bit easier to identify than eggplants. In the image above, clockwise from top left: zucchini, globe/eight-ball, yellow crookneck, sunburst, yellow globe/one-ball, pattypan (center).
As our test recipe, we used a delicious and superbly simple recipe that originally called for zucchini. We had made it the week before, and the quick prep and fresh flavor made it a perfect recipe to bring out the subtleties (or lack thereof) in the different varieties of squash.
Once again, we used drawings of the respective squashes to tell them apart, as once they were cut you couldn't tell the Sunburst from the One-Ball even if you tried. The post-its stayed with the squash from the time it was cut, to the pan, to when it was served on the plate.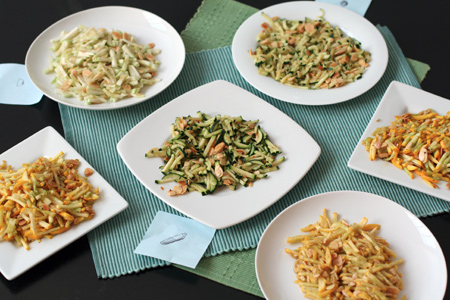 It was a lot of squash for two people to eat (we had leftovers). Varieties clockwise from top left: pattypan, eight-ball, one-ball, yellow crookneck, sunburst, zucchini (center).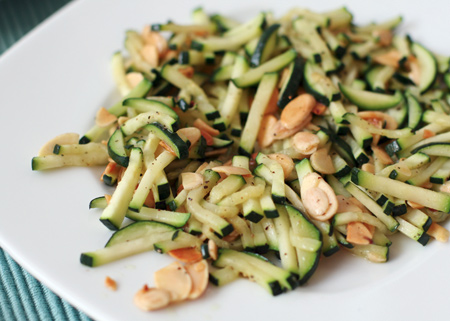 The winner? Surprisingly enough, it was what the recipe originally called for, zucchini. It had the freshest and mildest flavor of the lot, allowing the essence of the almonds, olive oil, salt and pepper to shine through. (We added the cheese after the official tasting, as we thought it would overpower any flavor subtleties in the squash).
The one ball and sunburst squashes were surprisingly rich – you would have thought they were cooked in butter and not olive oil. The yellow crookneck had an almost fruity taste to it, and was probably our second favorite. All three were significantly nutty (though whether that was just the almonds speaking, I can't say). Poor Mr. Pattypan, though, just felt a bit out of place, with a harder (almost applelike?) texture, it was probably our least favorite. But unlike the eggplant experiment, with the squash, we could really taste differences between the different varieties. And while, for this particular recipe, the zucchini may have prevailed, that's not to say the others don't have their own delicious uses just waiting to be discovered. Just another reason to make the most of summer squash while it's still around.
Quick Sauté of Zucchini with Toasted Almonds and Pecorino
Ingredients:
2 small zucchini
2 tablespoons sliced almonds
Salt & pepper, to taste
2oz freshly shaved Pecorino Romano or Parmesan cheese
Directions:
Cut the zucchini lengthwise into thin (1/8″) slices, then cut crosswise into matchsticks. You should have around 2 1/2 cups.
Heat the oil over medium heat, then add the almonds and cook until they are barely golden (about 30 seconds). Add zucchini, and cook for about 30 seconds. Season with salt and pepper, saute for another 30 seconds or so. As soon as they begin to give off moisture, they're done. Remove from heat. (Note: If you want to do this for more than two servings, cook the batches separately, if you pile too much zucchini in your pan you'll end up steaming it rather than sauteing it.)
Divide between two plates, sprinkle with cheese, and serve immediately.
Did you make this recipe?
Let us know what you think!
Leave a Comment below or share a photo and tag me on Instagram with the hashtag #loveandoliveoil.