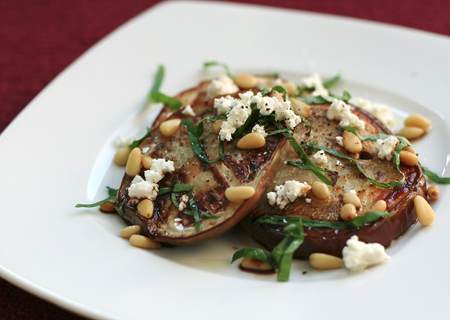 I love summer. Not only for the abundance of deliciously ripe local produce and pleasant temperatures, but also for the light. The light that streams in through our living room windows until 7 or 8 at night at the height of summer. Pictures like these just don't happen in December. Sucks, but its true. Our giant windows are all but useless after the clocks change. I treasure the summer light, and as the sun sets earlier and earlier, we slowly start cooking earlier and earlier to continue to catch the last breath of light at dinnertime, but I know it won't last. And it makes me sad. Because no matter what I do, the track lights in our kitchen just don't cut it. No tripod, no steady hand, no amount of photoshopping can fake this kind of light. But you know what? It's ok, we're not going to cook less just because it gets dark sooner. Because that would be silly. And not fair to all of you.
Continuing our exploration into the world of eggplant varieties… as we were perusing the farmers' market this last week I picked up another variety of eggplant, but this time was lucky enough to find out exactly what it was called. Similar to the sicilian-ish (dark purple tomato-looking) fruit from the eggplant experiment, this one was slightly larger and had white streaks (and silly me got so excited to cook with it I forgot to photograph it until after the fact). This particular eggplant was called a Pomerosa, a variety of Heirloom eggplant (which I wasn't even aware existed!). And like our previous experiment, the texture was more firm than your typical eggplant, which made it perfect for this dish.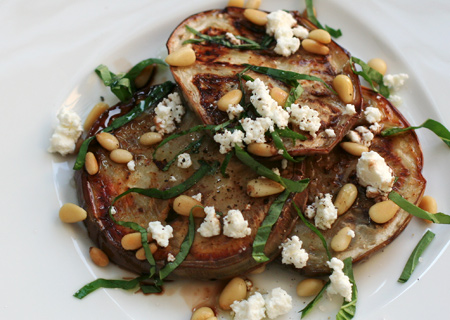 I consider us pretty healthy eaters. We don't eat a ton of meat (maybe once a week, twice at the most). And ok, aside from the baked goods that are always plentiful, our dinners tend to skew towards the healthier side of things. But that doesn't stop Taylor from craving burgers and sausages and greasy pizza. And when dinner time rolls around, and I tell him what we're cooking, he sours as the thought of eggplant and pine nuts. Sounds like hippie food. Of course, until I told him it was a Giada recipe… well, that changed his opinion of things quite quickly. That's ok, I won't take it personally that he has a thing for Giada, so long as she keeps coming up with delicious recipes like this one. Because I agree, it is hard to make eggplant as deliciously satisfying as, say, a cheeseburger, but somehow she manages to do it with this one.
Grilled Eggplant and Goat Cheese Salad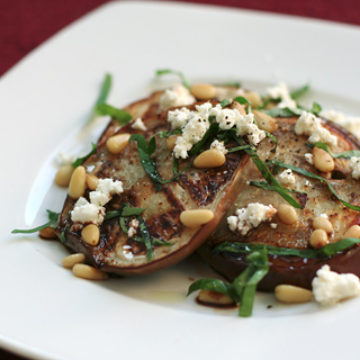 Ingredients:
3 tablespoons olive oil
7 Japanese eggplant, ends trimmed, cut into 1-inch wide slices
1/2 cup toasted pine nuts
3 ounces goat cheese, crumbled
1/3 cup basil, thinly sliced
2 tablespoons chopped mint
3 tablespoons extra-virgin olive oil
3 tablespoons balsamic vinegar
1/2 teaspoon kosher salt
1/2 teaspoon freshly ground black pepper
Directions:
Place a grill pan or heavy skillet over medium-high heat or preheat a gas or charcoal grill. Drizzle the olive oil over the slices of eggplant and toss to coat. Grill the eggplants until tender and grill marks appear, about 3 to 4 minutes per side.
Place the eggplants side-by-side on a serving platter. Sprinkle with the pine nuts, goat cheese, basil, and mint. Drizzle with extra-virgin olive oil, balsamic vinegar, salt, and pepper.
Did you make this recipe?
Let us know what you think!
Leave a Comment below or share a photo and tag me on Instagram with the hashtag #loveandoliveoil.