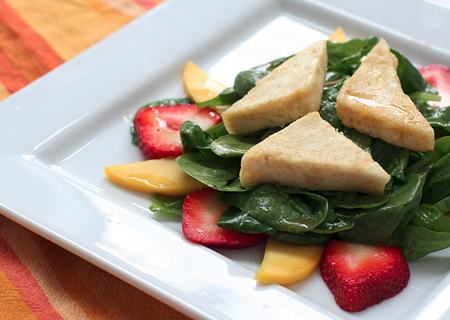 This recipe was an attempt to duplicate an absolutely delicious salad I had while back home in Colorado. And I have to say, this salad would win over the tofu haters (yes, all of you). By using soft tofu (and we may even try silken tofu next time), and lightly dredging in rice flour before quickly frying, the tofu practically melts in your mouth.
I have no idea what the restaurant used for their dressing, in fact I don't really even remember what the dressing tasted like (the tofu really stole the show). So, I whipped up a sweet orange ginger dressing that is light, yet still just tangy enough to tie the whole dish together.
I'll have some more, please!
(PS: check out the new "Share" button added to the bottom of every post. You can now easily share posts, email a recipe to a friend, post a recipe to your social networking account, or bookmark the site through any popular bookmarking tool. Pretty cool!!)
Crispy Tofu, Strawberry, & Mango Salad
Ingredients:
1 lb. soft tofu, cut into 1/2 thick triangles
1/2 cup rice flour
vegetable oil
1 ripe mango, cubed
1 cup strawberries, sliced
3 oz. baby spinach
Dressing:
1/4 cup orange juice
1 tablespoon soy sauce
2 teaspoons sesame oil
2 teaspoons minced fresh ginger
2 tablespoons honey
Directions:
Prepare dressing by whisking all ingredients together in a small bowl. Set aside.
Pat tofu dry, and dredge in rice flour. Tap off excess.
Heat vegetable oil in heavy saucepan over medium low heat. You want the oil to come approximately 1/2″ up the side of the pan (you'll be flipping the tofu pieces, so it doesn't need to completely cover them). Prepare a landing pad for fried tofu (baking rack set over a cookie sheet lined with paper towels).
Fry tofu 4 pieces at a time for approximately 3-4 minutes per side, or until crisp and very lightly golden. Don't crowd the pan, you don't want your tofu pieces touching each other. Remove with slotted spoon and place on baking rack to drain. Repeat with remaining tofu pieces.
Toss spinach with 1/2 of dressing and arrange on plates. Top with fruit pieces and tofu and serve.
Did you make this recipe?
Let us know what you think!
Leave a Comment below or share a photo and tag me on Instagram with the hashtag #loveandoliveoil.