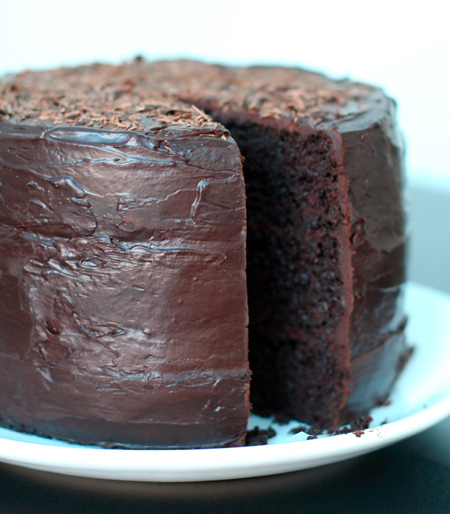 Yesterday was Taylor's birthday, and there is no such thing as a birthday without cake. And rather than allow Taylor to indulge his sweet tooth on the $1 slices of Kroger cake he loves to sneak into the shopping cart from time to time, I decided to put that cake to shame and bake a delicious chocolate cake from scratch.
I knew I succeeded by the sigh that came from his mouth after eating the first bite.
I used probably the most popular recipe ever to exist on Epicurious, the famous Double Chocolate Layer Cake with the raspberry filling variation a la Smitten Kitchen.
However, I know very few people who have a full range of cake pans – 8, 9, and 10 inch. Me, I've got three 8-inch pans (purchased to make that beautiful Petit Four cake from a few months back), and one 9-inch pan. So when this recipe called for two 10-inch pans, I knew I had some modifications to make.
Little did I know that those modifications would result in a really tall cake.
I thought I had found an accurate conversion chart via AllRecipes… which, if it had been accurate, says that two 10-inch cakes are equivalent to five 8-inch round pans. Five? Seriously? Ok, I thought… I'll just make a few dozen cupcakes in addition to the three layers of cake I'll get.
The chart also states that an 8-inch pan holds 4 cups. So as I divvied the batter into the prepared pans, I got to 3 cups and felt something was wrong. The pans were nearly full at 3 cups, AND I did not have a spec of leftover batter for cupcakes. Obviously the chart is missing some crucial information. Such as, um, how full the cake pans need to be to avoid overflowage (which my overfilled pans threatened to do.)
I guess I've spent too much time baking cupcakes to know the ins and outs of baking their larger and more complicated counterparts.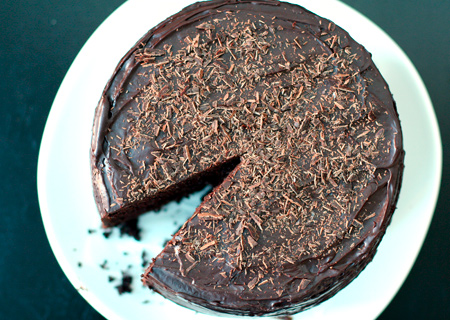 (Yep, that little itty bitty slice was all we ate. Just a testament to how tall and decadent this cake really is).
Another lesson I learned – overfilled cake pans leads to unevenly cooked cake. While my toothpick testers came out clean, I could tell the cakes were slightly on the undercooked side. Which in all honesty, is what probably lead this cake to be so incredibly moist. Happy accident I guess. I told Taylor when taking these out of the oven that he might really end up with that Chocolate Pudding Cake, albeit unintentionally.
But this cake. This cake is good. Unbelievably good. And easy to make it dairy free, which makes it even better (because I can actually eat it).
We've officially declared that a birthday lasts as long as the cake does, so don't be surprised if Taylor's birthday cake next year is twice as tall. Silly boy. :)
Double Chocolate Layer Cake with Raspberry Filling
Ingredients:
For cake layers:
3 ounces fine-quality semisweet chocolate such as Callebaut
1 1/2 cups hot brewed coffee
3 cups sugar
2 1/2 cups all-purpose flour
1 1/2 cups unsweetened cocoa powder (not Dutch process)
2 teaspoons baking soda
3/4 teaspoon baking powder
1 1/4 teaspoons salt
3 large eggs
3/4 cup vegetable oil
1 1/2 cups well-shaken buttermilk (for dairy free variation: mix 1 1/2 cups soymilk with 1 tablespoon cider vinegar and set aside to curdle)
3/4 teaspoon vanilla
For ganache frosting:
(halve this if filling with raspberry or other filling)
1 pound fine-quality semisweet chocolate such as Callebaut
1 cup heavy cream (or soy creamer)
2 tablespoons sugar
2 tablespoons light corn syrup
1/2 stick (1/4 cup) unsalted butter (or margarine)
For raspberry filling:
(optional)
2 10-ounce bag frozen raspberries, thawed
1/2 cup sugar
2 tablespoons cornstarch
Directions:
Make cake layers:
Preheat oven to 300°F and grease two 10″ cake pans, or three 8″ or 9″. Line bottoms with rounds of wax paper and grease paper.
Finely chop chocolate and in a bowl combine with hot coffee. Let mixture stand, stirring occasionally, until chocolate is melted and mixture is smooth.
Into a large bowl sift together sugar, flour, cocoa powder, baking soda, baking powder, and salt. In another large bowl with an electric mixer beat eggs until thickened slightly and lemon colored (about 3 minutes with a standing mixer or 5 minutes with a hand-held mixer). Slowly add oil, buttermilk, vanilla, and melted chocolate mixture to eggs, beating until combined well. Add sugar mixture and beat on medium speed until just combined well.
Divide batter between pans (pans should only be half full – if you use 8″ pans you will have some batter leftover) and bake in middle of oven until a tester inserted in center comes out clean, 1 hour to 1 hour and 10 minutes.
Cool layers completely in pans on racks. Run a thin knife around edges of pans and invert layers onto racks. Carefully remove wax paper and cool layers completely. Cake layers may be made 1 day ahead and kept, wrapped well in plastic wrap, at room temperature.
Make frosting:
Finely chop chocolate. In a 1 1/2- to 2-quart saucepan bring cream, sugar, and corn syrup to a boil over moderately low heat, whisking until sugar is dissolved. Remove pan from heat and add chocolate, whisking until chocolate is melted. Cut butter into pieces and add to frosting, whisking until smooth.
Transfer frosting to a bowl and cool, stirring occasionally, until spreadable (depending on chocolate used, it may be necessary to chill frosting to spreadable consistency). I found that stirring this over a bowl of ice water did a great job of cooling it off quickly and evenly.
Make filling:
Puree the raspberries in a food processor, blender or immersion blender. Press the puree through a fine-mesh strainer with the back of a spoon, removing the seeds. Heat the puree in a small pot with the sugar and cornstarch until mixture boils, stirring constantly. As it boils, it should quickly thicken. Let cool.
Spread filling between cake layers, assemble, and spread ganache over top and sides. Cake keeps, covered and chilled, 3 days. Bring cake to room temperature before serving.
Did you make this recipe?
Let us know what you think!
Leave a Comment below or share a photo and tag me on Instagram with the hashtag #loveandoliveoil.