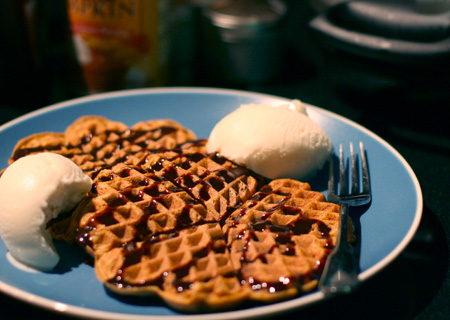 A Thanksgiving tradition has taken root, and it tastes darn good. What is it? Well, if you were around last year, you'd remember that we skipped the cooking the night before thanksgiving, instead replacing dinner with a delicious plate of pumpkin waffles. Well, we decided to do the same again this year, and it might just have to be something we do every year before Thanksgiving.
Our Thanksgiving menu this year is just as ridiculous as last, except that this year we'll have 3 people (hi Robin!) enjoying the feast, instead of just two. Still, stay tuned for plenty of leftovers recipes in the coming weeks, we'll have lots.
Pumpkin Waffles
Makes 4-6 servings, depending on the size of your waffle maker.
Recipe adapted from Smitten Kitchen.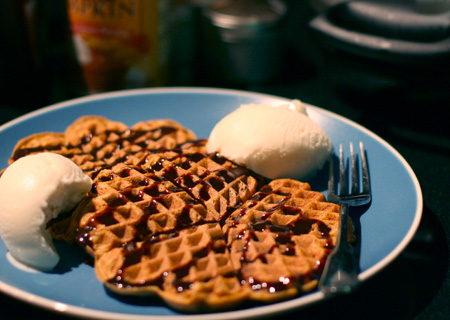 Ingredients:
2 1/2 cups all-purpose flour
1/3 cup packed light brown sugar
2 1/4 teaspoons baking powder
1 teaspoon baking soda
1/2 teaspoon salt
2 teaspoons ground cinnamon
1 teaspoon ground ginger
1/4 teaspoon ground cloves
4 large eggs, separated
2 cups well-shaken buttermilk OR 2 cups soymilk mixed with 1 tablespoon cider vinegar
1 cup canned solid-pack pumpkin
3/4 stick (6 tablespoons) unsalted butter or margarine, melted
Directions:
Preheat oven to 250 degrees F and preheat waffle iron.
Sift together flour, brown sugar, baking powder and soda, salt, and spices.
Whisk egg yolks in a large bowl with buttermilk, pumpkin, and butter until smooth. Whisk in dry ingredients just until smooth.
In a mixing bowl with a whisk attachment, whisk the egg whites until they hold soft peaks (as in, far soften than the over-beaten whites you'll see in my picture above). Folk them gently into the waffle batter, until just combined.
Brush or spray waffle iron lightly with oil and spoon batter into waffle iron, spreading quickly. Cook according to manufacturer's instructions.
Transfer waffles to rack in oven to keep warm and crisp. Serve with warm maple syrup (for breakfast), or chocolate syrup and vanilla ice cream (for dessert).
Did you make this recipe?
Let us know what you think!
Leave a Comment below or share a photo and tag me on Instagram with the hashtag #loveandoliveoil.
As for the rest of the menu, we're only being somewhat adventurous. Our Turkey turned out so well and so perfect last year (even if it was 2 hours late), and we figured, why mess with a good thing? So we're doing the same Cranberry Glazed Roasted Turkey as last year. Same for the Ultimate Garlic Mashed Potatoes. This year, however, we are trying a few new recipes, including a gravy recipe donated by the wonderful Auntie Sally (our gravy last year was eh…), some pancetta and chestnut stuffing by Giada (Taylor picked that recipe), an attempt at homemade jellied cranberry sauce (the only way I could convince Robin NOT to get a can of the stuff), simple roasted green beans, and a traditional Spiced Pumpkin Pie (our attempt at a twist on pumpkin pie last year didn't go so well, we figure keeping it simple was the best bet).
As of now, 9:37 on Thursday morning:
– Turkey stock for gravy is made and in the fridge (made by boiling some aromatics with the turkey giblets — FYI: if you're faced with the challenge of figuring out what is what when it comes to parts, this image might give you a hand. We needed all the organs EXCEPT the liver, and had no idea what the liver looked like.)
– Turkey is brining in it's 'body bag'.
– Jellied cranberry sauce is made and setting in the fridge.
– Pumpkin pie is made and actually looks somewhat decent (I have crust issues). It took about 20 minutes longer to bake than expected, which is not something you want to deal with at 11:00 at night.
– Garlic is prepped and roasting in the oven. Because 9:45 in the morning, roasting garlic is exactly the scent you want filling up your home. :) Lovely!
We're planning on eating at 4:00. Which means we'll probably eat at 6:00. Isn't that always the case?
Hope you all have a lovely turkey day, filled with delicious smells and fun times with those you love. We'll be back periodically throughout the day, updating you on our status and progress (just in case you need some light reading while your own bird is baking).