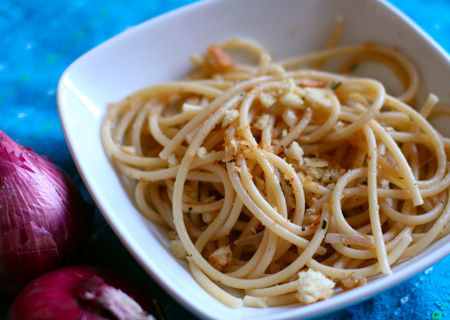 Perciatelli. A kind of pasta I never even knew existed. It's almost like if macaroni and spaghetti had a kid…. it'd be perciatelli. A hallow, thick spaghetti, basically. We were about to substitute spaghetti, but one last look in the pasta aisle and I found it! Really! At our often times scarce when it comes to gourmet/specialty/ethnic foods grocery store! I know… I almost couldn't believe it either.
This recipe, however, didn't quite live up to the excitement of finding the fancy pasta. It had a good flavor, but felt lacking. I can't even pinpoint what about it was off or how we could improve upon it. Maybe it was because we ran out of Parmesan. Or maybe the dill really makes the dish (the original recipe calls for dill breadcrumbs – but both Taylor and I have a strong hatred of dill. Ok, hatred might be too harsh a word… but we both really don't like it. So we used thyme instead.)
The name of the recipe is deceiving. I don't know if Taylor maybe forgot to add the red pepper flakes (doubtful – he's too diligent) but "spicy" is the last word I'd use to describe it. Even if you're not a fan of spice, double, ok ok triple the red pepper flakes.
I don't know. Sometimes I don't even feel like posting recipes that I don't simply rave about. But it's a pretty picture, and maybe you all can learn from something. Learn what NOT to do? I don't know. This made a lot too – more than our usual dinner for two plus lunch the next day serving size, and we couldn't eat it again.
Oh well. Win some, lose some, right?
I'll share it anyway. Just in case someone here really likes anchovies.
Pasta with Spicy Anchovy Sauce and Thyme Bread Crumbs

Makes 6 servings. Recipe from Epicurious.

Ingredients
3/4 cup extra-virgin olive oil, divided
2 cups fresh bread crumbs (preferably from a baguette)
1/4 cup chopped dill or thyme
1 pound red onions, thinly sliced (3 cups)
1 (2-ounce) can flat anchovy fillets, drained and chopped
1 pound bucatini or perciatelli pasta (long tubular strands)
1/2 teaspoon dried hot red-pepper flakes

Directions
Heat 1/4 cup oil in a 12-inch heavy skillet over medium heat until it shimmers, then cook bread crumbs, stirring constantly, until deep golden and crisp, 6 to 8 minutes.

Transfer bread crumbs to a bowl and toss with dill and 1/4 teaspoon each of salt and black pepper.

Wipe out skillet, then cook onions with 1/4 teaspoon salt in remaining 1/2 cup oil over medium heat, stirring frequently, until very soft, 12 to 15 minutes. Add anchovies and cook, mashing anchovies into onions, until dissolved.

Meanwhile, cook bucatini in a pasta pot of boiling salted water (2 tablespoons salt for 5 quarts water) until al dente. Reserve 1/2 cup cooking water, then drain pasta.

Stir red-pepper flakes and reserved water into anchovy sauce, then add pasta and toss to combine. Add about half of bread crumbs and toss to coat. Serve sprinkled with remaining bread crumbs.