In my obsession with all things pumpkin, I found this recipe. When we went to make it, however, we made an executive decision to leave the pumpkin out. We felt there were TOO many things going on in this recipe, and decided that simplifying it would be in our best interests.
The results were delicious. A yummy peanut sauce and perfectly spiced seafood were a delicious combination. The pumpkin was not missed at all. We also added some coconut milk to the sauce to thin it out a bit, and a bit of sesame oil for some toasted flavor. If you're not a big seafood fan this same noodle/sauce combination would be great with chicken or beef, or plain by itself. Delicious.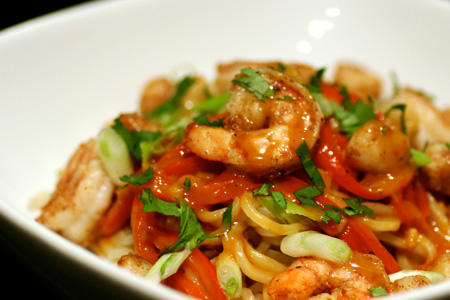 Peanut Curry Noodles with Seared Shrimp & Scallops
Makes 4 servings. Recipe from Rachel Ray, with modifications.
Ingredients
1 package noodles (we used the refrigerated kind found by the wonton wrappers)

5 tablespoons vegetable oil or peanut oil
3 cloves garlic, finely chopped
2 inches ginger root, minced or grated
1 red bell pepper, thinly sliced
1/2 teaspoon crushed red pepper flakes
1/4 cup creamy peanut butter
1/4 to 1/3 cup tamari dark soy sauce
2 rounded tablespoonfuls red curry paste
2 teaspoons sesame oil
1/2 cup light coconut milk
2 tablespoons brown sugar

1 tablespoons five-spice powder
12 jumbo shrimp, peeled and deveined
12 diver scallops, trimmed and patted dry
4 scallions, cut into 2-inch pieces, then thinly sliced lengthwise into matchsticks
1/4 cup coarsely chopped cilantro

Directions
Heat a large pot of water for noodles. When water boils, add noodles and cook according to package directions.

While noodles cook, heat a large, deep skillet over medium heat with 2 tablespoons vegetable or peanut oil. Add garlic, ginger, red bell pepper, and pepper flakes to the pan and cook together a couple of minutes, then add peanut butter and melt it. Whisk soy into peanut butter, then stir in curry paste. Turn down the heat to low. Add sesame oil, coconut milk, and brown sugar and stir until combined. Adjust seasoning as necessary (you probably won't need salt, but taste just in case).

Heat a small to medium skillet over high heat. Rub seafood with spice powder. Add 3 tablespoons of remaining oil to hot skillet. Place the shrimp in the pan and cook 1 minute, flip and sear the other side until just opaque. Remove shrimp to a plate and set aside. Add another 3 tablespoons of oil to the skillet and heat back up to smoking. Add the scallops and sear on both sides until opaque. Remove scallops and add to the plate of shrimp.

Drain noodles and return to pot. Add the sauce and toss thoroughly. Serve noodles on plates and top with scallions, cilantro, and seafood.