Fish tacos are one of those hit or miss type of meals. We've tried them in the past but have never been completely satisfied with the outcome. This time, however, we scored big time. I don't think I've had a better fish taco… ever.
Bear with me with this recipe. It was one of those a little off this and a little of that… we actually made this twice because we forgot what we did the first time around. Whoops. So feel free to adjust the quantities and spices in the recipe, it's very rough to begin with! Just think of the whole thing as "to taste!"
Next time we might actually try adding some cornmeal to the flour mixture, just to lighten it up a bit. But the coating definitely gives the fish a pretty golden brown crust that makes for delicious tacos!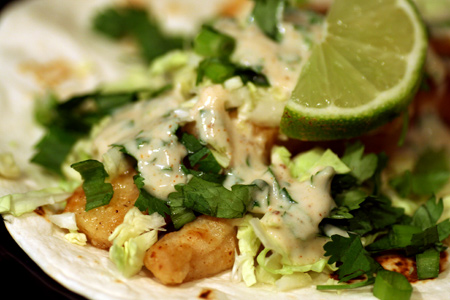 Spicy Lime Fish Tacos
Makes 4 servings.
Ingredients
For Sauce:
1 cup plain yogurt
1 lime, juiced
1/2 teaspoon cumin
1/4 teaspoon chili powder
1/2 cup cilantro, chopped
1 teaspoon honey

For Fish:
1 lime, juiced
3 tablespoons honey
1 teaspoon cumin
1/2 teaspoon chili powder
salt and pepper, to taste
1 cup flour
2 4-6oz. mahi mahi fillets, sliced into 1/2 thick pieces
vegetable oil

1 cup cabbage, any color, shredded
Small flour tortillas
Chopped cilantro, lime wedges, and sliced green onions for garnish.

Directions
Combine all sauce ingredients in a small bowl and set aside.

In a shallow dish, stir together lime juice, honey, and spices. Add fish slices and toss to coat. Let marinate for 10-15 minutes.

You can season your flour with more spice if you'd like, though I couldn't say if it actually added any more flavor to the fish itself.

Take fish out of marinade and lightly toss in flour. Shake off excess.

Heat a few tablespoons oil in a large skillet. Add coated fish pieces and cook until golden and cooked through, about 2-3 minutes per side (will vary depending on how you sliced your fish).

Heat tortillas in a small pan until warm and bubbly. Keep in a warm oven until ready to serve. Top with fish, cabbage, cilantro, green onion, and yogurt sauce. Enjoy!