T: What are we cooking tonight?
L: We don't have anything planned for dinner, and we don't go to the store until tomorrow.
T: What do we have?
L: *inspecting the eerily empty refrigerator*
L: a sweet potato, some shiitake mushrooms, a zucchini and some tofu.
T: What a combination.
L: *does a quick google search for "tofu shiitake zucchini recipe"… Prints off the first recipe that happens to pop up (which also includes, by the way, a sweet potato).*
L: Let's try this.
T: *very skeptical of recipes from anything but a cooking authority*
T: Ok then…
30 minutes later, we had what looked like a glorified tofu scramble. We modified the recipe a bit (this was the day before grocery day, remember). And you know what? It may have been the best thing we cooked all week. Go figure.
By the way, props to you if you can form this into patties. I think it would taste even better that way. But, after one crumbly attempt at a patty, and some very rumbly tummies, we tossed the whole bowl into the pan and cooked it like a big hash brown.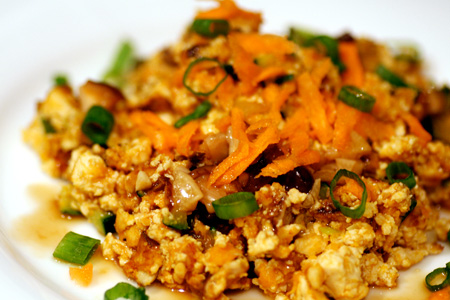 Sweet Potato & Shiitake Tofu Scramble
Makes 4 servings (or so). Recipe from here, with modifications. :)
Ingredients
1 sweet potato, cubed
1 package extra-firm tofu
1 zucchini, shredded
2/3 cup green onion, sliced
2 cloves garlic, minced
2 teaspoons ginger, grated
1 teaspoon sesame oil
5 shiitake mushrooms, chopped
1 teaspoon sriracha sauce
1 teaspoon salt
1 1/2 teaspoons corn starch
1 egg, lightly beaten
1 carrot, grated, for garnish

For sauce:
1 cup water
2 teablespoons soy sauce
2 teaspoons corn starch
1 teaspoon minced garlic
1 teaspoon grated ginger
1/2 teaspoon seasame oil
3 shiitake mushrooms, diced

Directions
Boil sweet potato cubes until fork tender. Drain well and mash, set aside.

Press and drain tofu. The more moisture you can get out of it the better. Mash in tofu with the sweet potatoes.

Heat a small non-stick skillet and add the sesame oil, zucchini, green onion, garlic, and ginger. Cook until the zucchini softens, about 4 minutes. Remove from heat and add to tofu-sweet potato mixture.

Add mushrooms, sriracha, salt, and corn starch and mix thoroughly.

Attempt to form the mixture into patties. If you can, pan cook in a lightly oiled pan for 3-4 minutes per side, or until browned. If not, dump the entire mixture into a large pan and let sit (no stirring!) for about 5 minutes or until bottom is brown and crisp. Toss mixture with spatula and again let sit until bottom is brown. Repeat until mixture is evenly browned.

To make sauce, mix all ingredients in a small saucepan. Cook over medium-high heat until mixture boils, becomes translucent, and thickens. Drizzle over patties (or scramble mixture), garnish with grated carrot and sliced green onion.