I believe I may be obsessed. To me, a cupcake is the perfect treat. Not too big, not too small, just sweet enough to satisfy. One (ok ok, maybe two) cupcakes a day makes any day better. Needless to say, I've made many more cupcakes since that last batch. They are a great thing to experiment with, as once you get a basic recipe down, you can add all the flavorings you want and mix and match with various frostings. Up next on the menu are banana split cupcakes, we'll be making those this afternoon. :)
Rich Chocolate Cupcakes with Seven-Minute Frosting
Simply the Vegan Almond Cupcake recipe with 1/2 cup of cocoa powder mixed in and topped with seven-minute frosting. While it makes for picturesque cupcakes, the frosting hardened to almost a meringue-like consistency after the first day. Not the best cupcake topper.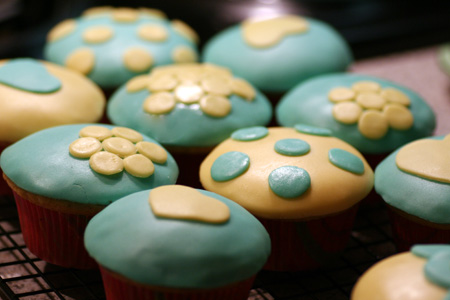 Almond Cupcakes with Marshmallow Fondant
Vegan Almond Cupcakes gone fancy. I was terrified (and intrigued) to try decorating these things like the pastry artists on the food network. I managed to find a recipe for Marshmallow Fondant, which, while extremely messy to make, was easy enough to work with, and doesn't taste too bad either. I slathered a thin layer of the chocolate fudge frosting on the cupcake, and then positioned the fondant circle on the cupcake. Then added decorations. Despite my ambitions, I don't think I'll be a professional cake decorator anytime soon.
Chocolate Hazelnut Kahlua Cupcakes
These were last weeks cupcakes, and could rival the almond ones for perfection. Just don't eat them too close to bedtime. :) And yes, these ones are vegan too! Recipe makes 12-14 cupcakes.
Ingredients
1 cup soy milk
1 teaspoon apple cider vinegar
1 1/4 cups all-purpose flour
2 tablespoons cornstarch
3/4 teaspoon baking powder
1/2 teaspoon baking soda
1/2 teaspoon salt
1/3 cup canola oil
3/4 cup granulated sugar
2 teaspoons vanilla extract
1 tablespoon instant hazelnut coffee powder
1 tablespoon kahlua

For frosting:
1/4 cup margarine
1/4 cup tofutti cream cheese (or regular cream cheese)
4 ounces semisweet or dark chocolate, melted
2 cups confectioner's sugar
1 teaspoon vanilla extract
2 teaspoons instant hazelnut coffee powder
2 teaspoons kahlua

Directions
Preheat oven to 350 degrees F. Line pan with cupcake liners, and oil top of pan to prevent overflow from sticking.

Combine the soy milk and vinegar and stir well. Set aside, mixture will curdle.

Stir together flour, cornstarch, baking powder, baking soda, and salt.

In separate bowl, combine soy milk mixture, oil, sugar, vanilla, coffee powder, and kahlua. Add wet ingredients to dry ones and stir until combined (don't overmix!)

Fill cupcake liners with 1/4 cup of batter. Bake for 15-20 minutes or until toothpick inserted into center of cupcake comes out clean. Allow to cool completely before frosting.

To make frosting, beat together margarine and cream cheese until just combined. Beat in melted chocolate. Slowly add confectioners' sugar 1/2 cup at a time, mixing well after each addition. Mix until smooth and fluffy, then add flavorings. Dust frosted cupcakes with cocoa powder and enjoy!