This is a refreshing take on salmon, and comes with a built in side dish. The salad is almost the best part of the meal, and could definitely be made on its own without the salmon. Feel free to drizzle more honey on top of the cooked salmon, if necessary. :) Sometimes Rachel's recipes are a bit too… simplified? I guess? But this is one of hers that we really do love.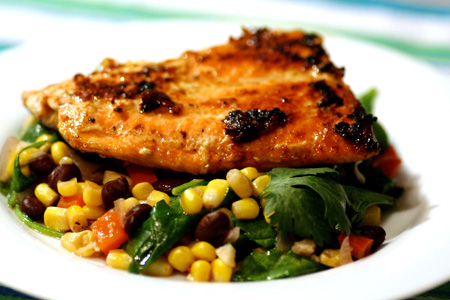 Honey Glazed Salmon and Black Bean Corn Salad
Makes 4 servings. Recipe from Rachel Ray's 365: No Repeats.
Ingredients
4 tablespoons olive oil
1 medium red onion, chopped
2 large garlic cloves, chopped
1 teaspoon (or to taste) red pepper flakes
1 teaspoon ground cumin
salt and freshly ground black pepper
2 limes, juiced
3 tablespoons honey
1 teaspoon chili powder
4 6-oz. salmon fillets
1 red bell pepper, cored, seeded, and chopped
1 10-oz. box of frozen corn kernels, defrosted
1/2 cup chicken stock or broth
1 15-oz. can black beans, rinsed and drained
2 to 3 tablespoons fresh cilantro leaves, chopped
6 cups baby spinach

Directions
Preheat a medium skillet over medium heat with 2 tablespoons of olive oil. Add the onions, garlic, red pepper flakes, salt, and pepper. Cook, stirring occasionally, for 3 minutes.

While the onions are cooking, preheat a medium nonstick skillet over medium high heat with the remaining olive oil. In a shallow dish, combine the juice of 1 lime, honey, chili powder, salt, and pepper. Add the salmon fillets to the lime-honey mixture and toss to coat thoroughly. Add the seasoned salmon to the hot skillet and cook until just cooked through, about 3 to 4 minutes per side.

To the cooked onions, add the bell peppers an corn kernels and cook for 1 minute. Add the chicken stock and continue to cook for another 2 minutes. Add the black beans and cook until the bans are just heated through. Remove the skillet from the heat and add the juice of the second lime, the cilantro, and the spinach. Toss to wilt the spinach and adjust seasonings to taste. Serve salmon on top of the warm black bean and corn salad.