A twist on the typical burger, and with all the ground beef madness going on right now (yikes!), ground turkey is the way to go. In fact, I prefer turkey burgers to beef ones. As long as you treat them right, you can have turkey burgers that are juicy and flavorful. One of the keys is making sure you have a nice set of buns. We used some ciabatta bread rolls that were crusty and delicious.
Next time we'll get more creative with the toppings. We ran out of salsa (oops), so ended up topping them with a slice of tomato, cucumber, and some cilantro. Add some avocado/guacamole, crisp lettuce, and red onion in there and it'd be hard to top this burger.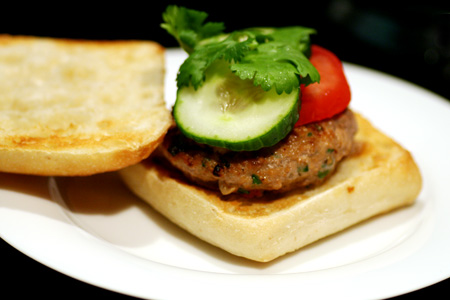 Spicy Salsa Turkey Burgers
Makes 4 servings. Recipe from Epicurious.
Ingredients
1 1/4 pounds lean ground turkey
1 cup mild salsa, divided
1/2 cup finely chopped shallots
1/4 cup chopped fresh cilantro
4 tablespoons vegetable oil, divided
1 tablespoon chipotle-flavored hot sauce
1 teaspoon ground cumin
1 teaspoon salt
1/2 teaspoon ground black pepper
4 crusty rolls, halved horizontally, toasted if desired
4 lettuce leaves
Other toppings (tomato, avocado, red onion, etc.)

Directions
Mix ground turkey, 1/2 cup salsa, shallots, cilantro, 3 tablespoons oil, hot sauce, cumin, salt, and pepper in large bowl. Shape turkey mixture into four 3 1/2- to 4-inch-diameter patties.

Heat 1 tablespoon oil in large nonstick skillet over medium-high heat. Add burgers; cook until brown, about 3 minutes per side. Reduce heat to low. Sauté until burgers are cooked through, about 4 minutes, turning occasionally.

Arrange roll bottoms on 4 plates. Place lettuce, then burgers on roll bottoms. Top each burger with 2 tablespoons of remaining salsa, then roll tops.