A nice, hearty pasta. We made the entire recipe and had more than enough for lunch the next day and then some. I'm not usually a big tomato sauce fan, but this was good even by my standards. Next time: less parsley, more garlic. :)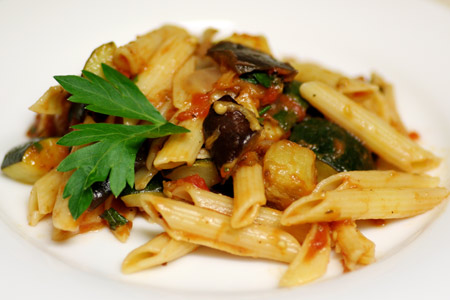 Pasta with Roasted Provencal Vegetable Sauce
Recipe from Epicurious. Makes 6 servings.
Ingredients
1 16- to 18-ounce eggplant, unpeeled, cut into 1-inch pieces
1 large onion, cut into 1-inch pieces
2 tablespoons olive oil
2 medium zucchini, trimmed, cut into 1-inch pieces
2 garlic cloves, minced
1 28-ounce can seasoned crushed tomatoes with Italian herbs
12 ounces penne pasta
1/4 cup chopped fresh parsley
1/4 cup chopped fresh basil
1 tablespoon chopped fresh rosemary
1 tablespoon chopped fresh thyme

Directions
Preheat oven to 400°F. Arrange eggplant and onion on large rimmed nonstick baking sheet or casserole dish. Drizzle with oil. Sprinkle with salt and pepper. Roast vegetables until beginning to brown, stirring occasionally, about 25 minutes. Stir zucchini and garlic into vegetables; continue to roast until all vegetables are tender, about 20 minutes longer. Stir crushed tomatoes into vegetables on baking sheet; roast until heated through, about 10 minutes.

Meanwhile, cook pasta in large pot of boiling salted water until just tender but still firm to bite, stirring occasionally. Ladle 1/2 cup pasta cooking liquid into small bowl; reserve. Drain pasta. Return pasta to same pot. Add roasted vegetable sauce and all herbs to pasta and toss to blend. Gradually add enough reserved pasta cooking liquid to moisten as desired. Season to taste with salt and pepper. Transfer pasta to bowl and serve.