This was a good one. Made a lot of sauce, but we stuck the leftovers in the freezer for future use. Since peaches aren't quite yet in season here, we used a jar of peaches (for like, peach pie or something), so our sauce was probably a bit sweeter than it should have been.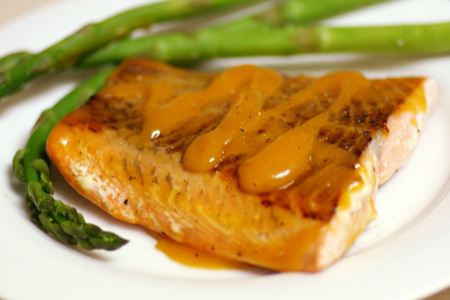 Grilled Salmon with Peach-Bourbon Barbecue Sauce
Makes 4 servings. Recipe from Emeril.
Ingredients
2 tablespoons unsalted butter
1/2 cup diced onions
1 teaspoon minced garlic
1/2 serrano pepper, halved and thinly sliced
4 cups peeled, pitted, and diced peaches
1/2 cup ketchup
1/4 cup fresh orange juice
1/2 teaspoon orange zest
2 tablespoons fresh lemon juice
2 tablespoons apple cider vinegar
2 to 3 tablespoons light brown sugar
2 tablespoons peach bourbon liqueur (recommended: Southern Comfort)
Kosher salt and freshly ground black pepper
4 (6-ounce) salmon fillets, skinned
2 teaspoons olive oil
Cooked wild rice, for serving

Directions
Melt butter in a medium saucepan over medium heat. Add the onions and cook, stirring occasionally, until translucent, about 5 minutes. Stir in the garlic and serrano (with the seeds) and cook, stirring, for 2 minutes. Add the peaches and cook until softened, about 5 minutes. Add the ketchup, orange juice, zest, lemon juice, cider vinegar, and brown sugar and stir to combine. Bring mixture to a simmer and cook for 30 minutes, or until thickened. Using an immersion blender or regular blender, puree the sauce until smooth. Strain the sauce through a fine-mesh sieve into a clean bowl, pressing with a rubber spatula to extract all of the juices. Discard the solids. Stir the bourbon into the barbecue sauce and set aside until ready to use.

Preheat a grill to medium heat.

Brush the salmon on all sides with the olive oil and season with salt and pepper. Place the fish on the grill and cook for about 2 minutes then turn the fish 45 degrees and cook for an additional 2 minutes. Turn the fish over and cook for an additional 2 minutes or until cooked through to the desired degree of doneness. During the last few minutes of cooking, brush the fish with the reserved peach sauce.

Serve the salmon over wild rice with the remaining warm Peach-Bourbon Barbecue Sauce.