This is a recipe for true garlic lovers. We bought so much garlic this week it was ridiculous… the woman checking us out at the store thought we were going on a vampire hunt. We didn't use nearly as much as the recipe called for (silly me… I misread 'cloves' as 'heads'. Whoops).
These are meant to be tapas (yes, we have a tendency to eat appetizers as main courses). We served these with our Strawberry Spinach Salad and leftover Red Wine Sangria. The shrimp were delicious and the oil has a fabulous flavor. We tried some of the giant elephant garlic for the chips. While they looked impressive, they were actually quite bitter. More for decoration than flavor I guess. Next time we might try blanching the garlic before frying it, which might make it less bitter. Get ready to use a ton of olive oil, though it's well worth it.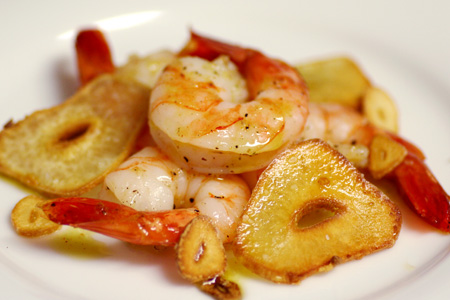 Garlic Roasted Shrimp with Red Chile Oil
Recipe from Bobby Flay. Makes 8 appetizer servings.
Ingredients
24 large shrimp, shelled and deveined
Salt and freshly ground pepper
Extra-virgin olive oil
2 cloves garlic, crushed
1 tablespoon fresh thyme leaves

Red Chile Oil:
1 cup olive oil
6 dried chiles de arbol, lightly toasted and crushed
6 cloves garlic, finely chopped
Pinch salt
3 sprigs fresh thyme, leaves removed

Toasted Garlic Chips:
1 cup olive oil
8 cloves garlic, thinly sliced
Salt

Directions
Preheat oven to 500 degrees F.

To make red chili oil, blend all ingredients including the thyme leaves in a blender until smooth. Strain through a fine mesh strainer into a bowl.

For garlic chips, heat the oil in a small skillet until it begins to shimmer. Add the garlic and cook until the slices begin to brown and curl. Remove with a slotted spoon to a plate lined with paper towels and season with salt.

Place the shrimp in a cazuela or an ovenproof casserole and season with salt and pepper, to taste. Drizzle olive oil over shrimp, add crushed garlic, and toss to coat. Roast in the oven until pink and cooked through, about 4 to 5 minutes. Drizzle generously with Red Chile Oil and sprinkle with thyme and Toasted Garlic Chips. Serve with crusty bread.