A nice Sunday brunch, these waffles are super light and fluffy. This is a nice twist on the traditional – the almond extract gives these a wonderful flavor. Plus it's dairy free, substituting soy milk for the standard milk in waffle recipes.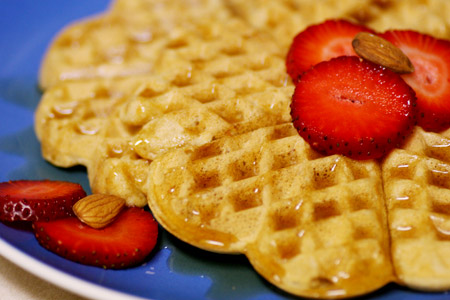 Recipe based on the Basic Waffles recipe that came with the waffle maker. For an extra delicious touch, top with chopped almonds and fresh fruit.
Soy Almond Waffles

Ingredients
2 cups all-purpose or whole wheat flour
2 tablespoons granulated sugar
1 tablespoon baking powder
1/2 teaspoon baking soda
1/2 teaspoon salt
1 3/4 cups soy milk
6 tablespoons vegetable oil
2 large eggs
1/2 cup chopped almonds
1 teaspoon almond extract

Directions
Place ingredients in large mixing bowl and combine until well blended and smooth. Let batter rest for 5 minutes before using. Preheat waffle iron.

Pour 1/3 cup batter onto the center of iron. Close cook until indicator light comes on. Remove waffle and repeat with remaining batter. Serve immediately, or keep waffles warm in a 200 degree F oven. Serve with warm syrup and top with fresh fruit and more chopped almonds.