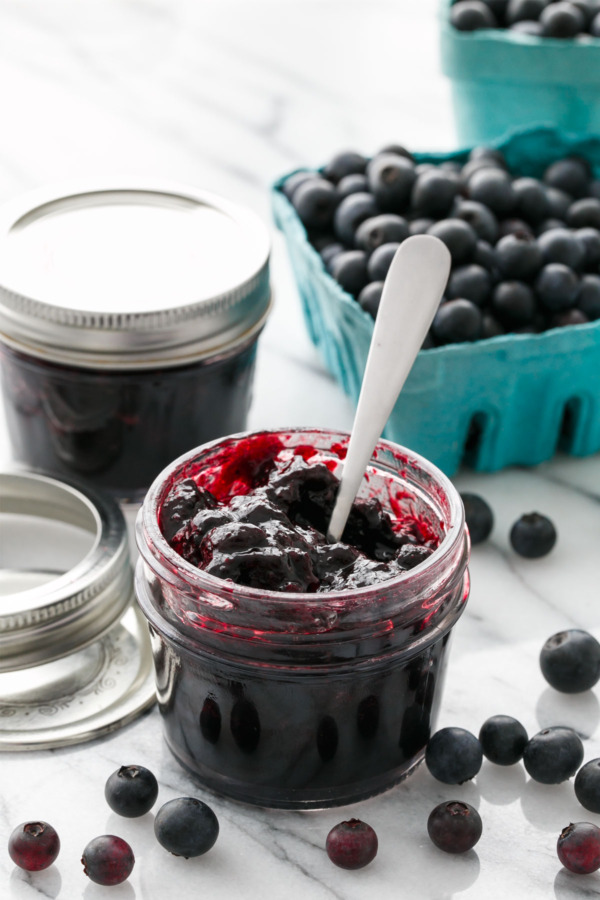 For someone who doesn't eat much jam, I sure make a lot of it. It's safe to say I am addicted to canning, and I know once you get started you will be too. It's the best way to preserve a little bit of summer sunshine for year-round enjoyment. I love making unique flavors of jams and jellies, adorning them with pretty labels and packaging, and then giving them as gifts during the holidays (forget wine, a jar or two of homemade jam is a MUCH better hostess gift in my mind!)
Canning might seem intimidating at first. All this talk of contamination and botulism and the like is enough to make anyone nervous. But you should know that, armed with a bit of knowledge and safe canning practices, you'll be whipping up delicious (and safe) jams in no time. Trust me, once you start it won't take long before your pantry is piled high with a rainbow of glass jars filled with delicious jams, jellies, and preserves.
Today I'll be going through step-by-step how to make a basic blueberry jam, lightly scented with a bit of vanilla. I like blueberries because they're easy: the prep is almost non-existent (just a simple rinse and pick-through to make sure there aren't any stray stems). No peeling, pitting, hulling, or chopping required. It is a great beginner jam to try your hand at canning.
Let's get started, shall we?
Get the full recipe and step-by-step instructions on the Kitchenthusiast blog »
(And psst! If you're looking for more canning inspiration, don't forget to check out my new ebook series: That's My Jam. The Summer edition is now available and is full of unique seasonal jam recipes and printable labels for each and every one, it's full of recipes and resources perfect for new and experienced canners alike.)
Happy canning!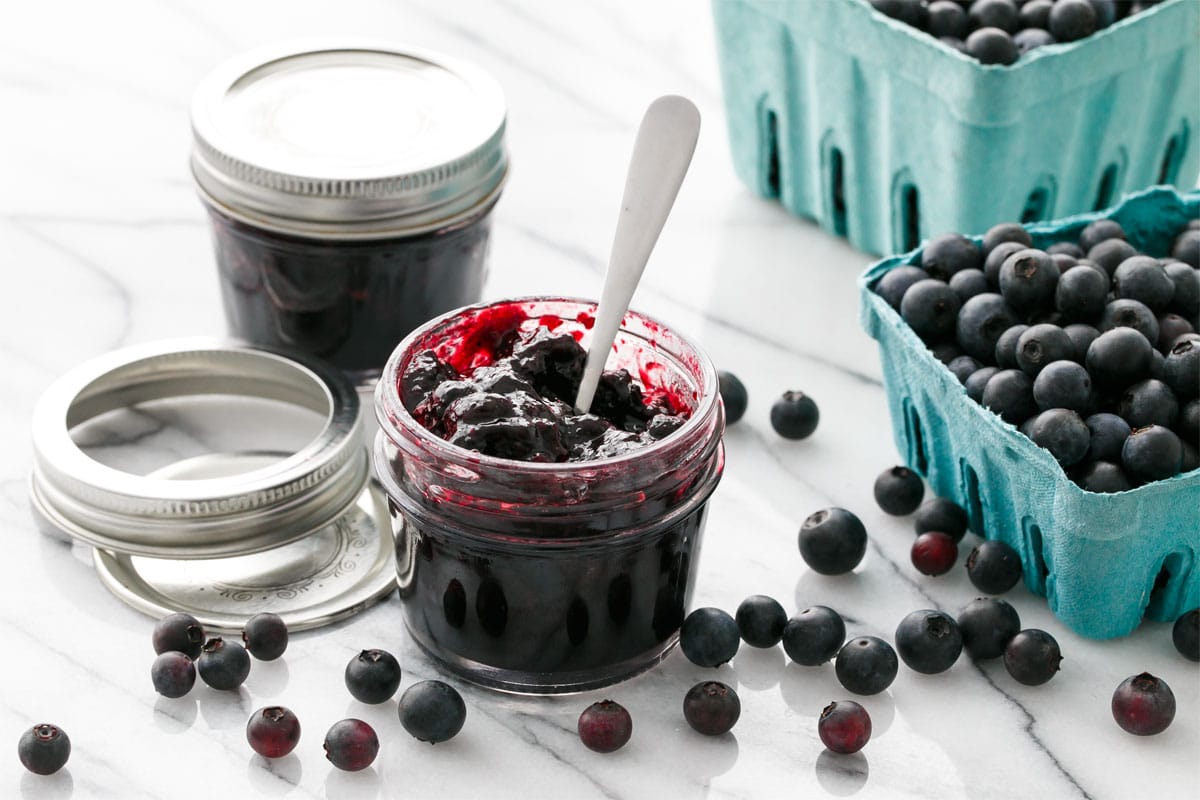 Blueberry Vanilla Jam
Simple and sweet, this blueberry vanilla jam is a perfect beginner jam to start your canning obsession.
Ingredients:
1 1/4 pounds (about 3 1/2 cups) fresh or frozen blueberries, rinsed and stems removed
3/4 cup granulated sugar
1 teaspoon Pomona's Universal Pectin
1 teaspoon calcium water (this comes with every box of Pomona's pectin)
2 tablespoons lemon juice
1/2 vanilla bean pod, seeds scraped (or use 1/2 teaspoon vanilla bean paste or extract)
Directions:
Fill a large stock pot or canning pot 2/3 full with water; place a rack of some sort in the bottom and place over medium-high heat. Wash/sterilize 5 4oz mason jars (or equivalent) and submerge in water bath as it heats. The pot should be just about boiling by the time the jam is ready to go.
In a bowl, whisk together sugar and pectin until evenly incorporated.
Mash the ripe berries with a potato masher until few if any whole berries remain. You should have approximately 2 cups of mashed fruit.
Did you make this recipe?
Let us know what you think!
Leave a Comment below or share a photo and tag me on Instagram with the hashtag #loveandoliveoil.
This recipe was created in partnership with KitchenAid®. All opinions are my own.
Be sure to share your take on this Blueberry Vanilla Jam recipe with us on Instagram using #MadeWithKitchenAid for a chance to be featured on the @KitchenAidUSA account!