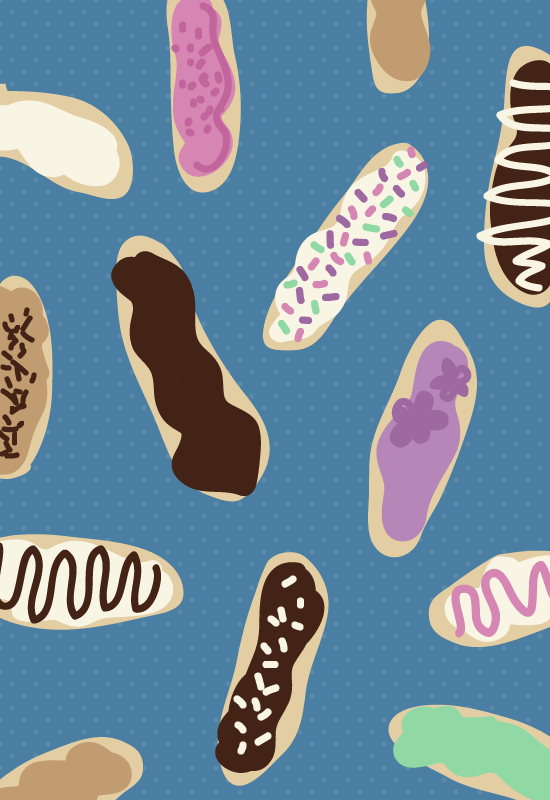 Today marks the 1 year anniversary of the Kitchen Challenge. In March 2013 I officially launched this new series, aimed at getting cooks out of their comfort zone and into the kitchen. We've (mostly) successfully completed 9 challenges since then, and I couldn't be prouder. You guys really stepped it up!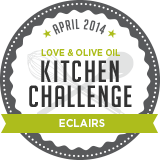 For this month's challenge, we're tackling eclairs. I am definitely looking forward to this one, because once you master the basic technique, the flavor possibilities are endless. I can't wait to see what you guys come up with.
An eclair consists of 3 distinct parts: the pastry, the filling, and the glaze. Each has its own set of unique challenges, but overall I don't think this challenge will be nearly as frustrating as the last one.
The Challenges:
Choux. The pastry dough, or Pâte à Choux, is the foundation for the success or failure of the eclair. I've read that you want a slightly firmer pastry for eclairs, since you will be piping them, and the dough needs to be able to support itself.
Piping. A piping bag and a large round tip are required tools for eclairs, plus a star tip for easy(ier) filling. The size of the tip depends on how big you want your eclairs. I found this basic set on amazon that looks like a great starter set.
Shape. The shape of your final eclairs is directly related to how you pipe them, so any flaws in your piping will be magnified when they puff up and bake. That's not to say that lumpy, uneven eclairs will be any less delicious, however.
Filling. Pastry cream is the standard filling for eclairs, made with cream, sugar, egg yolks, cornstarch, and butter. You want to be sure your filling is thick enough to stay inside the eclair, and not so thin that it runs out the bottom. I'd recommend making your filling first so that it has sufficient time to chill and thicken.
Resources & Recipes:
I've found very thorough pate a choux recipes in both my Bouchon Bakery and Tartine cookbooks. They are very similar, with the exception that Tartine uses part milk, part water, and Bouchon uses all water. I'll probably utilize one of these recipes myself.
America's Test Kitchen has a basic recipe that I'd trust just as much as the two cookbooks mentioned above. The recipe is free, log in to view (for now at least – though I'd recommend saving it as it'll probably go behind their paywall eventually).
Serious Eats has a great article with some Eclair-making tips, as well as a basic recipe to get you started.
Join me!
Whip up a batch of eclairs (flavor is up to you – go crazy!) by Friday, April 25th and send me a photo of your results (good or bad, the point here is to put forth your best effort). I'll post about my experience the following week along with a roundup of everyone who tackled this challenge with me.
The Kitchen Challenge series is simply about getting in the kitchen and challenging yourself to make something new; you aren't required to have a blog to participate, nor are you required to post about it if you do. However, if you do have a blog and post about the challenge, you are more than welcome to use the above graphic.
**Hey… this post contains affiliate links! Just FYI.