Another friendly contribution, this one from Nashville's resident macaron expert. Tabitha has a knack for these complicated cookies, and I was thrilled when she offered to bring a green-hued version to the party.
They're much prettier than my first attempt, don't you agree? She's got the magic touch, I tell you. She's tried to teach me, but any time I attempt a batch without her supervision, I end up with hollowed-out volcanoes instead of smooth tops and pretty feet.
As much as I love the traditional almond flavor, this pistachio variation was unexpectedly delicious. More earthy, nutty, and with a smooth pistachio buttercream that was almost savory. Everyone in attendance agreed. Tabitha's macarons knock the socks off any you can find around here at least. And the pale-green hue was a delightful compliment to the other lime green sweets.
Pistachio Macarons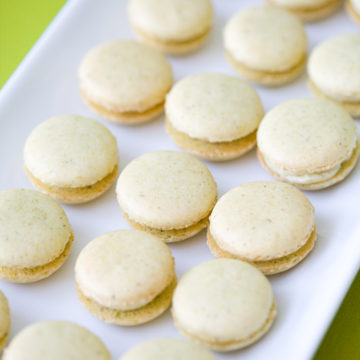 Ingredients:
70 grams almond flour
50 grams pistachio flour
125 grams egg whites (approx. 3-4 large egg whites, aged at least 1 day, covered, room temp)
200 grams confectioners sugar
30g caster sugar (if you don't have this, grind up granulated sugar till it's super fine)
All ingredients at room temp
You will also need:
2 backing sheets, stacked
parchment or silpat to line one sheet
Large mesh strainer
Pastry bag and 1cm round piping tip
Food processor
Hand mixer or stand mixer with whisk attachment
green and yellow gel food coloring
Directions:
Prepare pastry bag with 1-cm circular tip. Line a baking sheet with parchment paper/silpat.
Pulse pistachio & almond flour + confectioners sugar in food processor till combined, stirring and scraping bottom (carefully) of processor to make sure everything's blended. Sift using a mesh strainer. set aside, covered.
In an immaculately clean, large bowl, whisk egg whites on high till foamy. Use a spatula and scrape down the sides of the bowl to make sure you're not missing any of the whites. Add caster sugar in 3 parts with hand mixer on medium scraping down the sides of the bowl with a spatula between each addition.
When all the sugar has been added turn mixer up to high (this is also when you add a couple of drops of food coloring gel or powder) and whisk till stiff peaks form. Check for stiffness early on because you don't want to overmix, this makes for macaron shells that may not rise, or if they do they'll have grease splotches on them.
Scrape down the sides of the bowl, to keep things neat and easier to stir.
Pour half the flour/sugar mix into the egg whites and gently stir in a circular motion. Then add the rest of the flour/sugar mix in and, being gentle, fold and stir the flour and egg whites to get your macaronage. Make sure you scrape the bottom of the bowl and the sides so you don't miss any of the dry ingredients. It shouldn't look completely smooth or glossy, but should also not have dry bits anymore, it's almost like wet cement before it's smoothed out. If you scoop some up and let it fall back onto itself, it should settle after several seconds.
Pour batter into your piping bag and pipe 1-inch rounds onto your baking trays. After you're done piping, pick up your baking sheet and rap it firmly a couple of times on your counter. This is to get rid of air bubbles trapped at the bottom and to help the macarons form their pieds (feet). For good measure, I pick up the tray and use an open palm to firmly smack the bottom of the tray at all four corners and in the center. If you have little tips that won't settle into the rounds, wet your fingertip and gently flatten them.
Let the piped macaronage sit for at least 15 minutes, or till they no longer stick to your dry finger when you touch the surface. On a more humid day it might take longer so turn on the a/c to help the process along.
Preheat your oven to 330ºF, positioning oven rack in the center of the oven.
Place the baking sheet with your piped cookies on top of a 2nd baking sheet. (You use 2 sheets to make sure the bottoms don't burn). Place the sheet in the oven and TURN THE TEMPERATURE DOWN TO 325. Bake for 12 – 15 minutes, rotating the pan halfway through.
Note: Baking time can vary from oven to oven, you may not get it completely right on the first try but don't be discouraged!
Did you make this recipe?
Let us know what you think!
Leave a Comment below or share a photo and tag me on Instagram with the hashtag #loveandoliveoil.