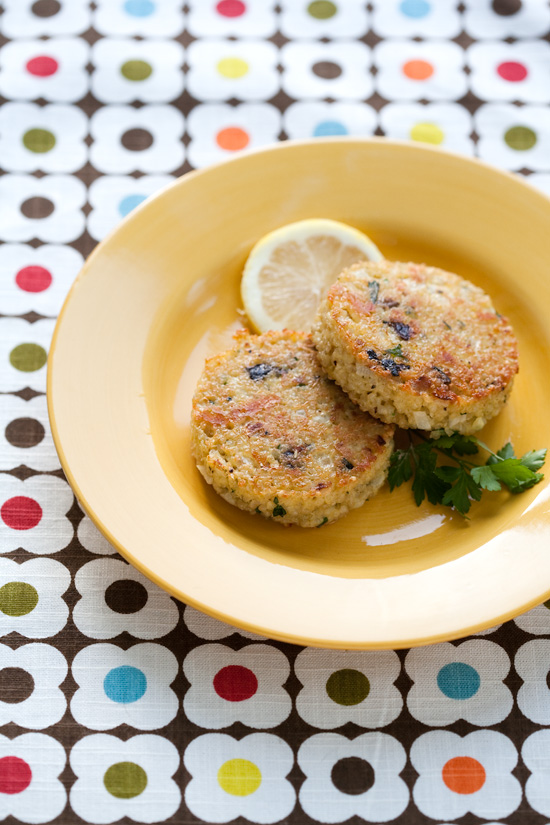 OK, I give in. Y'all want healthy, so I'll give you healthy. For a little while at least. But next week? Let's just say next week I have a different kind of cake in store for you. But maybe if you eat enough of these quinoa cakes in the meantime you can justify the splurge.
To be honest we eat a lot of meals like this. Part grain, part flavorful mix-in, typically vegetarian, and probably meant to be served as an appetizer but we eat it as our main dish anyway.
It's kind of our thing.
These particular little parcels pack a potent punch. Salty olive, tart lemon, bright parsley. And quinoa. Which, if you haven't tried it yet, is all kinds of awesome. It's a super grain, protein packed and slightly crunchy, with a delightfully nutty flavor. And did I mention healthy? Call it my gift to you.
Quinoa Cakes with Lemon, Olive, and Parsley
Ingredients:
1 1/2 cups raw quinoa
2 1/4 cups water
1/2 teaspoon salt
4 large eggs, beaten
1 medium yellow onion, finely chopped
4 cloves garlic, finely chopped
1/2 cup grated parmesan cheese
1/3 cup coarsely chopped green or kalamata olives
1/3 cup chopped parsley
1 tablespoon lemon zest
1 cup panko bread crumbs
1/2 teaspoon salt
1/2 teaspoon coarsely ground black pepper or crushed red pepper flakes
1 tablespoon water
2 tablespoon olive oil
Directions:
Place dry quinoa in a fine mesh strainer and rinse under cool water for a few minutes.
Place quinoa, water, and 1/2 teaspoon salt in a medium saucepan. Stir over medium heat and bring to a gentle boil. Cover, decrease the heat, and simmer for about 25 t0 30 minutes, or until the quinoa is tender but still has a bit of crunch left (al dente, I suppose!). Remove from heat and allow to cool to room temperature. You'll need 3 cups of cooked quinoa for the recipe.
In a small bowl, whisk eggs. Set aside.
In a large bowl, mix together onion, garlic, cheese, olives, parsley, lemon zest, bread crumbs, salt, pepper, and cooled quinoa. Add eggs and stir until quinoa is evenly moistened. Add water to thoroughly moisten mixture. Quinoa should be slightly wet so it doesn't dry out during cooking.
Scoop out mixture by the 2 tablespoonful. Use clean, moist fingers to form into a patty. Alternatively, we found that using one of our 2-cup plunger measuring cups, lightly oiled and set to about 1/4-cup capacity. Fill and compact the quinoa into the cup, then simply pop the cake out and right out and into the hot skillet. Much easier and the cakes held together much better.
In a large skillet over medium low heat, heat olive oil. Add four to six patties to the hot pan (or as many as you can fit without overloading). You'll need a bit of room to successfully flip them.
Cook on each side until beautifully browned, about 4 to 5 minutes on each side. Medium-low heat helps insides cook at an even pace. Remove browned cakes to a paper towel lined plate and repeat with remaining quinoa mixture.
Quinoa mixture will keep, uncooked and covered in the refrigerator for a few days. Just prior to serving, cook as directed and serve hot.
Did you make this recipe?
Let us know what you think!
Leave a Comment below or share a photo and tag me on Instagram with the hashtag #loveandoliveoil.