From grits to griddle cakes, apparently I'm in a corny mood. (A food blogger walks in to a bar… er, hold on… not THAT kind of corny!). Summer corn season is short, but boy is it sweet. And the appearance of this recipe in my reader right in the thick of it was, well, serendipitous. I bookmarked it immediately; it is so totally me. I dare YOU to resist these fresh corn cakes or the fresh summer salsa that accompanies them.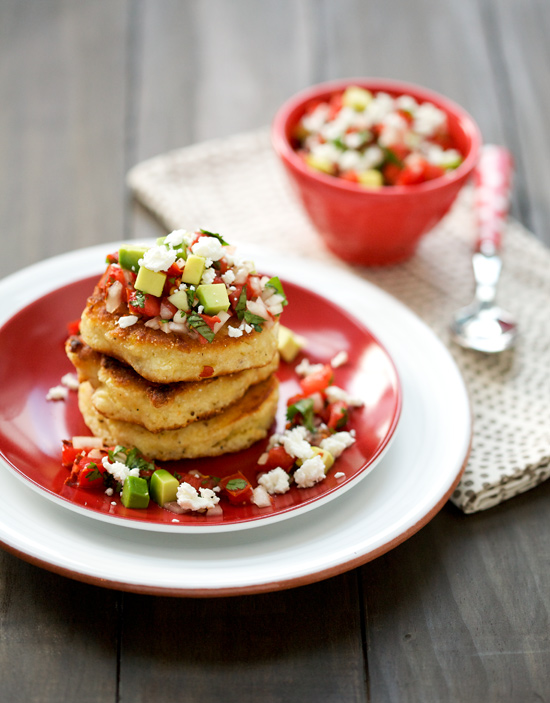 We've made corn cakes before, sweetened with honey so that they could almost pass for dessert. But these cakes take a more savory route, with a salsa topping that's both bright and buttery. They are most definitely dinner, and are most definitely delicious. They'd be a great accompaniment to a grilled steak or seared seafood; or, like we enjoyed them, perfectly satisfying as dinner in and of themselves.
Fresh Corn Cakes with Avocado and Goat Cheese Salsa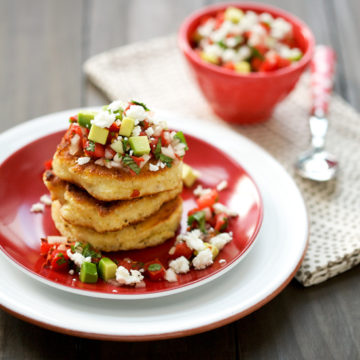 Ingredients:
For Salsa:
1 large tomato, chopped
2 tablespoons cilantro, chopped
1/3 cup white onion, chopped (about 1/2 a small onion)
1 garlic clove, minced
1 tablespoon lime juice (from about 1/2 a lime)
1 avocado, pitted and diced
3 ounces goat cheese, crumbled
For Corn Cakes:
2 cups fresh corn kernels
1 cup flour
1/2 cup cornmeal
1 teaspoon baking powder
1/2 teaspoon baking soda
1 teaspoon kosher salt
1 tablespoon sugar
2 eggs, lightly beaten
2 tablespoons milk
Directions:
For salsa, place all of the ingredients (except the avocado and goat cheese) in a bowl, and mix. Cover and refrigerate until ready to serve.
Preheat oven to 200ºF.
Pulse corn several times in a food processor. You want coarse chunks here, not corn puree.
Transfer the corn to a large bowl. Add flour, cornmeal, baking powder, baking soda, sugar, salt and pepper to taste. Add eggs and milk, and stir until just incorporated.
Preheat a splash of olive oil in a large skillet over medium heat.
Drop batter by heaping tablespoonfuls into the hot skillet, 4 or 5 per batch (don't overcrowd the pan). Cook 1 to 2 minutes per side, or until golden brown.
Transfer to a cookie sheet in the warm oven and repeat with remaining batter. Just before serving, add the avocado and goat cheese to the salsa, and mix gently to combine. Serve atop warm cakes.
Did you make this recipe?
Let us know what you think!
Leave a Comment below or share a photo and tag me on Instagram with the hashtag #loveandoliveoil.