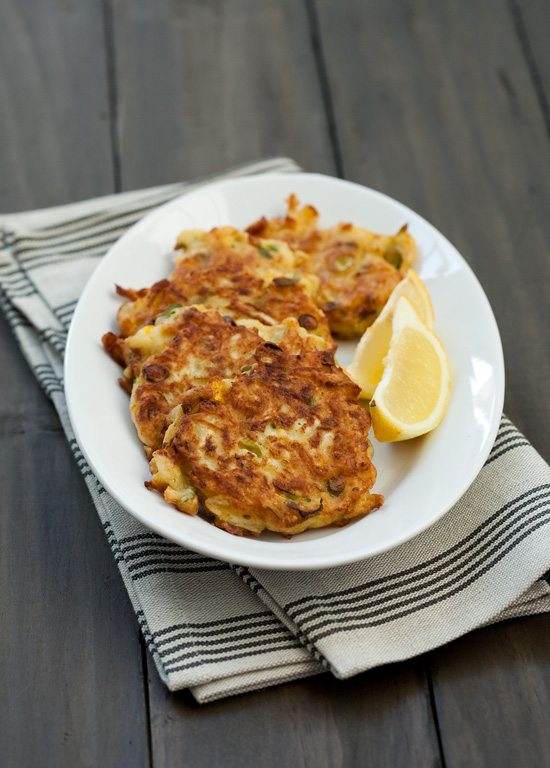 The squash has started rolling in. The one downside of a CSA is that the quantity of squash piling up in your refrigerator drawers more often than not outnumbers the squash recipes in your file. Tomatoes I could handle, but squash is always a bit trickier. Brain food, indeed… since it really requires your brain to keep thinking of new ways to use it.
So when I saw this Mario Batali recipe in the most recent issue of Food & Wine, I dog-eared that page faster than you can say zuc… See? Quick.
Imagine if you will, a potato pancake. Except replace the potato with squash (yellow zucchini in our case), stir in some creamy ricotta cheese and a dash of lemon, and fry it in a bath of olive oil until the outside is delicately crispy but the inside stays soft and alluring. A squeeze of lemon juice and a dash of salt are all these puppies need. Quick to prepare and even quicker to eat, thanks to this recipe (which we've now had two weeks in a row), we did not let any squash go to waste.
I could see the basic concept of this fritter taking us through the summer and into the fall, swapping in just about any starchy vegetable in place of the squash. Carrots, beets, corn, sweet potatoes… or all of the above. Paired with spices and herbs and cheeses and… oh my. With that kind of flavor potential I might as well fritter my summer away, and be perfectly happy doing so.
Zucchini Ricotta Fritters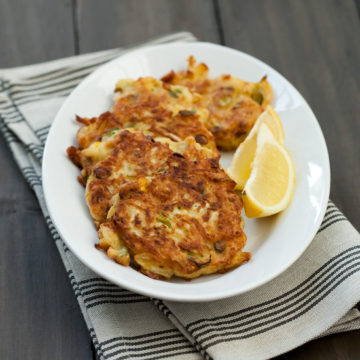 Ingredients:
2 medium zucchini (about 7 ounces each), coarsely shredded
2 garlic cloves, very thinly sliced
3 large scallions, very thinly sliced
1/2 cup whole-milk ricotta cheese
2 large eggs
2 teaspoons finely grated lemon zest
Kosher salt and freshly ground pepper
3/4 cup all-purpose flour
Olive oil, for frying
Lemon wedges, for serving
Directions:
In a large bowl, combine the zucchini, garlic, scallions, ricotta, eggs, lemon zest and 1 teaspoon each of salt and pepper. Stir well, then stir in the flour just until incorporated.
Line a large baking sheet with paper towels. In a large skillet, heat 1/4 inch of olive oil until shimmering. Working in batches, add 2-tablespoon mounds of the zucchini batter to the hot oil, spreading them to form 3-inch fritters. Fry over moderately high heat, turning once, until browned and crisp, about 3 minutes. Drain the fritters on the paper towels and serve right away, with lemon wedges.
Make Ahead The fritters can be kept at room temperature for up to 2 hours and recrisped in a 325°F oven.
Did you make this recipe?
Let us know what you think!
Leave a Comment below or share a photo and tag me on Instagram with the hashtag #loveandoliveoil.