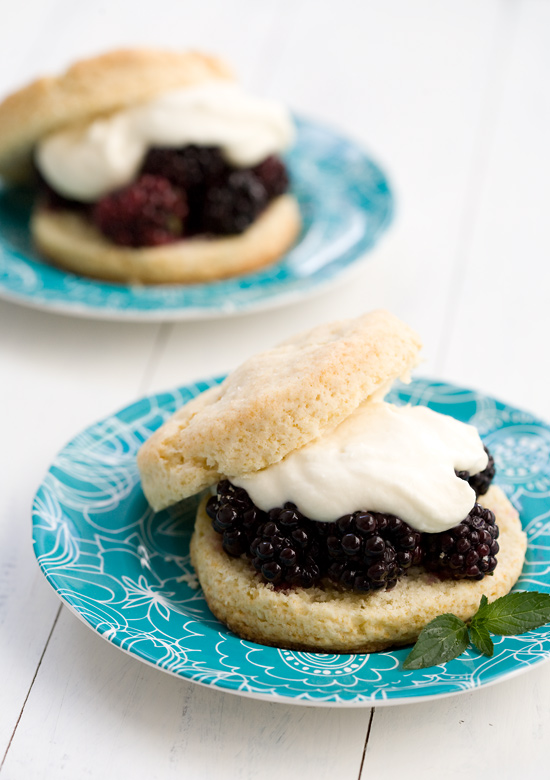 I make no attempt to hide the fact that I love goat cheese. It, along with parmesan, is the reason I could never be completely dairy free (and believe me, for 3 years, I really tried). This blog may as well be called Love and Goat Cheese, although it doesn't have quite the same ring to it.
So when I got an email from Belle Chevre, the little Alabama creamery, to be a part of their healthy July recipe series with chef Marvin Woods, well, who was I to say no?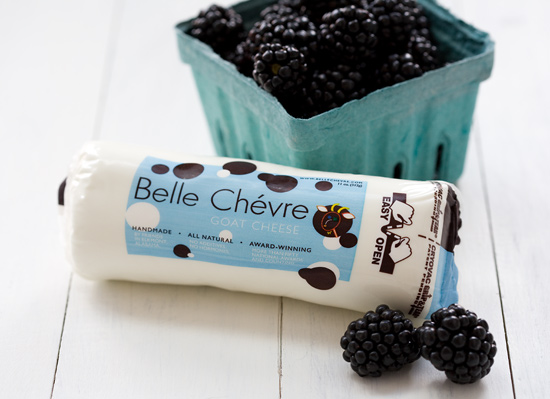 The resulting recipe is a twisted take on the classic shortcake. I substituted blackberries in place of strawberries, but I say use whatever beautiful berry happens to be bountiful at the time. Blueberries, raspberries, heck, peaches would be delicious too, sandwiched between two tender cream biscuits and dolloped with luscious goat-cheese whipped cream.
Tennessee blackberries are kind of like Tennessee bugs… they're big. Scary big.
Considering all the decadent desserts we've been filling ourselves with lately, this was a welcome treat. It truly captures the essence of a southern summer: light, bright, and juicy. In a biscuit.
Summer Berry Shortcake with Mint and Belle Chevre Goat Cheese Cream
Ingredients:
For the biscuits:
1 3/4 All-purpose flour, plus more for filling
1/4 cup plus 1 tablespoon sugar
1 tablespoon baking powder
1/4 teaspoon salt
1/4 cup (1/2 stick) chilled, unsalted butter cut into 1/2-inch pieces
1 cup heavy cream
1 tablespoon grated lime zest
For the filling:
3 pints strawberries, washed, hulled, and sliced (substitute 1 quart blackberries or other summer berry if desired)
1/2 cup plus 2 tablespoons sugar
2 tablespoons thinly sliced fresh mint
1/2 teaspoon grated lime zest
1/2 cup heavy cream
1/4 cup Belle Chevre Goat Cheese, room temperature
1 teaspoon pure vanilla extract
Directions:
For the biscuits:
Preheat the oven to 375°F.  Line a baking sheet with parchment paper.
In a food processor fitted with a blade attachment, blend the flour with 1/4 cup sugar, baking powder, and salt for 5 seconds.  Add the butter and cream and pulsate until mixture comes together.
On a clean, lightly floured work surface, gather the dough into a ball. Gently knead five times. Roll out the dough to a 3/4-inch thickness. Using a 3-inch round cutter, cut out 6 biscuits, re-rolling the dough as needed. Place the biscuits on the prepared baking sheet; sprinkle with the remaining 1 tablespoon sugar. Bake the biscuits until light golden brown, 18 to 20 minutes. Transfer to a rack and cool.
For the filling:
Place the berries, 1/2 cup sugar, mint, and lime zest in a medium bowl and stir to combine. Macerate at least 30 minutes and up to 2 hours, stirring occasionally.
Using the bowl of an electric mixer fitted with a whisk attachment, beat the cream until it forms soft folds (about 3/4 of the way to fully whipped). Add softened goat cheese, vanilla and remaining 2 tablespoons sugar. Beat until it forms soft peaks, taking care not to over beat.
To assemble, split biscuits in half using a knife or fork. Spoon a few tablespoons of the macerated berries on bottom half of biscuit, followed by a heaping spoonful of cream. Top with other biscuit half. Serve immediately.
©Recipe courtesy of Trailblazing Productions, LLC, All Rights Reserved
All images and text ©
Lindsay Landis
/ Love & Olive Oil
Did you make this recipe?
Let us know what you think!
Leave a Comment below or share a photo and tag me on Instagram with the hashtag #loveandoliveoil.