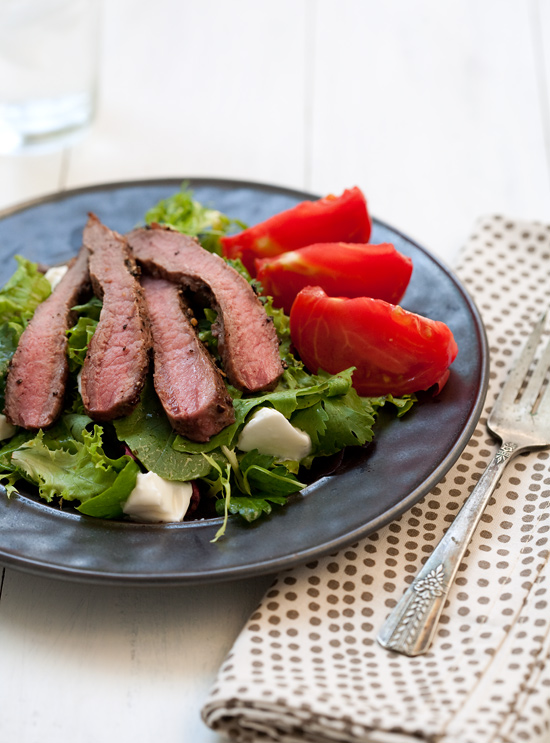 Mmm… steak salad. That is one fine hunk of meat right there.
Mmm… Curtis Stone. That is one fine hunk of… er… hi, honey! I love you!
Yes folks, that is indeed Curtis Stone. And me. Sitting at the same (or almost the same) table. I was kind of in awe, shock more like, and forgot to get the standard cheesy grin with the celeb shot. Oops. Maybe next time, right? Hopefully these are enough for proof of proximity.
I was quite honored to be asked to be a part of this event, not just as a gawker, but as a panelist. Yep. I sat on a panel. Talking about local food, along with Bites blogger Chris Chamberlain. Hosted by Hotel Indigo, the event was dubbed Dish on the Dish: Locals Know Best. The hotel, with two locations in Nashville, is promoting their local vendors and partners, serving local products such as Provence Breads, Jack Daniels (which is, indeed, local – lucky us!), and Drew's Brews coffee. Kudos to them for doing so—Nashville has so much to offer and I know many big hotel chains are all about efficiency and experience and could care less about local products. It's refreshing to see otherwise.
Also be sure you don't miss the Locals Know Best Giveaway. Simply Like them on Facebook and tell them about YOUR favorite local dish, for a chance to win a VIP trip to New York City to experience some of THEIRS.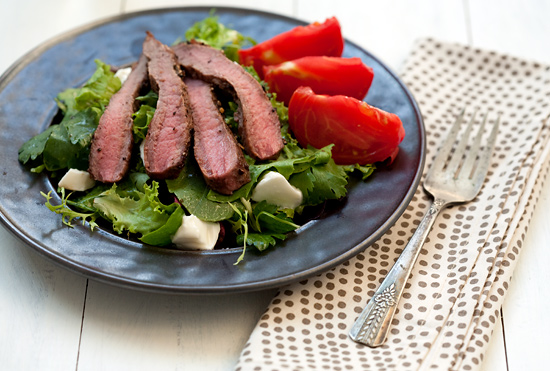 And now, on to the real eye candy: this delightful summer salad. I figured, if I was going to gush about Curtis, the least I could do was make one of his recipes, right? So I did. And while I tried my best to stay true to the locavore message of last week's panel, sometimes, it's just not possible. The steak is local, from Walnut Hills Farm (the only place we ever buy beef). The tomato is local and INCREDIBLE from our CSA. Seriously, the Barefoot Farmer is like the tomato whisperer or something. I wish I could say the burrata was local, and to be honest I would have been much more pleased with Tom's homemade mozzarella. Burrata is messy. Delicious, yes, but more suited for a caprese or a bruschetta. Not a salad. And the lettuce, well, I'll give you $100 if you can find me locally grown baby greens in Tennessee in August. Collards and kale and turnip greens, yes, but after about June 1st it's just too damn hot for tender lettuces.
So it's half local. Hopefully you (and Curtis) recognize that at least I tried.
Pepper Crusted Steak Salad with Heirloom Tomato and Burrata
Ingredients:
2 tablespoons whole black peppercorns, coarsely crushed
4 (8-ounce) strip or flat iron steaks
4 tablespoons extra-virgin olive oil
3 tablespoons balsamic vinegar
6 medium heirloom tomatoes
8 ounces fresh baby spinach leaves or mixed baby greens
1 ball fresh burrata or mozzarella, torn into pieces
Directions:
Preheat a grill or heavy skillet over medium-high heat.
Place the coarsely crushed peppercorns on a plate. Press both sides of the steaks into the peppercorns, coating the steaks. Sprinkle with sea salt and drizzle 1 teaspoon of olive oil over each steak.
To prepare the dressing, whisk together the vinegar and remaining olive oil in a medium bowl. Season to taste with salt and pepper.
Core and cut the heirloom tomatoes into wedges, place in a large bowl with the greens. Drizzle with vinaigrette and toss to coat.
Grill the steaks, oiled side down first, for about 3 to 4 minutes per side (depending on the thickness of the steaks) or until medium-rare. Remove from heat and let rest for 5 minutes, then cut across the grain into thin slices.
Divide the salad among 4 serving arrange the slices of steak over the top of the greens, surrounding the salad with the tomatoes and cheese. Serve immediately.
Did you make this recipe?
Let us know what you think!
Leave a Comment below or share a photo and tag me on Instagram with the hashtag #loveandoliveoil.