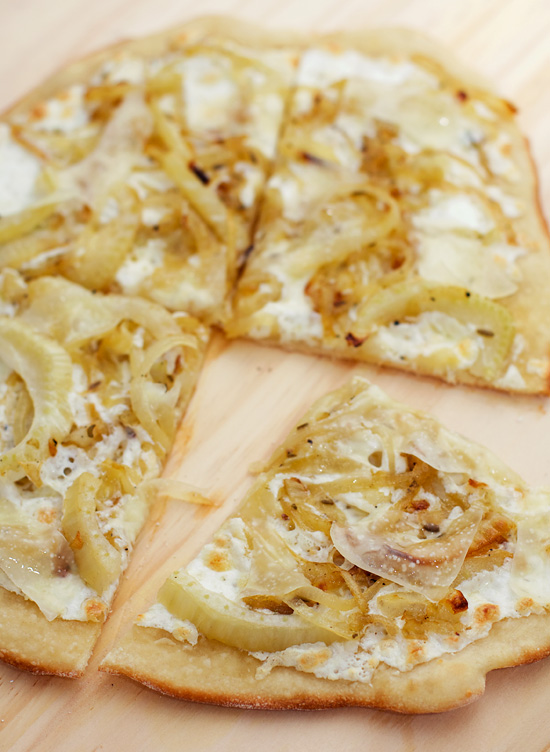 Hello, you ugly pizza you. You delicious, oozing, herbaceous, licorice-scented, rich, salty, creamy, and butt ugly pizza.
But seriously, it's not the pizza's fault. Just because its combination of savory ingredients happen to all fall within the same color spectrum is not its fault. This isn't a pizza margherita, with its contrasting bold hues and photogenic display.
The golden crust. The golden caramelized onion. The pale yellow fennel. They don't do anything for this pizza's looks. But they do wonderful things for its flavor and aroma.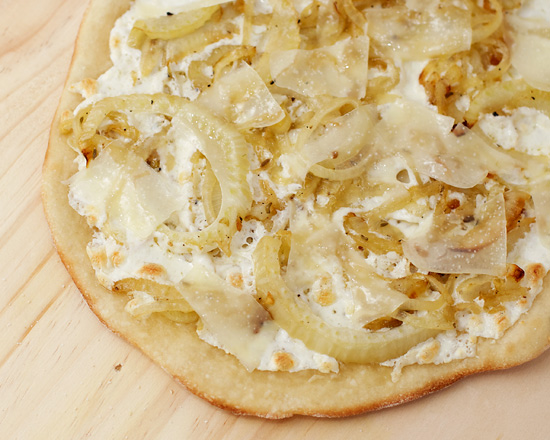 This pizza was inspired by a similar creation we had at one of our favorite local restaurants, City House (if you're ever in Nashville, it is a must try!) Alas, it is no longer on the menu, so I took it upon myself to recreate it at home. And while I still haven't managed to duplicate the almost pastry-like quality of their crust, we still agreed that this pizza is one we'll definitely be making again. Ugly shmugly. Beauty is in the eye of my stomach, afterall, and it thinks this pizza is drop dead gorgeous.
Caramelized Fennel and Onion Pizza
Ingredients:
Crust:
2 1/4 cups unbleached bread flour
3/4 teaspoon salt
1/2 teaspoon instant yeast
2 tablespoons olive oil
7/8 cup (7 ounces) water, ice cold (40°F)
Semolina flour OR cornmeal for dusting
Topping:
2 tablespoons olive oil
1 large onion, thinly sliced
1 large fennel bulb, cored and thinly sliced
8 ounces whole-milk fresh mozzarella cheese, coarsely grated
freshly shaved Parmesan cheese
Directions:
Stir together the flour, salt, and instant yeast in the bowl of an electric mixer. Add the oil and the cold water and stir on low speed until the flour is all absorbed. Switch to the dough hook and mix on medium speed for 5 to 7 minutes, or as long as it takes to create a smooth, sticky dough. The dough should clear the sides of the bowl but stick to the bottom of the bowl. The finished dough will be springy, elastic, and sticky, not just tacky.
Transfer the dough to floured work surface. Prepare a baking dish by lining it with lightly oiled parchment paper. Cut the dough into 4 equal pieces. Sprinkle flour over the dough. Gently round each piece into a ball. If the dough sticks to your hands, lightly dip your hands in flour. Transfer the dough balls to the prepared dish, Mist the dough generously with spray oil and slip the pan into a food-grade plastic bag or cover with plastic wrap.
Refrigerate overnight (or up to 3 days). At this point the dough can also be frozen; simply wrap each ball indvidually in plastic wrap and place inside a zippered freezer bag. Transfer to the refrigerator the day before you plan on baking them.
Remove dough from refrigerator and rest at room temperature for 2 hours. On a lightly floured work surface, gently press the dough into flat disks about 1/2 inch thick and 5 inches in diameter.
At least 45 minutes before making the pizza, place a baking stone either on the floor of the oven (for gas ovens), or on a rack in the lower third of the oven. Heat the oven as hot as possible, 500 to 550 degrees F. If you do not have a baking stone, you can use the back of a sheet pan, but do not preheat the pan.
Meanwhile, heat 2 tablespoons olive oil in a large skillet. Add onion and fennel and cook over medium heat until onions are soft and golden and the fennel is tender, about 15 minutes.
Generously dust a peel or the back of a sheet pan with semolina flour or cornmeal. Make the pizzas one at a time. Dip your hands, including the backs of your hands and knuckles, in flour and lift I piece of dough by getting under it with a pastry scraper. Very gently lay the dough across your fists and carefully stretch it by bouncing the dough in a circular motion on your hands, carefully giving it a little stretch with each bounce, and continue to stretch/toss until the dough is approximately 7″ across and uniformly thin. If you have trouble tossing the dough, or if the dough keeps springing back, let it rest for 5 to 20 minutes so the gluten can relax, and try again.
Lay the stretched dough on the peel or pan, making sure there is enough semolina flour or cornmeal to allow it to slide. Lightly brush with olive oil, and poke it a few times with a fork so it doesn't bubble.
Brush crust with a thin layer of olive oil. Spread with grated mozzarella, and top with onion and fennel mixture. Season with salt and pepper.
Gently slide the topped pizza onto the stone (or bake directly on the sheet pan) and close the door. Bake (two at a time) until the bottoms are lightly golden and the cheese is bubbly and just barely browned.
Remove from the oven and transfer to a cutting board. Sprinkle with shaved Parmesan. Repeat with remaining pizzas. Let rest for 3 to 5 minutes before slicing and serving.
Did you make this recipe?
Let us know what you think!
Leave a Comment below or share a photo and tag me on Instagram with the hashtag #loveandoliveoil.