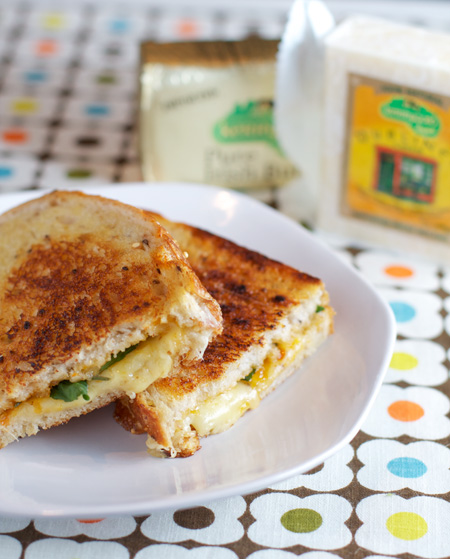 Remember a week or so ago when I begged, er, asked nicely to vote for my rainbow cake in the Butter recipe exchange? Well, if you hadn't heard, I won. And I am pretty darn proud and thankful for all of you who rallied behind me. (Thank you!)
Anyways, the prize for the victory, a $150 Kerry Gold gift basket, arrived shortly after. While I knew I was getting some butter (and fantastically amazing butter at that), what I didn't expect was the sheer quantity of cheese. Swiss and cheddar and gouda, oh my!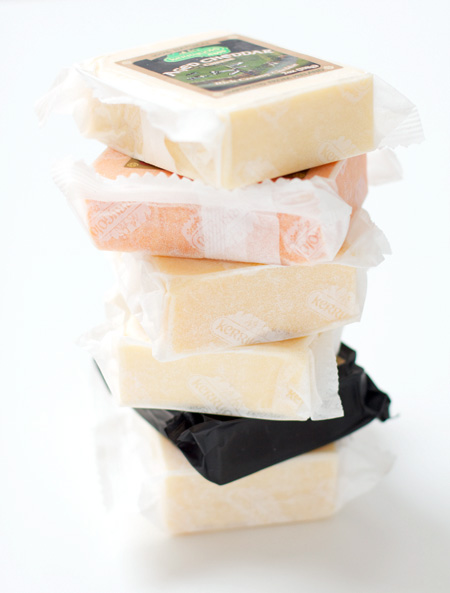 Now the grilled cheese probably makes more sense, huh?
But this isn't just any grilled cheese, this grilled cheese has class. With a thin layer of homemade apricot jam and a few leaves of fresh arugula added at the very last minute, this sandwich is as delicious as it is simple. I mean, it is a grilled cheese, after all. And what a perfect way to highlight the superb ingredients I was given.
This particular sandwich makes use of Kerry Gold's unusual Dubliner cheese, described as somewhat sweet, somewhat nutty (sound like someone else you know?). That slight sweetness, when combined with the fruit jam and spicy arugula, makes for the perfect grilled cheese sandwich.
Grilled Cheese with Apricot Jam and Arugula
Ingredients:
4 slices country bread
4 oz. Kerry Gold® Cheddar or Dubliner cheese, sliced
2 tablespoons apricot (or other fruit) Jam
1 tablespoon Kerry Gold® salted butter
1/4 cup arugula
Directions:
Preheat a large skillet or sandwich press on medium-high heat.
To assemble sandwiches, spread a thin layer of jam on one side of bread. Top with a double layer of cheese slices and second piece of bread. Generously butter outsides of both pieces of bread.
Put sandwiches in skillet and toast until bread is golden brown and cheese is melted, about 3-4 minutes per side. Remove from pan. Carefully (it will be hot!) peel apart bread and place arugula inside and replace top slice of bread. Cut in half and serve immediately.
Did you make this recipe?
Let us know what you think!
Leave a Comment below or share a photo and tag me on Instagram with the hashtag #loveandoliveoil.
Spread some love butter this holiday season.