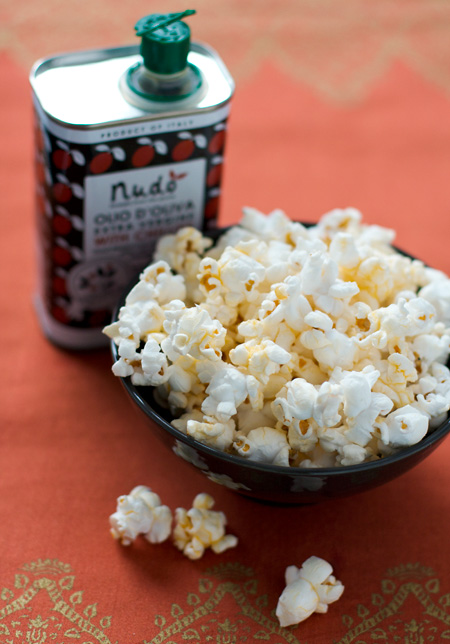 You know those days, when you've eaten dinner, but maybe it's too late for dessert (or maybe you've already eaten dessert) and you still feel the need to munch? Maybe you're watching a movie on a Friday night and to you, movies just aren't complete without popcorn? Whatever your reason, sometimes we all just need a snack.
Enter the air popper. Yes, we have one. We've decided that this little unitasker is worth our precious cabinet space. You may feel otherwise, but we love our little popper.
One of our favorite snacks is freshly popped popcorn drizzled with extra virgin olive oil. Yes, we kind of ripped the idea from Trader Joe's (whose olive oil popcorn is practically like crack), but we've adopted it as our own.
Until now, however, we've stuck to plain old extra virgin. The fruitier the better. You're only using a few tablespoons so you might as well use the good stuff. You may feel that popcorn is useless unless it is smothered in butter (and I think I've expressed my love for butter enough already this week), so let's give the olive oil some love, too. Because it truly makes an otherwise ordinary snack extraordinary. This may be the shortest, simplest recipe I've ever posted. It may also be one of our all-time favorites.
Take it up another notch and use a fiery chili-infused olive oil, like the one the fine folks at Nudo were kind enough to send (they also sent me a sample of their stone ground lemon, which sounds divine, but maybe not on popcorn). But the chili… oh the chili! Spicy. Sassy. Delicious.
So for once (and I don't say this often), put down the butter, and give this a try.
Olive Oil Popcorn
Makes 4 snack-size servings
Ingredients:
1/2 cup popcorn kernels
1 teaspoon table or popcorn salt (fine grain), or to taste
3 tablespoons olive oil of your choice
Directions:
Place popcorn kernels in air popper and pop according to manufacturers directions (alternatively, you can make 'air-popped' popcorn in the microwave, simply put kernels in a brown paper bag. Fold over top of bag multiple times. Microwave on high for about 4 minutes or until the pops are more than 1 second apart).
Transfer popcorn to a large bowl (much larger than the actual quantity of popcorn). Drizzle over olive oil, 1 tablespoon at a time, and toss to coat. Continue adding olive oil until you achieve your desired coverage. Sprinkle with salt again and toss until evenly coated.
Did you make this recipe?
Let us know what you think!
Leave a Comment below or share a photo and tag me on Instagram with the hashtag #loveandoliveoil.
Love & Olive Oil loves olive oil… do you?