Apricot Roast Chicken with Root Vegetables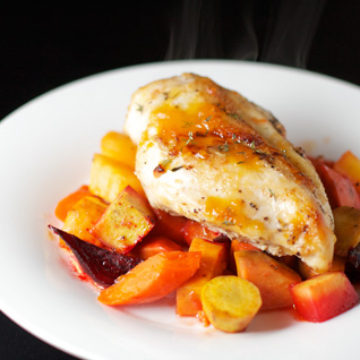 Ingredients:
2 small carrots, peeled, cut on the diagonal into 1-inch pieces
2 small beets, each cut into 6 wedges
3 small sweet potatoes, cut into wedges
1 medium butternut squash, peeled & seeded, cut into 1-inch pieces
1 large fennel bulb, cut into 8 wedges, tops reserved
2 tablespoons plus 1 teaspoon olive oil
1/4 cup apricot jam, mixed with 2 tablespoons warm water
2 tablespoons fresh thyme leaves, branches reserved for stuffing
Salt and freshly ground black pepper
2 whole chicken breasts, bone in, skin on (2 1/2 pounds total)
1/2 lemon, cut lengthwise into 4 wedges
Directions:
Heat oven to 450 degrees. In a large bowl, toss vegetables with 2 tablespoons oil, 2 tablespoons apricot-jam mixture, and thyme leaves; season to taste with salt and pepper. Arrange in a 9-by-13-inch glass baking pan; roast for 10 minutes.
Meanwhile, in a large skillet, heat remaining teaspoon oil over medium-high heat; season chicken, and brown, 4 minutes. Remove from heat; fill cavities between breast halves with lemon, thyme branches, and fennel tops.
Place chicken, skin side up, in a roasting pan, with vegetables around it; roast 15 minutes. Brush chicken with remaining jam; add 6 tablespoons water to pan. Roast until vegetables are tender and chicken is well browned, about 20 minutes. Discard lemon, thyme, and fennel. Bone each breast half with a sharp knife: Cut along breastbone, scraping rib cage with knife; remove meat with your fingers. Arrange meat and vegetables on a serving dish. Pour pan juices over, and serve.
Did you make this recipe?
Let us know what you think!
Leave a Comment below or share a photo and tag me on Instagram with the hashtag #loveandoliveoil.