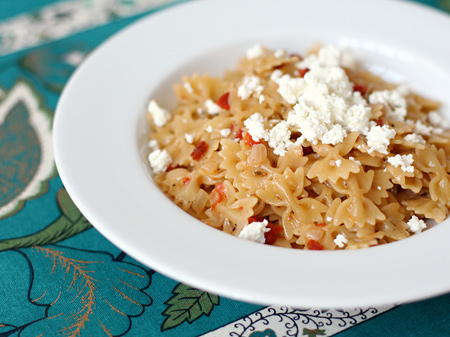 When you think of risotto, you probably think of a creamy cooked rice dish, right? Always rice. But did you know you can make risotto out of just about anything that will absorb liquid. Say, barley. (It's delicious. You should try it!) Or, pasta. You heard me… pasta.
It's brilliant, really. I mean, who needs a huge pot full of water any way? You can just as easily make a delicious and extra-flavorful pasta with as little as 4 cups of liquid. And if you use a homemade or high quality chicken broth instead of water, guess where all that extra flavor goes? Yep, straight into your pasta. It's truly an amazing thing.
Here's one recipe where you shouldn't follow our example, however. We used a baby farfalle pasta this time, and while it's pretty, it isn't particularly suited to the risotto-style of cooking. The little 'pinch' of dough in the middle of the noodle didn't fully cook, even after we used well over the required 4 cups of broth. Still crunchy. We decided that a pasta shape that is more uniform, with no pinches (such as penne, fusilli, or gemelli) would be a far better choice. Learn from our mistake and your risotto will be all the better.
This recipe is incredibly flexible too. Use it as a base and go crazy. While we chose to add sun dried tomatoes and goat cheese, you could use any add-ins you'd like. How about asparagus, spring peas, and parmesan? Cherry tomatoes and roasted eggplant? Chicken and mushrooms? The possibilities are endless.
Risotto Style Pasta with Sun Dried Tomatoes and Goat Cheese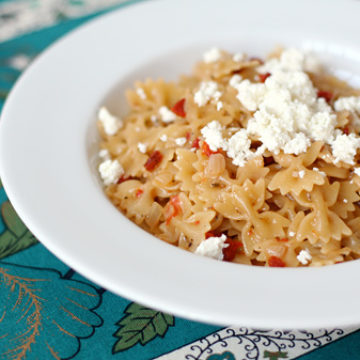 Ingredients:
2 tablespoons olive oil
3 cloves garlic, minced
1 small onion, chopped
4 cups good quality chicken stock
1/4 cup Madiera wine (or use white wine)
16 oz small cut pasta (such as penne or gemelli)
1/4 cup sundried tomatoes, chopped
2 oz goat cheese
Directions:
Heat olive oil in a large, deep skillet over medium heat. Add garlic and onion, and cook until onions are slightly translucent and garlic is fragrant (but not burnt), about 5-6 minutes. Add pasta and cook, stirring occasionally, until it is glossy and coated with oil, 2 to 3 minutes. Add wine. Stir until liquid is mostly absorbed.
Add stock, 1/2 cup at a time, stirring frequently. When liquid is just about absorbed, add more. Continue with remaining broth. After about 10 minutes, test the pasta. You want it to be slightly al-dente with still a little bit of a crunch. If it is still undercooked, add additional liquid (broth or water), 1/4 cup at a time, until done. Stir in sundried tomatoes and season with salt and pepper.
Divide pasta among plates. Top with crumbled goat cheese.
Did you make this recipe?
Let us know what you think!
Leave a Comment below or share a photo and tag me on Instagram with the hashtag #loveandoliveoil.