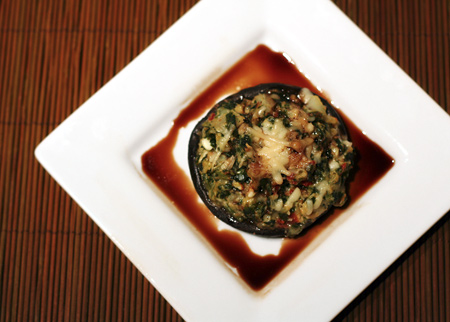 We made these after I ordered something similar at a local restaurant (like many of our dishes, we enjoy something so much that we do our best to copy it at home). We basically stuffed a portobello mushroom cap with some of our favorite things, including goat cheese, Parmesan, sundried tomato, and artichoke hearts. All broiled and gooey and drizzled with some thick and sweet balsamic reduction, it is a delicious vegetarian dinner that will satisfy you completely. Serve it on top of a bed of baby greens for a complete meal.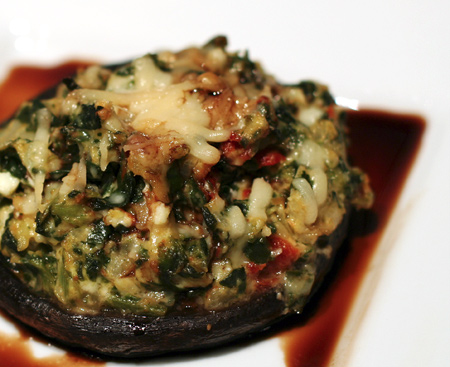 While we didn't reduce the balsamic as much as we should have (sometimes we just want to eat, and don't want to wait any longer), just the touch of acidity and sweetness that the balsamic brings is the perfect finish for the rich and buttery mushrooms. And what'ya know, the past two recipes I've posted have both featured balsamic vinegar, in completely different ways. A testament to its versatility as an ingredient, I guess you could say!
REMINDER: Don't forget to enter to win a sampler of delicious artisan chocolate from Olive & Sinclair! Tomorrow (Monday) is your last day to enter!
Stuffed Portobello with Balsamic Reduction
Ingredients:
1 10-ounce package frozen spinach
2 tablespoons olive oil
1 cup chopped sweet onion
3 garlic cloves, minced
1/4 cup sundried tomatoes, chopped
1/4 cup marinated artichoke hearts, drained and chopped
1/4 cup plus 6 tablespoons finely grated Parmesan cheese
1 5-ounce package soft fresh goat cheese, crumbled
1/4 cup unseasoned dry breadcrumbs
salt and pepper, to taste
4-6 portobello mushroom caps
1/2 cup balsamic vinegar
2 tablespoons brown sugar
1 sprig fresh thyme
Directions:
Cook spinach according to package directions. Drain; cool. Using hands, squeeze excess water from spinach. Coarsely chop and place in small bowl.
Heat oil in heavy large skillet over high heat. Add onion; sauté until beginning to brown, stirring often, about 3 minutes. Add garlic and stir 30 seconds. Transfer to large bowl; cool to room temperature.
Add spinach, 1/4 cup Parmesan, sundried tomato, artichoke, goat cheese, and breadcrumbs to onion mixture; toss to distribute evenly. Season filling to taste with salt and pepper. DO AHEAD: Can be made 2 hours ahead. Cover filling and let stand at room temperature.
To make balsamic reduction, combine vinegar and sugar in small saucepan and whisk until sugar is dissolved. Add thyme sprig and simmer for 10-15 minutes or until reduced by half. Mixture should be thick and syrupy. Simmer longer if necessary. Set aside.
Preheat oven to 400°F. Transfer mushrooms to rimmed baking sheet, gill side up. Divide filling among mushrooms. Sprinkle remaining 6 tablespoons Parmesan cheese over and bake until heated through and cheese begins to brown, about 15 minutes.
Drizzle mushrooms with balsamic reduction and serve immediately.
Did you make this recipe?
Let us know what you think!
Leave a Comment below or share a photo and tag me on Instagram with the hashtag #loveandoliveoil.