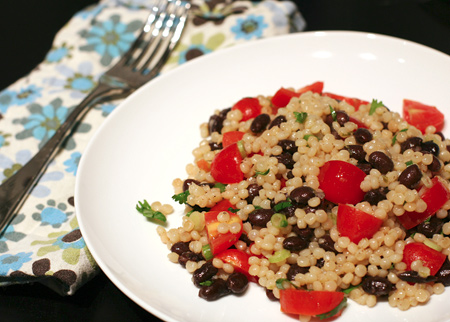 You know those nights when you have a meal planned, but just don't feel like eating it? That happens to us, quite a bit actually. We plan out our entire weeks' meals every Tuesday when we go to the grocery store (one of the benefits of being self employed is NOT having to brave the market on the weekends). This was one of those meals, when it came time to make it for dinner, I just wanted to go out for a hot dog instead. But we resisted, and you know what? This turned out to be one of the best things we'd made in a while. We substituted Israeli couscous for the quinoa (along with regular couscous, there's something about quinoa that Taylor just doesn't like… the texture maybe? Who knows!) But you could easily use the quinoa as originally specified in the recipe.
We've made this twice since that initial evening, and the second time tossed in half a rotisserie chicken for a bit more substance. And with only 2 tablespoons of butter (which make it incredibly smooth and satisfying), it can definitely be called a healthy meal. Quick and healthy… AND delicious? I'll take that over a hotdog anyday! :)
Israeli Couscous with Black Bean and Tomato
Ingredients:
2 teaspoons grated lime zest
2 tablespoons fresh lime juice
2 tablespoons unsalted butter, melted and cooled
1 tablespoon vegetable oil
1 teaspoon sugar
8 oz. Israeli (pearl) couscous
1/4 teaspoon ground cumin
1/4 teaspoon ground cinnamon
1 3/4 cup boiling water
1 (15 oz.) can black beans, rinsed and drained
1 cup cherry tomatoes, halved
4 scallions, chopped
1/4 cup chopped fresh cilantro
Directions:
Whisk together lime zest and juice, butter, oil, sugar, 1/2 teaspoon salt, and 1/4 teaspoon pepper in a large bowl.
Preheat 2 tablespoons olive oil in a medium saucepan over medium heat. Add couscous and cook for 2-3 minutes or until lightly golden, stirring occasionally. Add cumin and cinnamon and stir to coat. Add boiling water and return to a boil. Cover pan and cook until couscous is tender and water is absorbed, 10-12 minutes (refer to package directions for exact cooking times).
Add couscous to dressing and toss until coated, then stir in remaining ingredients and salt and pepper to taste.
Did you make this recipe?
Let us know what you think!
Leave a Comment below or share a photo and tag me on Instagram with the hashtag #loveandoliveoil.