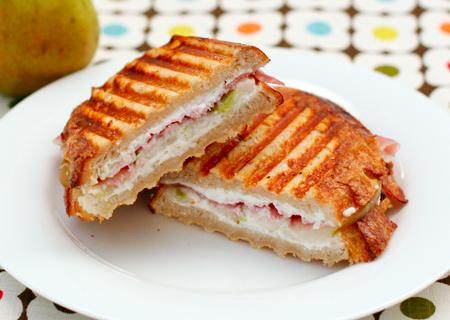 We ate lunch at a local coffee and sandwich shop a few weeks back, and ordered one of their paninis. It was filled with goat cheese (my favorite), and slices of fresh pear and prosciutto. Delicious. And we thought, hey, we have a panini maker we haven't used in maybe 8 months, why not dig it out and try our hand at making these ourselves?
So we did.
And it was good.
We had some gorgonzola cheese leftover in the fridge as well, so we ended up making one sandwich with goat cheese and another with gorgonzola. I prefer the goat cheese, myself. While the gorgonzola had a wonderful flavor that went really well with the other ingredients, it almost overpowered them it was so strong. So if you make these with gorgonzola, take it easy on the cheese.
Prosciutto, Pear, and Goat Cheese Panini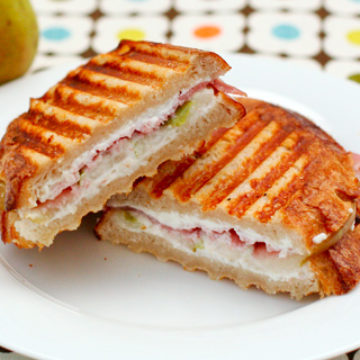 Ingredients:
4 slices country style bread, sliced
3 oz. prosciutto
1 ripe pear, thinly sliced
4 oz. goat cheese, room temperature (or Gorgonzola if you like)
2 tsp. olive oil
Directions:
Prepare panini maker or grill pan.
To assemble sandwiches, spread a thin layer of goat cheese on bread slices. Top with single layer of prosciutto, followed by a layer of pear. Top with another slice of bread. Lightly brush top with olive oil.
Place oil side down on panini press and brush other side with olive oil. Close the lid and cook according until indicator light says it's done. Alternatively, if you do not have a panini press, you can use a grill pan and place a weighted object on top of the sandwich (like a brick wrapped in foil). Flip sandwiches mid-way and grill on other side. Sandwiches are done when bread is crisp with golden grill lines, and cheese is warm and melted.
Slice in half and enjoy!
Did you make this recipe?
Let us know what you think!
Leave a Comment below or share a photo and tag me on Instagram with the hashtag #loveandoliveoil.