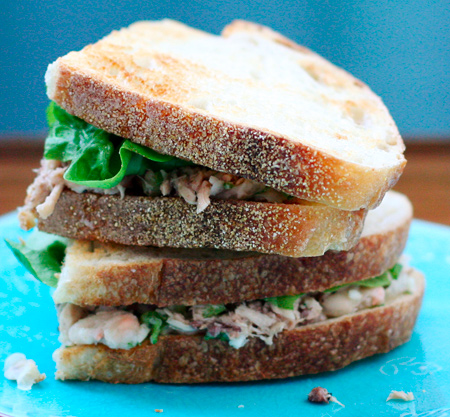 Look familiar? Well, it didn't to me. This has never happened before. We made a recipe we thought was new, and as I was getting ready to post it, I realized we had posted it before. Before meaning way back in '07 when I thought the closer I could get to the food the better (you rarely see the entire plate in those photos). But yea. We actually made something twice without realizing it. I could have moved on and posted one of the other recipes I have queued in my photo library, but for some reason I felt I had to post this picture. If a sandwich could ever be described as pretty, this just might be the one. Or maybe it's not the sandwich itself but the beautiful blurry background colors – rich brown and turquoise blue. That could be it too. I can never have enough of brown and turquoise.
Revisiting things is nice too. You know, since I know not all of you have been reading this blog since '07, nor do you have the time to travel back that deep in the archives (or maybe you do? if so, well done!) With that in mind, I may have to dredge up a few old favorites in need of a better photo (sorry, but some of my initial shots just don't do the poor recipe justice!) and repost them for all to enjoy, again.
And no, I didn't plan on two sandwich posts back to back either. Give me a break, or I just might have to make another sandwich and go for three in a row. So there. I like sandwiches. You should too.
Tuscan Tuna and Bean Sandwiches
Ingredients:
For beans
1 (14- to 15-oz) can cannellini beans, rinsed and drained
2 garlic cloves, finely chopped
1 tablespoon fresh lemon juice
2 tablespoons olive oil
2 tablespoons chopped fresh flat-leaf parsley or basil
1/4 teaspoon salt
1/4 teaspoon black pepper
For tuna salad
2 (6-oz) cans Italian tuna in oil, drained
2 tablespoons finely chopped fresh basil or flat-leaf parsley
1/4 cup pitted Kalamata or other brine-cured black olives, finely chopped
1 celery rib, finely chopped
2 tablespoons finely chopped red onion
2 tablespoons olive oil
1 tablespoon fresh lemon juice
1/4 teaspoon salt
1/8 teaspoon black pepper
For sandwiches
8 (1/3-inch-thick) slices rustic Italian bread (from a round crusty loaf) or 4 (4-inch-long) oval panini rolls
1 cup loosely packed trimmed watercress sprigs
Directions:
Coarsely mash beans with a fork in a bowl, then stir in garlic, lemon juice, oil, parsley, salt, and pepper.
Flake tuna in a bowl with a fork, then stir in basil, olives, celery, onion, oil, lemon juice, salt, and pepper until combined.
Spoon one fourth of bean mixture on 1 slice of bread, then top with one fourth of tuna salad, some watercress, and a slice of bread. Make 3 more sandwiches in same manner.
Did you make this recipe?
Let us know what you think!
Leave a Comment below or share a photo and tag me on Instagram with the hashtag #loveandoliveoil.