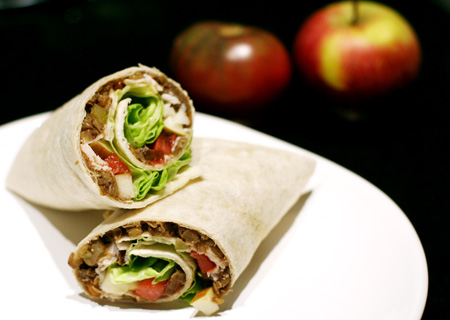 Make the best of the fall apples – stick them in anything and everything. You'd be surprised how well they work with just about everything. Like these crisp and refreshing wraps. They'd be good, but somewhat dull if it weren't for the bright crunch of the apple. These would make a great lunch (or they DO make a great lunch – we had the leftovers the next day and enjoyed them just as much as we did the night before).
Lentil, Turkey, & Apple Wraps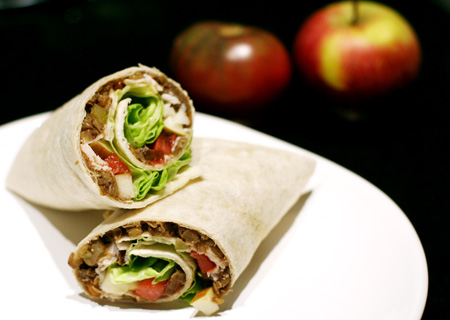 Ingredients:
4 cups low-sodium vegetable or chicken stock
1 cup dried brown lentils
1/2 cup dried French green lentils
2 stalks celery, chopped
1 large carrot, peeled and chopped
1 sprig fresh thyme
1 teaspoon kosher salt
1 medium tomato, cored, seeded, and diced
1 small Fuji apple, cored and diced
1 tablespoon freshly squeezed lemon juice
2 teaspoons extra-virgin olive oil
Freshly ground black pepper to taste
6 (12-inch) flour tortillas
3/4 pound turkey breast, thinly sliced
1/2 head Bibb lettuce
Directions:
Place the stock, lentils, celery, carrot, thyme, and salt in a medium saucepan and bring to a boil. Reduce heat to low and simmer until the lentils are tender, about 30 minutes, depending on the lentils. (If they begin to dry out, add water as needed.) Remove and discard the thyme. Drain and transfer the mixture to a bowl; let cool.
Fold in the tomato, apple, lemon juice, and olive oil. Season with the pepper.
To assemble a wrap, place 1 tortilla on a clean work surface. Spread the lentils in the center, top with the turkey and lettuce, and fold up the bottom, left side, and right side before rolling away from you.
Did you make this recipe?
Let us know what you think!
Leave a Comment below or share a photo and tag me on Instagram with the hashtag #loveandoliveoil.