What do you get when you have a meal planned of portobello black bean burgers with corn salsa, but Lindsay neglects to buy black beans at the store? Well, you spread the ingredients you do have over the counter, and figure out what you can make with it in the least amount of time possible.
This is by far the best way to cook mushrooms. Any kind of mushrooms. We served them with couscous this time around, but they'd go well with just about anything or as a side dish to any meal.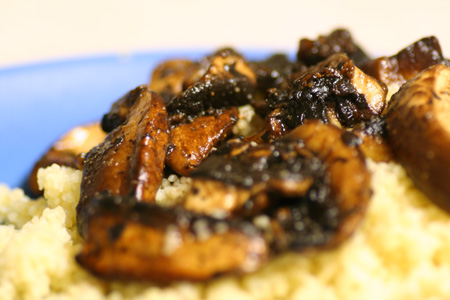 Balsamic Braised Mushrooms and Couscous
Recipe from our twisted minds. Adjust spices as necessary, it's purely made to taste. So easy it barely needs a recipe.
Ingredients
Fresh Mushrooms
Olive oil
Balsamic vinegar
Oregano
Garlic Powder
Salt & Pepper
Couscous, cooked according to package directions

Directions
Trim and cut mushrooms into bite sized pieces.

Heat a few tablespoons of olive oil in skillet. Add mushrooms and sauté 3-4 minutes.

Add a few tablespoons of balsamic vinegar and stir until absorbed. Add spices, salt, and pepper to taste. Spoon on top of couscous and serve.