Thai red curry meets Italian risotto in a mind-blowing mashup of flavor.
Trust me, it's better than it sounds.
You usually spoon a heaping scoop of rice into your curry anyway, so why not cook it that way to begin with? When you think of it that way, it doesn't sound so weird. At least that's what I told Taylor to convince him to try my crazy idea (he's skeptical sometimes, and I don't blame him, as I've had ideas crash and burn like you wouldn't believe).
This idea, luckily for all of us, turned out to be a winner.
Essentially, you start the dish like you would any risotto, by browning the meat first then removing it from the pan, then cooking the onion, garlic, and, in this case, ginger in the fatty and flavorful remnants left in the pan. Then add the arborio rice, cooking it along with the aromatics and a generous spoonful of red curry paste, to give it a lovely toasty flavor. Then add your chicken broth, a little at a time, stirring consistently and not adding more liquid until the previous batch is absorbed (this process, as tedious as it might be, is the key to creamy risotto). However for this version, in addition to chicken broth, I also added a full can of coconut milk for added creaminess and richness, and finished it off with some sugar, soy sauce, and a squeeze of lemon juice to balance out the flavors.
We filled it with the toppings from our favorite Thai curry recipe, including fresh cherry tomatoes and tart chunks of pineapple that perfectly cut the richness and spice of the rest of the dish. I implore you NOT to skip the pineapple. I don't even like pineapple and it was my favorite part of this dish.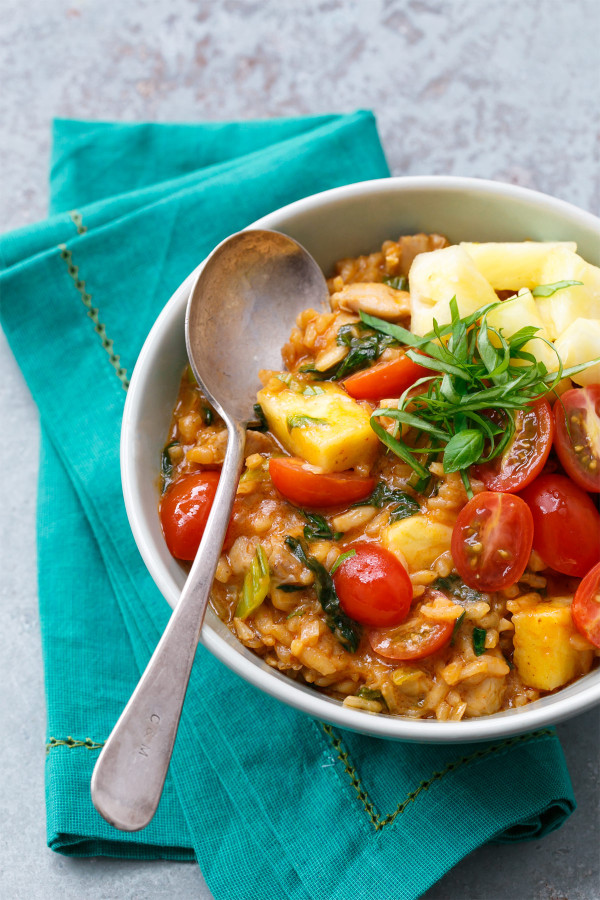 Proof that combining the textures and techniques from one culture with the flavors of another can take your tastebuds wonderful places.
Thai Red Curry Risotto
Italian risotto meets Thai red curry, with chicken thighs, cherry tomatoes, fresh pineapple chunks and basil.
Ingredients:
2 tablespoons coconut oil
3/4 lb boneless skinless chicken thighs (about 4), cut into bite-sized chunks
1 large onion, finely chopped (about 3/4 cup chopped)
3 garlic cloves, minced (about 1 tablespoon chopped)
2 teaspoons grated or finely minced ginger
3/4 cup arborio rice
3 tablespoons red curry paste
2 1/2 cups chicken broth, warmed
1 1/2 cups (1 12oz can) coconut milk, divided
1 tablespoon lime juice (from 1 lime), or to taste
1 tablespoon brown sugar
1 tablespoon soy sauce
4 baby bok choy, tough core removed and sliced into 1/2-inch strips
1 cup cherry tomatoes, halved
1 cup cubed pineapple chunks
small handful basil leaves, torn or cut into thin ribbons
Directions:
Heat coconut oil in a large saucepan or dutch oven over medium-high heat. Add chicken pieces and cook for 7 to 9 minutes, flipping once or twice, until evenly browned. Transfer chicken to a plate and set aside. Reduce heat to medium, then add onion, garlic, and ginger to saucepan. Saute until fragrant, about 1 minute, then add rice and curry paste, stirring until evenly coated.
Add warm chicken broth, 1/2 cup at a time, stirring until broth is mostly absorbed before adding more. Once all of the chicken broth has been added (about 20 minutes), add 1 cup of coconut milk and stir until mostly absorbed and rice is almost done, 8 to 10 minutes.
Add remaining 1/2 cup of coconut milk along with lime juice, brown sugar, and soy sauce. Return chicken to saucepan along with bok choy and tomato and cook until rice is al dente and chicken is cooked through, about 5 minutes more. Stir in pineapple chunks and basil. Taste and add additional lime juice, sugar, and/or soy sauce as desired.
Divide among serving bowls and serve warm, topped with more basil if desired.
Did you make this recipe?
Let us know what you think!
Leave a Comment below or share a photo and tag me on Instagram with the hashtag #loveandoliveoil.