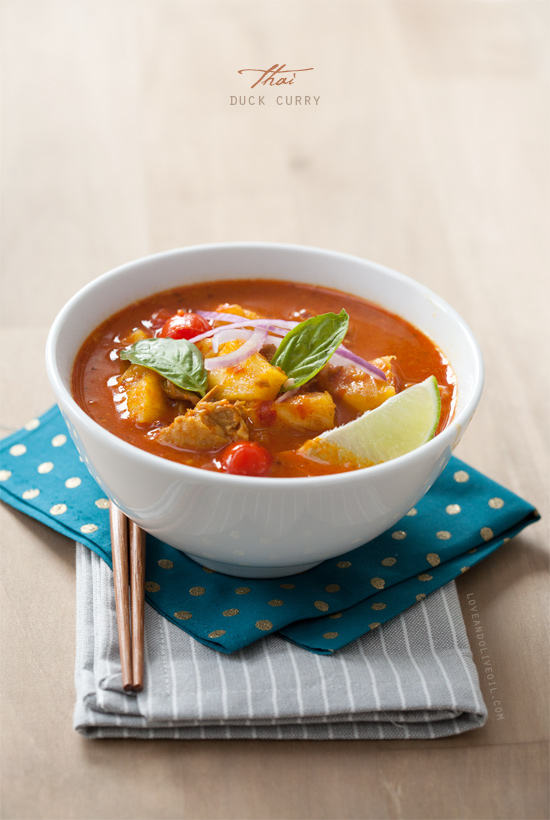 A long, long time ago in a place far, far away (a.k.a. back when we were in college), there was a Thai restaurant that we loved. Nestled in the corner of a strip mall next to a Ross and a JoAnn fabrics, it wasn't exactly prime real estate. But that restaurant served some of the best Pad Thai I'd ever had.
And Taylor's favorite, the red duck curry.
There was one evening in particular, Taylor decided to venture into HOT territory instead of his usual MEDIUM. The poor boy was sweating so badly after a few bites that he had to, as he puts it, go to the bathroom multiple times to squeegee himself off.
That still didn't stop him from slurping the bowl dry.
It's been six years since we moved and he still brings up that darn curry on a regular basis. We have yet to find anything comparable here in Nashville.
A few weeks ago we tried a recipe for Chicken Khao Soi, a thai-inspired soup that graced the cover of Bon Appetit. The homemade curry paste contained some interesting ingredients, including cilantro stems and dried New Mexico chiles. I'd never made from-scratch red curry paste before (the jarred version is a regular resident in our fridge), but the ingredients in this version were much more approachable than other recipes I've seen. This particular homemade curry paste has a richness and a complexity about it that blows the jarred stuff out of the water; in fact, we may never be able to go back. It's that good.
While the elements of the soup itself were different (noodles vs rice, chicken and not duck), the broth had the same incredible depth of flavor as the soup Taylor so vividly remembered. After a few bites he knew we had something special.
After scouring the internet, we managed to find a blurry and barely legible screenshot of Cocodine's menu, which told us that the curry-of-yore had cherry tomatoes, pineapple, and bamboo shoots along with the roasted duck. Wait, pineapple? Indeed. And don't you skip it because it's part of what makes this curry so fantastic.
This coming from a self-declared pineapple skeptic, so you'd better believe it.
Also: Just a note for those new to this blog or subscribed via RSS reader, we've amped up our mailings! You can now subscribe to receive new posts via email (2-3 times weekly as posts are published), and/or our monthly newsletters. We just sent out our very first newsletter last week and we think we'll have a lot of fun with it! So, what are you waiting for? Subscribe now!
Thai Red Duck Curry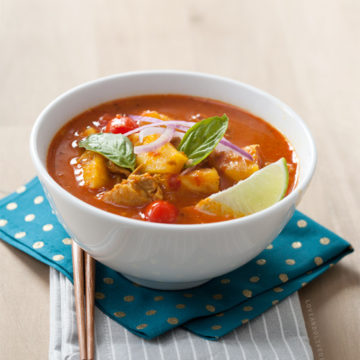 Ingredients:
For Curry Paste:
4 large dried New Mexico or guajillo chiles, stemmed, halved, seeded
1 to 2 dried Thai red chiles or other hot chile (optional, to taste)
2 medium shallots, halved
8 garlic cloves
1 2-inch piece ginger, peeled and coarsely chopped
1/4 cup chopped cilantro stems
1 tablespoon ground coriander
1 tablespoon ground turmeric
2 teaspoons red curry powder
For Soup:
2 tablespoons vegetable oil
2 14-ounce cans unsweetened coconut milk
2 cups low-sodium chicken broth
1 1/2 pounds duck legs (about 4) or duck breasts (substitute chicken if desired)
1 tablespoon fish sauce (or more to taste)
1 tablespoon soy sauce (or more to taste)
1/2 tablespoon light brown sugar (or to taste)
1 cup pineapple chunks, from about 1/4 fresh pineapple
1 cup cherry tomatoes, halved
1 red bell pepper, seeded and thinly sliced
Toppings:
bamboo shoots (optional)
1/4 red onion, thinly sliced
small handful fresh basil leaves, roughly chopped
cilantro sprigs (optional)
bean sprouts (optional)
Lime wedges
Jasmine rice, for serving
Directions:
Place chiles in a small heatproof dish. Cover with boiling water; let soak until softened, about 25 to 30 minutes. Drain, reserving soaking liquid.
In a food processor, purée chiles, shallots, garlic, ginger, cilantro stems, coriander, turmeric, curry powder, and 2 tablespoons of the chile soaking liquid. Add more liquid, a tablespoon at a time as needed, and pulse until mixture forms a smooth paste.
Heat oil in a large heavy pot over medium heat. Add chile mixture and cook, stirring constantly, until slightly darkened, 4 to 6 minutes. Add coconut milk and broth. Bring to a boil; add duck. Reduce heat and simmer until duck is tender and mostly cooked through, 30 to 35 minutes. Transfer duck to a plate. Let cool slightly, then discard any skin and bones and shred remaining meat.
Return soup to heat. Add back shredded duck, along with the pineapple, tomato, and bell pepper; simmer for 10 minutes or until tomatoes are softened and peppers are tender. Stir in soy sauce, fish sauce, and sugar, adding more to taste as needed. Divide soup among bowls and top with onion, herbs, bean sprouts, and lime wedges as desired. Serve with a generous portion of rice.
Did you make this recipe?
Let us know what you think!
Leave a Comment below or share a photo and tag me on Instagram with the hashtag #loveandoliveoil.