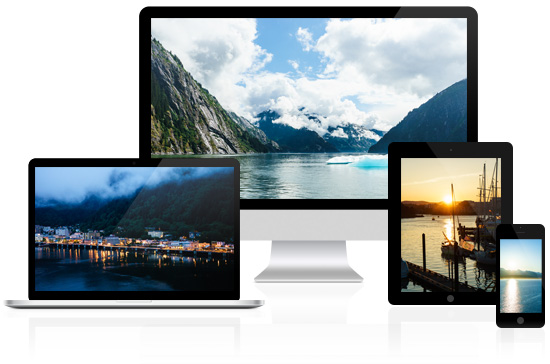 I said it once and I'll say it again: Alaska was picture perfect. Around every corner was another postcard just waiting to be seen and photographed. Here I am, 4 months later, and I still can't stop thinking about it. I took a whopping 1934 photos during our 8-day voyage aboard the Ruby Princess (yes, I'm a chronic over-photographer), and I'm glad I did, because flipping through them now is almost like experiencing it all over again (without the post-cruise motion sensation). I figured I'd highlight some of my favorite images from the trip and make them available to you as free desktop wallpapers. Just a little something to cheer up your work space. :)
In case you missed them before, you can read about our Alaskan Inside Passage Cruise aboard the Ruby Princess part I and part II here. We've also posted a series of recipes inspired by our trip, including Blueberry Margaritas, Saffron-Infused Bouillabaisse, and Homemade Limoncello. If you're not inspired to pack your bags and run off to Alaska after all that, well, maybe you need to stare at one of these desktops for a while.
This photo was taken in the Tracy Arm Fjord outside of Juneau. We waved goodbye to the Ruby and boarded a much smaller boat, which allowed us to get up close and personal with glaciers and icebergs and various forms of wildlife. It was frigid when we started out at 7am that morning, but the scenery was well worth the shivers.
Even though we were in port at Juneau until well after 10pm, as we pushed off it felt like the sun had just gone down. A perk of being so far North is the days go on forever, and so do the sunsets for that matter. Juneau itself was exactly what you'd picture a quaint shore town to be, especially seeing it all lit up as we pulled out of the harbor.
(Click through to download these free scenic wallpapers plus two more!)
As we sailed out of Skagway (our Northern-most stop) and headed South towards Victoria, we were able to see the inside passage in all its glory. The particular inside passage route of this cruise meant that the shoreline was never far away. The mountains went on for what seemed like forever, gradually fading out into the distance in a natural gradient of layers. I did my best to capture it, but it's just one of those things that is much more awe-inspiring in person.
Victoria was our final stop the night before we arrived back in Seattle. We only had a few hours in this quaint town, but it was enough for me to fall thoroughly in love. We arrived in downtown Victoria just in time for golden hour, and were able to watch the sun slowly sink over the boats in the harbor. I mean, talk about perfection.
See why I couldn't decide? In this case my indecision is to your benefit. :) Simply enter your email address below to access the downloadable files. There are 4 different scenic wallpapers available for download. The files are large enough to use on your desktop or laptop computer, as well as on mobile devices.
Which one is your favorite?
Disclosure: These images, and this experience, wouldn't have been possible without Princess Cruises, who invited us on this incredible adventure. As always, all opinions written are purely our own. We're incredibly grateful for opportunities like these that allow us to continue sharing experiences like this with you, so thank you for supporting us and the brands we love.