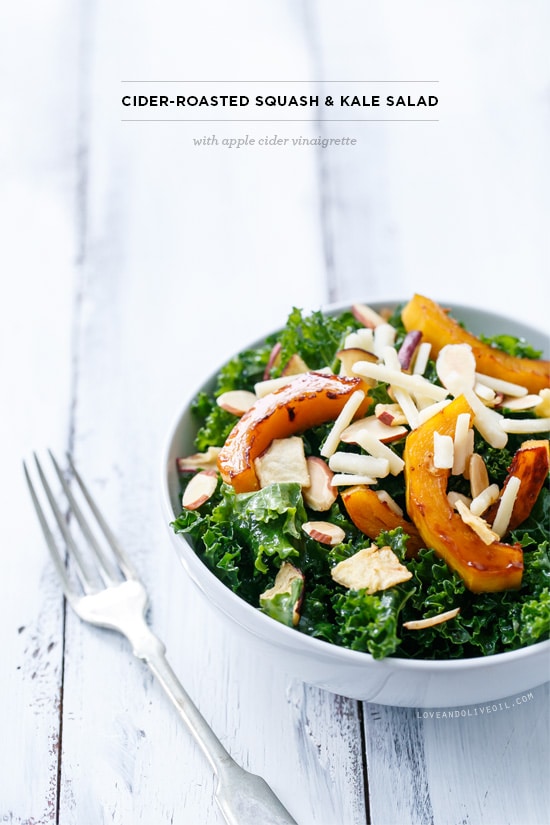 I'm sad to say this is the last recipe in our year-long partnership with DeLallo Foods. Although, seeing the sheer quantity of tasty things we still have in our pantry, I should probably say it's the last OFFICIAL recipe. Their products are so good that we've made them a part of our daily lives, and you'll no doubt see them pop up in future recipes.
This salad seems like the perfect finale. With toasted almonds, crunchy red apple chips, and sharp white cheddar cheese, it's a perfect trio of toppings to complement the sweet roasted squash and hearty kale.
I tell you, I'd devour an entire BAG of those apple chips.
Crisp is actually a perfect descriptor for this salad, with it's crunchy textures and robust fall flavors. In fact, it'd be perfect alongside your Thanksgiving table. God knows we need some greens to offset the carb-fest that we're planning.
We used delicata squash here, which is lesser known than it's more common winter counterparts (however, you could also substitute butternut or acorn squash here if necessary). I like to think of delicata as a gateway squash, part way between summer and winter. Its yellow striated skin could be mistaken for a decorative gourd, but then you'd be missing out on the sweet, tender flesh within. Peeled and halved and sliced and tossed with a mixture of honey, olive oil, and unfiltered apple cider to bring out the squash's natural sweetness, the squash on its own would make an awesome side dish. But then you'd be missing out on the delicious kale salad underneath.
The key to a non-bitter kale salad is a good dressing and a good rest. Toss the kale with the dressing until it's totally coated, then let it sit for AT LEAST 30 minutes. I'm serious, don't skimp on this, that extra time allows the deep green kale leaves to absorb the sweetness of the dressing, erasing any taste of bitterness whatsoever.
Cider-Roasted Squash & Kale Salad with Apple Cider Vinaigrette
Ingredients:
For Cider Vinaigrette:
2 tablespoons apple cider
1 tablespoon cider vinegar
1 shallot, finely minced (about 1 tablespoon)
1 teaspoon dijon mustard
1 teaspoon honey
1/4 cup extra virgin olive oil
salt and freshly ground black pepper, to taste
4 ounces fresh kale, large veins removed and torn into bite sized pieces
For Cider-Roasted Squash:
1 delicata squash, peeled, halved, and sliced
1 tablespoon olive oil
1 tablespoon honey
1 tablespoon apple cider (preferrably raw, unfiltered)
salt and freshly ground black pepper, to taste
Directions:
In a bowl, whisk together cider, vinegar, shallot, mustard, and honey. Slowly drizzle in olive oil, whisking vigorously, until combined. Season to taste with salt and pepper. Toss with kale. Let sit for at least 30 minutes if not more (the longer the kale sits with the dressing, the less bitter it will be).
Preheat oven to 400 degrees F. Line a baking sheet with foil and lightly spray with cooking spray.
In a large bowl, whisk together olive oil, honey, cider, and a generous pinch of salt and pepper. Toss with squash slices until fully coated, then arrange on baking sheet in a single layer. Bake squash for about 15 minutes or until tender and bottoms are lightly caramelized.
To serve, divide kale among salad bowls. Top with a few slices of roasted squash and sprinkle with CRISP SaladSavors® toppings.
Did you make this recipe?
Let us know what you think!
Leave a Comment below or share a photo and tag me on Instagram with the hashtag #loveandoliveoil.
The fine print: No purchase necessary. Giveaway open to US residents only. Void where prohibited. Winner will have 48 hours to respond otherwise an alternate winner will be chosen. Bonus entry requirements will be verified if selected as the winner, otherwise an alternate winner will be chosen. Giveaway sponsored by DeLallo Foods. As always, all opinions written are purely my own. This post contains affiliate links.