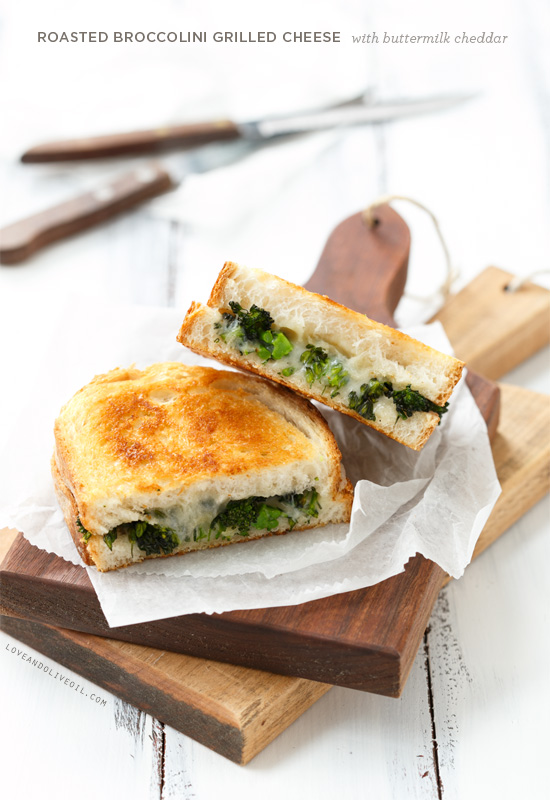 I love nothing more than a good grilled cheese (it's one of our lunchtime staples), but I oftentimes wish it was more substantial than just a pile of toasted bread and cheese. That's why adding greens is such a brilliant idea. I mean, it's really the same general principle as our Brussels Sprout Mac 'n Cheese: using buttery, melty cheese to enhance an otherwise bitter-tasting green vegetable. Great minds…
This recipe comes from Bountiful: Recipes Inspired by Our Garden by our friends Todd and Diane of WhiteOnRiceCouple.com. From the second I held the book in my hands I was in love, because it truly reflects the way we eat: focus on the fresh fruits and vegetables, with meat (IF there is any) as just an accent.
The book does such a great job at presenting vegetables in new and unique ways that it just might convert even the most ardent veggie-haters. Our neighbor, who is always quick to gobble up our desserts but typically gives our dinner choices the side-eye, flipped through this book, exclaiming, "I'd eat that!" on just about every recipe. Granted, it still might take a bit of convincing to get him to eat this sandwich (broccoli is, perhaps, his arch-nemesis), but recipes like Creamed Haricots Verts with Toasted Almonds and Seared Ginger Carrots with Thyme and Shallots would be a good start.
Baby steps, right?
Rather than broccoli as called for in the original recipe, we used broccolini (often called baby broccoli, it's a hybrid between regular and Chinese broccoli). The stalks and florets are more tender and, while we only used the florets here, don't waste the stalks: slice them up and roast them too.
I'd been looking for the perfect excuse to use this special cheese: Buttermilk cheddar from local Sweet Valley Farm. It's the secret ingredient in the Buttermilk Cheddar Mac and Cheese at Silo that I so totally failed to recreate. Turns out adding buttermilk to mac and cheese is a quick way to make a horribly chunky mess.
But the buttermilk cheddar, on the other hand, is delightful in every sense of the word. It's a mild white cheddar with a perfect melting consistency for the ultimate grilled cheese.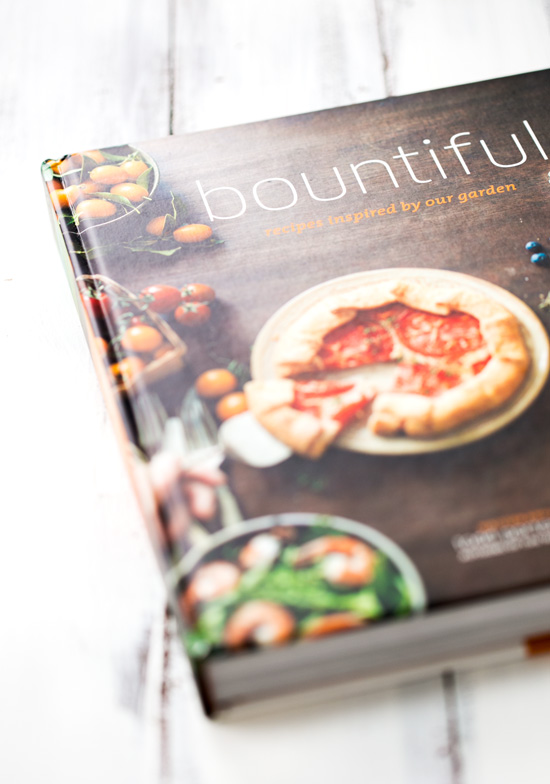 Pictures do not do this book justice. It's a cookbook and coffee table book in one, as large and substantial in size as it is in content. If I had had a stack of post-its handy when I flipped through it the first time, it'd look like a forest of pale yellow sticking out of the pages. We've already made two recipes from the book, including a baked potato topped with goat cheese creamed swiss chard (WHAT?) and have plans to, more or less, cook our way through the entire thing.
But seriously, you want to own a copy of this book. Be sure to click through for the recipe and a chance to win just that!
Roasted Broccolini Grilled Cheese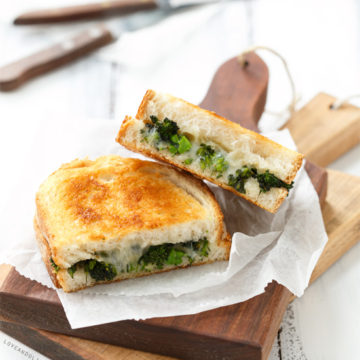 Ingredients:
Florets from 1 bunch broccolini or broccoli (about 1/2 pound), chopped into bite-sized pieces
2 tablespoons olive oil
1/2 teaspoon salt
1/4 teaspoon freshly cracked black pepper
Unsalted butter, softened
6 to 8 slices bread
1 cup cheddar cheese, shredded or thinly sliced
Directions:
Preheat oven to 400 degrees F.
On a sheet pan, toss broccolini with olive oil, salt, and pepper. Roast for 6 to 8 minutes (slightly longer if using regular broccoli), or until tender and vibrant green. Remove from oven and let cool slightly.
Heat a large non-stick skillet over medium heat.
Assemble sandwiches by layering cheese, roasted broccolini, and more cheese on slices of bread. Using two layers of cheese with the broccolini in the middle will keep the small pieces in place as the cheese melts. Top each sandwich with another slice of bread, then generously butter top of sandwich.
Arrange sandwiches in skillet, buttered side down. Generously spread remaining butter on other side of sandwiches now on top. Toast sandwiches, flipping once, until the cheese is melted and the bread is golden brown and crispy, about 3 to 4 minutes per side.
Did you make this recipe?
Let us know what you think!
Leave a Comment below or share a photo and tag me on Instagram with the hashtag #loveandoliveoil.